Austin Peay Sports Information

Cape Girardeau, MO – Kyle Snyder threw five touchdown passes, including two of 70 or more yards, as Southeast Missouri defeated Austin Peay State University, 42-7, Saturday afternoon, in Ohio Valley Conference action at Houck Stadium.
It was the 31st straight road loss for the Governors—the nation's longest road losing streak.
The loss dropped the Govs to 1-10 overall, 1-7 in the OVC, while SEMO snapped a four-game losing streak to improve to 5-6 overall and 3-4 in league play.
Like the Governors, SEMO played several freshmen, Saturday—because of injury. But Snyder was not one of them. The fifth-year senior quarterback, who missed the previous two seasons with injury, finished 19 of 27 passes for 334 yards. He also rushed for 35 yards.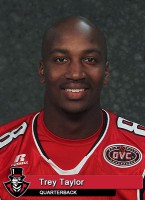 After a week that saw the Govs defense play superbly in the first half against Tennessee State, it was just the opposite against Southeast Missouri. Big plays negated the Governors large time-of-possession advantage (18:28 to 11:32). Already up 7-0 in the first quarter, Snyder completed a short pass across the middle to Spencer Davis that was turned into a 71-yard TD pass to give the Redhawks a 14-point advantage.
Just before half, when SEMO took over at their own two-yard line after an interception, APSU had the Redhawks in a third-and-two situation from the 11. But DeMichael Jackson found a hole on the left side and raced 58 yards deep into Govs territory. As a result, SEMO was able to score again just before half for a 21-0 advantage.
It literally took one offensive play in the second half for SEMO to all but put it out of reach. Snyder found McRoberts, who missed five earlier games with a foot injury, with a perfect pass down the middle and the 70-yard score made it 28-0. It was the first of two TD receptions for McRoberts, who finished with six catches for 117 yards.
Austin Peay's only touchdown was produced by the defense when Damion Whitfield intercepted an errant Snyder pass in the right flat and returned it 12 yards. It cut the deficit to 28-7 and gave APSU some hope.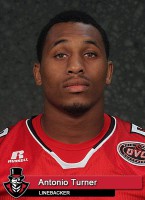 But APSU's offense could not finding any consistency, especially when it crossed midfield. APSU twice reached the red zone, the first on the game's first possession. But that drive ended with a missed field goal. The other time came late in the first half when again the Govs moved to the SEMO 5-yard line, only to watch that drive end with an interception at the 2-yard line.
The Govs finished with 284 yards total offense compared to 531 for Southeast Missouri. Trey Taylor, making his first start since the season opener at Memphis, completed 14 of 28 passes for 156 yards. Freshman Malik Boynton and sophomore Rashaan Coleman each had five catches.
Justin Roberson led the Govs' rushing effort with 65 yards on 14 attempts.
Johnathan Shuler led the defense with 10 tackles while Damien Whitfield and Antonio Turner added eight apiece.
Box Score
Southeast Missouri (5-6 , 3-4) vs. Austin Peay (1-10 , 1-7)
| | 1st | 2nd | 3rd | 4th | Total |
| --- | --- | --- | --- | --- | --- |
| Austin Peay | 0 | 0 | 7 | 0 | 7 |
| Southeast Missouri | 14 | 7 | 7 | 14 | 42 |
| Qtr | Time | Scoring Play | APSU | SEMO |
| --- | --- | --- | --- | --- |
| 1st | 08:31 | SEMO – JACKSON, D. 11 yd pass from SNYDER, Kyle (McCRUM, Ryan kick ) 8 plays, 80 yards, TOP 3:28 | 0 | 7 |
| 1st | 04:33 | SEMO – DAVIS, Spencer 71 yd pass from SNYDER, Kyle (McCRUM, Ryan kick ) 3 plays, 77 yards, TOP 1:14 | 0 | 14 |
| 2nd | 01:49 | SEMO – JACKSON, D. 2 yd run (McCRUM, Ryan kick ), 9 plays, 98 yards, TOP 3:34 | 0 | 21 |
| 3rd | 14:43 | SEMO – McROBERTS, Paul 70 yd pass from SNYDER, Kyle (McCRUM, Ryan kick ) 1 plays, 70 yards, TOP 0:11 | 0 | 28 |
| 3rd | 10:29 | APSU – WHITFIELD, Dami 12 yd interception (VINCIL, Dakota kick ) | 7 | 28 |
| 4th | 10:50 | SEMO – DAVIS, Adrian 13 yd pass from SNYDER, Kyle (McCRUM, Ryan kick ) 11 plays, 66 yards, TOP 4:14 | 7 | 35 |
| 4th | 05:41 | SEMO – McROBERTS, Paul 15 yd pass from SNYDER, Kyle (McCRUM, Ryan kick ) 8 plays, 52 yards, TOP 3:22 | 7 | 42 |
| | APSU | SEMO |
| --- | --- | --- |
| FIRST DOWNS | 17 | 24 |
| Rushing | 5 | 10 |
| Passing | 9 | 11 |
| Penalty | 3 | 3 |
| NET YARDS RUSHING | 128 | 197 |
| Rushing Attempts | 40 | 41 |
| Average Per Rush | 3.2 | 4.8 |
| Rushing Touchdowns | 0 | 1 |
| Yards Gained Rushing | 156 | 214 |
| Yards Lost Rushing | 28 | 17 |
| NET YARDS PASSING | 156 | 334 |
| Completions-Attempts-Int | 14-29-2 | 19-27-1 |
| Average Per Attempt | 5.4 | 12.4 |
| Average Per Completion | 11.1 | 17.6 |
| Passing Touchdowns | 0 | 5 |
| TOTAL OFFENSE YARDS | 284 | 531 |
| Total offense plays | 69 | 68 |
| Average Gain Per Play | 4.1 | 7.8 |
| Fumbles: Number-Lost | 1-1 | 0-0 |
| Penalties: Number-Yards | 7-73 | 5-48 |
| PUNTS-YARDS | 5-171 | 3-114 |
| Average Yards Per Punt | 34.2 | 38.0 |
| Inside 20 | 3 | 1 |
| 50+ Yards | 0 | 0 |
| Touchbacks | 0 | 0 |
| Fair catch | 2 | 1 |
| KICKOFFS-YARDS | 2 – 115 | 7 – 436 |
| Average Yards Per Kickoff | 57.5 | 62.3 |
| Touchbacks | 0 | 3 |
| Punt returns: Number-Yards-TD | 2-1-0 | 2–2-0 |
| Average Per Return | 0.5 | -1.0 |
| Kickoff returns: Number-Yds-TD | 4-87-0 | 2-44-0 |
| Average Per Return | 21.8 | 22.0 |
| Interceptions: Number-Yds-TD | 1-12-1 | 2-0-0 |
| Fumble Returns: Number-Yds-TD | 0-0-0 | 0-0-0 |
| Miscellaneous Yards | 0 | 0 |
| Possession Time | 31:05 | 28:55 |
| Third-Down Conversions | 4 of 17 | 11 of 16 |
| Fourth-Down Conversions | 1 of 2 | 0 of 0 |
| Red-Zone Scores-Chances | 0-2 | 4-4 |
| Sacks By: Number-Yards | 1 – 12 | 2 – 17 |
| PAT Kicks | 1-1 | 6-6 |
| Field Goals | 0-1 | 0-1 |