APSU Sports Information

Clarksville, TN – Austin Peay State University women's basketball team saw its "triple-post" offense at its most effective in a 70-62 Ohio Valley Conference victory against Southeast Missouri, Saturday night.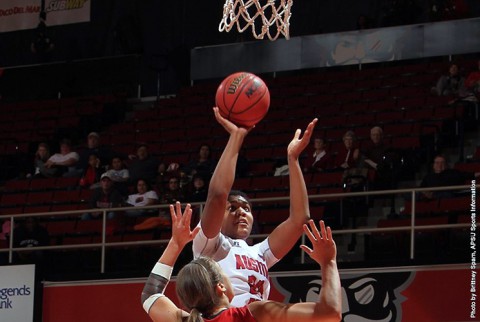 Since returning from the Christmas break, Austin Peay (8-14, 5-4 OVC) has employed a "triple-post" composed of sophomore
Beth Rates
, junior
Jennifer Nwokocha
and freshman
Brianne Alexander
.
That combination finally paid off  in Saturday's win combining for 43 points and 22 rebounds. Rates posted her season's first double-double with 12 points and a career-high 16 rebounds. Nwokocha added a season-high 16 points and Alexander chipped in a season-high 15 points.
Austin Peay's first 12 points came from that trio as it opened the game with a 10-0 run. Southeast Missouri missed its first 10 shots and trailed 12-2 before Erin Bollmann's layup nearly six minutes into the contest.
The Lady Govs would push their lead to 14 points, 21-7, when junior guard Tiasha Gray hit a layup nine minutes into the game. However, Austin Peay would get mired into an offensive drought – making just two field goals over the next six minutes.
Southeast Missouri (8-14, 1-8 OVC) countered with a 18-5 run over that six-minute span, slashing Austin Peay's lead to one point, 26-25, with 4:13 left.
Rates ended the SEMO run with a layup and senior Kristen Stainback hit a three-pointer on the next possession to quickly push the lead back to six points.  Austin Peay then closed the half with a 7-0 run and had a 38-27 halftime advantage.
Both offenses struggled in the second half with Southeast Missouri making just 36 percent (13-of-36) of its shots while Austin Peay converted on only 30 percent (10-of-33) of its attempts.
However, the Lady Govs went 12-of-16 (75 percent) at the free-throw line while Southeast Missouri made just 4-of-8 (50 percent) from the stripe.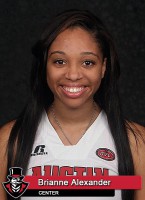 In addition to the triple-post's output, Stainback chipped in 14 points. Gray battled an off-night on the offensive end, finishing with just eight points, but had eight assists, six rebounds and three steals.
Bollman and Jasmine Robinson each had 13 points to lead Southeast Missouri.
Yelena Rosado added 10 points while Connor King grabbed 10 rebounds.
Austin Peay continues its four-game homestand when it hosts league-leading UT Martin in a 7:00pm, Wednesday contest.
Video – Coach Carrie Daniels
Box Score
Austin Peay 70 (8-14 5-4 OVC) vs Southeast Missouri 62 (8-14 1-8 OVC)
| | 1 | 2 | Total | Records |
| --- | --- | --- | --- | --- |
| Southeast Missouri | 27 | 35 | 62 | 8-14 (1-8 OVC) |
| Austin Peay | 38 | 32 | 70 | 8-14 (5-4 OVC) |
Southeast Missouri 62
##
Player
FGM-FGA
3FGM-3FGA
FTM-FTA
OFF-DEF
TOT
PF
TP
A
TO
BLK
STL
MIN
0
Robinson, Jasmine
5-14
2-4
1-2
0-3
3
4
13
1
2
2
0
32
12
Bollmann, Erin
5-10
1-4
2-3
3-3
6
4
13
0
3
0
1
22
5
Rosado, Yelena
3-7
1-1
3-4
0-1
1
2
10
1
2
0
1
27
24
Hackmann, Olivia
4-11
1-3
0-2
0-4
4
4
9
4
2
0
5
39
21
King, Connor
2-5
0-0
0-1
2-8
10
2
4
0
4
2
0
30
1
Mitchell, Brianna
3-7
1-1
2-3
1-1
2
1
9
1
1
0
1
17
3
Lively, Hillary
1-2
0-0
0-0
2-1
3
4
2
1
2
0
1
16
15
Leyhue, Kaley
1-3
0-1
0-0
0-2
2
0
2
0
1
0
0
7
25
Noe, Hannah
0-3
0-3
0-0
0-0
0
1
0
1
0
0
1
10
0
TEAM
0-0
0-0
0-0
2-2
4
0
0
0
1
0
0
0
Totals
24-62
6-17
8-15
10-25
35
22
62
9
18
4
10
200
Percentages
38.7%
35.3%
53.3%
Austin Peay 70
##
Player
FGM-FGA
FGM3-FGA3
FTM-FTA
OFF-DEF
TOT
PF
TP
A
TO
BLK
STL
MIN
21
Nwokocha, Jennifer
8-12
0-0
0-0
0-3
3
2
16
0
3
1
1
22
11
Alexander, Brianne
5-10
0-0
5-7
2-1
3
4
15
1
3
0
1
23
4
Stainback, Kristen
5-12
3-8
1-2
0-4
4
2
14
2
1
1
0
39
24
Rates, Beth
4-13
0-0
4-6
7-9
16
3
12
3
4
2
1
33
1
Gray, Tiasha
2-11
0-1
4-4
0-6
6
2
8
8
6
0
3
36
44
Scott, Jacey
1-3
0-1
1-1
0-5
5
0
3
0
0
1
0
23
23
Gooch, Sydney
1-3
0-0
0-0
1-3
4
3
2
0
0
0
0
19
12
Rich, Madison
0-0
0-0
0-0
0-0
0
0
0
1
0
0
0
5
TM
TEAM
0-0
0-0
0-0
4-1
5
0
0
0
0
0
0
0
Totals
26-64
3-10
15-20
14-32
46
16
70
15
17
5
6
200
Percentages
40.6%
30.0%
75.0%