Austin Peay Sports Information

Clarksville, TN – Southeast Missouri opened the second half with a 18-8 spurt and then held off Austin Peay State University, 70-64, Saturday night, in Ohio Valley Conference basketball action in Dave Aaron Arena.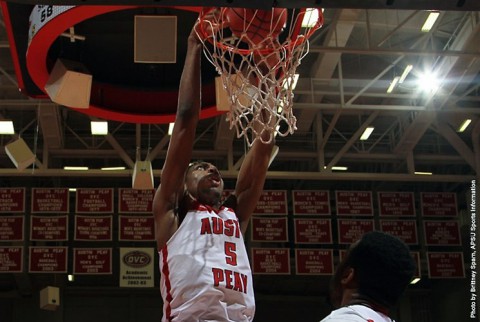 The loss was the second straight for the Govs, who are amidst a five-game home stand.
They fell to 7-15 overall and 2-6 in the OVC. Southeast Missouri, meanwhile, snapped a two-game skid to improve to 10-12 overall and 4-5 in the OVC.
SEMO was able to win the contest despite Chris Horton's 23-point, 18-rebound effort for the Govs. It was his second straight 23-point effort—tying a career high—while the rebound performance that included 11 offensive grabs was a career best.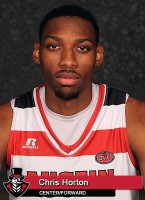 After Southeast Missouri took a 38-36 lead into intermission on a Jamaal Clavin three pointer with five seconds left in the opening period, the Redhawks built off that momentum to begin the second half.
Jarekious Bradley, who suffered through a 1-of-10 performance against SIU Edwardsville, Thursday night, began the second half with a three pointer and answered Chris Horton's bucket with another bucket. He ended the spurt with a three pointer to give Southeast Missouri a 56-44 advantage with 12:39 left in the game.
The Govs clawed back into the game with a 13-2 run as Horton scored back-to-back buckets, the second being a dunk. Chris Freeman also scored four points during the stretch while Ed Dyson hit a three to make it a 58-55 game with 8:36 left before Horton cut it to one, 58-57, with a put-back dunk with 7:51 left.
The game's turning point literally came at the SEMO free-throw line. With the shot clock winding down Redhawk post player Nino Johnson attempted to force up an awkward left-handed push shot from about eight fee that barely drew iron. However, Horton was called for a foul to the dismay of the Govs sideline.
Johnson made the first free throw but missed the second one. However, Bradley was able to go over Horton to tip away the rebound, gathered it in and drove to the hoop all in one motion.
He made the layup and was fouled by Horton. Bradley sank the free throw so instead of the Govs having the ball with a chance to go ahead, the trip left them down by five, 62-57, with 7:30 left.
APSU never really was able to challenge again from that point—the Govs cut the deficit to four points on three different occasions but could get no closer.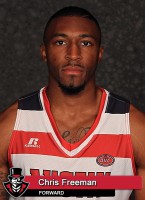 Johnson recorded a double-double for SEMO with 15 points and 10 rebounds while Bradley also had 15 points. Calvin, who had three first-half three pointers, added 11 as did J.J. Thompson off the bench.
Dyson augmented Horton with 12 points while Chris Freeman tallied his first-double-figure scoring game since January 3rd (Ole Miss) with 10 points.
The Govs finished the night shooting just 38 percent (22 of 58) from the floor—the 14th time this season they shot below 40 percent.
Southeast Missouri, like Morehead State, Thursday night, shot better than 50 percent from the floor, connecting for 26 of 46 (57 percent).
The Governors return to action Tuesday, February 5th, 2015 when they host UT Martin. Tip off is at 7:30pm.
Video – Chris Horton
Box Score
Austin Peay 64 (7-15 2-6 OVC) vs Southeast Missouri 70 (10-12 4-5 OVC)
| | 1 | 2 | Total | Records |
| --- | --- | --- | --- | --- |
| Southeast Missouri | 38 | 32 | 70 | 10-12 (4-5 OVC) |
| Austin Peay | 36 | 28 | 64 | 7-15 (2-6 OVC) |
Southeast Missouri 70
##
Player
FGM-FGA
3FGM-3FGA
FTM-FTA
OFF-DEF
TOT
PF
TP
A
TO
BLK
STL
MIN
1
Johnson, Nino
4-7
0-0
7-12
2-8
10
4
15
1
1
3
2
36
23
Bradley, Jarekious
6-12
2-4
1-1
1-4
5
2
15
0
4
2
0
27
12
Calvin, Jamaal
4-7
3-6
0-0
0-1
1
1
11
1
0
0
1
30
4
Cleveland, Antonius
4-6
0-1
1-1
0-3
3
4
9
4
1
1
3
36
2
Jones, Isiah
2-4
1-3
0-0
2-2
4
0
5
0
4
0
0
25
55
Thompson, J.J.
4-5
1-1
2-2
1-1
2
0
11
1
2
0
1
26
24
Adeoye, Aaron
2-5
0-1
0-0
0-2
2
5
4
1
4
0
0
16
0
Langford, Josh
0-0
0-0
0-0
0-0
0
1
0
0
1
0
0
4
0
TEAM
0-0
0-0
0-0
1-2
3
0
0
0
0
0
0
0
Totals
26-46
7-16
11-16
7-23
30
17
70
8
17
6
7
200
Percentages
56.5%
43.8%
68.8%
Austin Peay 64
##
Player
FGM-FGA
FGM3-FGA3
FTM-FTA
OFF-DEF
TOT
PF
TP
A
TO
BLK
STL
MIN
5
Horton, Chris
10-21
0-0
3-5
11-7
18
4
23
2
4
2
2
40
24
Dyson, Ed
4-9
2-7
2-2
0-2
2
3
12
1
1
0
1
34
15
Freeman, Chris
3-5
0-0
4-4
1-5
6
4
10
1
3
0
0
23
11
Davis, Khalil
0-5
0-1
0-0
1-0
1
2
0
0
2
0
0
13
10
Ivory, Tre
0-1
0-1
0-0
0-0
0
0
0
0
1
0
0
5
12
Purvis, Jeremy
3-6
3-5
0-0
1-1
2
1
9
5
0
0
0
35
1
Diop, Assane
1-3
0-1
2-2
1-0
1
0
4
0
0
1
0
9
22
Smith, Damarius
0-4
0-1
3-8
0-2
2
2
3
2
0
0
2
27
4
Robinson, Josh
1-4
1-2
0-0
0-0
0
0
3
0
0
0
0
14
TM
TEAM
0-0
0-0
0-0
0-1
1
0
0
0
0
0
0
0
Totals
22-58
6-18
14-21
15-18
33
16
64
11
11
3
5
200
Percentages
37.9%
33.3%
66.7%