Austin Peay (8-14/5-4) vs. UT Martin (13-9/9-0)
Wednesday, February 4th, 2014 | 7:00pm CT
Clarksville, TN | Dunn Center

Clarksville, TN – The season's stiffest test awaits Austin Peay women's basketball team as it hosts Ohio Valley Conference-leading UT Martin in a 7:00pm, Wednesday contest at the Dunn Center.
Austin Peay returns to action four days after a 70-62 victory against Southeast Missouri, Saturday, that moved it to 5-4 in the OVC race.
That game also opened the Lady Govs longest homestand of the 2014-15 campaign, a four-game stretch that continues Wednesday.
The Lady Govs "Triple-Post" grouping of junior Jennifer Nwokocha, sophomore Beth Rates and freshman Brianne Alexander had one of its finest outings since coming together after the Christmas break.
That trio combined for 43 of APSU's 70 points and 22 of its 46 rebounds. Nwokocha (16 points) and Alexander (15 points) each posted season-bests in scoring while Rates notched a career-best in rebounds (16).
On the season, Tiasha Gray has been the APSU's leader on the court, leading the team in scoring (19.7 ppg), rebounding (6.5 rpg), assists (6.1 apg) and steals (3.5 spg). She is the OVC leader and ranks fifth nationally in steals, while ranking second among OVC players in scoring (32nd nationally) and assists (19th nationally).
With five OVC wins and seven games remaining, Austin Peay continues its march toward the eight-win mark in conference play. The 8-8 record has been important the past three seasons (since the advent of the 16-game schedule in 2011-12), with team's reaching that mark assured a spot in the tournament. Austin Peay still has its home-and-home set with UT Martin ahead of it as well as two games against 12th-place Murray State remaining in the final seven-game stretch.
UT Martin Skyhawks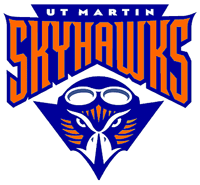 UT Martin owns the OVC's top offense this season, averaging an impressive 82.4 points per OVC game. The Skyhawks average margin of victory in league play is 20.7 points per outing, a number that has been lowered thanks to their six-point win at Tennessee State, January 28th, and a 10-point win at Murray state, January 31st.
UTM has scored more than 80 points in five of their first nine OVC contests this season and more than 95 points three times. Sophomore Ashia Jones has been UT Martin's leading scorer in all nine OVC contests this season and is averaging an astounding 29.3 points per game, including 44 points at Murray State, Saturday.
Last Season's Meetings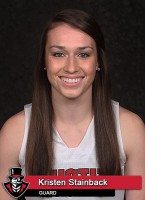 Both of last season's meetings with UT Martin turned into offensive slugfests. However, the Lady Govs came out on the short  end both times, dropping a 95-81 decision in Clarksville, January 7th,  before suffering a 116-85 defeat, March 2nd.
In the season's first meeting, Austin Peay held a surprising 45-31 halftime advantage against UT Martin.
However, the Skyhawks would go to the free throw line 30 times in the second half, converting 25 times en route to a 64-point second half to post the win.
Kristen Stainback scored a career-high 34 points to lead Austin Peay. Jennifer Nwokocha added her second career double-double with a career-high 22 points while grabbing a game-high 10 rebounds.
UT Martin's Jasmine Newsome led all scorers with 37 points on 11-of-19 shooting and an 11-of-13 outing at the free-throw line. Heather Butler finished with 30 points after being held to five first-half points.
The second meeting turned in the first half's final five minutes as the Lady Govs primary two ballhandlers – Gray and Nicole Olszewski – missed most of the final five minutes due to foul trouble. The Skyhawks press capitalized on an inexperienced group of ballhandlers to go on an 18-4 run over the half's final five minutes, turning a tie game into a 14-point, 57-43 Lady Govs deficit at the break.
But as good as the Skyhawks were in the first half, they were better in the second. UT Martin scored 59 points in the second half, hitting 61.1 percent (22-for-36) from the field behind 29 second-half points from Butler. She finished with 44 – the first 40-point performance since Tennessee Tech's Janet Holt scored 40 in the 2002 OVC Championship game against the Lady Govs.
Stainback poured in 16 points for the Lady Govs, including four three-pointers, in the second half, finishing with 21 for the game.
The More You Know
An Austin Peay Win Would: Be its first win against UT Martin since February 3rd, 2011, ending a six-game losing streak to the Skyhawks… Be its second-straight win… Make it 6-4 in OVC play, matching last season's 10-game mark… Move it above .500 at home in OVC play (3-2) and give it a 6-4 overall home mark… Improve Carrie Daniels' record to 96-171 overall… Move Daniels to 63-88 in OVC play… Make the Lady Govs 449-644 overall since 1976-77.
An Austin Peay Loss Would: Be its seventh straight loss to UT Martin and fourth-straight home loss to the Skyhawks… Drop it to 5-5 in OVC play… Make it 2-3 at the Dunn Center in OVC play (5-5 overall)… Drop Daniels' record to 95-172 overall… Drop Daniels to 62-89 in OVC play… Make the Lady Govs 448-645 overall since 1976-77.
Broadcast Information
Radio • WVRY 105.1 FM
Play-by-Play: David Loos
Analyst: Van Stokes
Lady Govs on the Web
Live Video: www.OVCDigitalNetwork.com
Live Audio: www.LetsGoPeay.com/Watch
Live Statistics: www.PeayStats.com
Video – Beth Rates