Austin Peay vs. Eastern Illinois
Sunday-Monday, March 8th-9th, 2015
Clarksville, TN | Raymond C. Hand Park

Clarksville, TN – Austin Peay's baseball team will begin its 30-game Ohio Valley Conference schedule when it hosts Eastern Illinois in a three-game set, Sunday-Monday, at Raymond C. Hand Park.
A final schedule for the series had not been determined as of Saturday morning due to lingering snow on the field in Clarksville. However, every effort will be made to play all three games Sunday and Monday.
The Govs and Panthers were originally scheduled to open the 2015 OVC slate at Coaches Stadium in Charleston, Illinois.
However, snow continues to blanket the central Illinois region, forcing the series to be moved to Clarksville. Despite the move, Eastern Illinois will be the home team for all three games of the series.
Austin Peay will shuffle its starting rotation for the start of league play, moving sophomore Alex Robles, the reigning OVC Rookie of the Year, into the No. 1 spot for the first time this season.  He will be followed by sophomore Caleb Powell, who is the first APSU pitcher to record two wins this season. Junior Jared Carkuff, the Govs No. 1 the past two weeks, will slide into the No. 3 role
The Govs offense has gotten off to a good start, leading the OVC in average (.302) and doubles (28) after the season's first three weeks. Sophomore catcher Ridge Smith's .472 batting average and seven doubles lead the Govs after three weeks.
First Hacks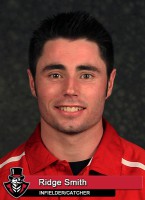 Austin Peay has not wanted for scoring opportunities through two weeks, with 154 plate appearances with a runner in scoring position during the season's first 9 games, but they have just a .271 batting average in those plate appearances.
The Govs offense enters the week as the nation's top doubles-producing team, averaging (3.11 doubles per game, 28 total), and are among Division I's Top 50 in scoring per game (37th, 7.1 rpg), average (38th, .302) and on-base percentage (48th, .392).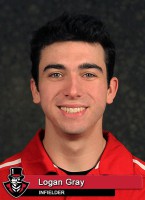 Sophomore catcher Ridge Smith ranks 7th among Division I hitters with 7 doubles and is 41st nationally with a .472 batting average; he has reached base safely in all 9 games this season. Sophomore third baseman Logan Gray is tied with Smith with 7 doubles (7th nationally) and 8 of his 13 base hits have gone for extra bases. Sophomore designated hitter Alex Robles brings a 7-game hit streak into this weekend's action and boasts a .371 batting average and team-best 11 RBI (74th nationally).
Despite batting in the top two spots in the order all season, sophomore left fielder Cayce Bredlau is second on the team with 9 RBI and has reached base safely in all 8 games he has played.  Sophomore second baseman Garrett Copeland is the only regular starter without an extra-base hit through 9 games, but is batting .294 after going 5-for-12 (.417) against Western Michigan.
Junior shortstop Clayton Smithson scored in all 3 WMU contests and his two hits were both doubles. Sophomore Dre Gleason and junior Josh Wilson have split starting first base duties for the last 7 games. Starting right field continues to be an enigma with 4 players starting at the position through 9 games.
Austin Peay was picked to finish fourth in the OVC's preseason poll of coaches and sports information directors. Austin Peay finished 2014 with a 23-33 overall record, starting seven freshman for the bulk of the campaign. The Govs fell out of the OVC's six-team tournament field on the regular season's final day, a 4-3 loss at SIU Edwardsville dropping it to 14-16 and seventh place in league action.
Toeing The Rubber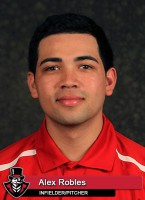 The Govs starting rotation will go back to the future for the opening week of OVC play. Sophomore Alex Robles, the Govs No. 1 for all of OVC play last season, will make his first weekend start of 2015 as the Govs OVC-opening starter. Sophomore Caleb Powell, the 1st Govs pitcher to record 2 wins in 2015, will move into the No. 2 spot and make his 6th OVC start.
Junior Jared Carkuff, APSU's No. 2 starter for the final 6 weeks of 2014, will pick up the Govs No. 3 starting spot for the OVC-opening weekend.
The Govs closer role will be split between redshirt senior righty A.J. Gaura and freshman lefty John Sparks to start OVC play.
Probable Starters / Closer
| Date | Austin Peay Starter |
| --- | --- |
| Start | Opponent's Starter |
| GM 1 | RHP Alex Robles (#5, So., 0-0. 1.64 ERA) |
| TBA | RHP Matt Wivinis (#24, RJr., 0-1, 1.50 ERA) |
| GM 2 | RHP Caleb Powell (#21, So., 2-0, 2.84 ERA) |
| TBA | LHP Garrison Stenger (#30, RSr., 0-2, 10.80 ERA) |
| GM 3 | RHP Jared Carkuff (#16, Jr., 1-2, 4.41 ERA) |
| TBA | LHP Andy Fisher (#8, Fr., 0-1, 9.53 ERA) |
| CLOSER | RHP A.J. Gaura (#36, RSr., 0-0, 1 SV, 5.40 ERA) |
| | LHP Adam Casson (#17, Sr., 0-0, 0 SV, 9.00 ERA) |
Broadcast Information
Radio • Governors Sports Network
Play-by-Play: Van Stokes
In West & Middle Tenn. on WVRY 105.1 FM
Digital Audio • Governors Digital Passport
Audio for all APSU Baseball contests will be available free online at www.LetsGoPeay.com/watch
Governors on the Web
Live Audio: www.LetsGoPeay.com/watch
Live Statistics: www.PeayStats.com
Twitter: @APSUBaseball