Austin Peay Sports Information

Jacksonville, FL – Austin Peay State University women's golf team has escaped the winter weather of Clarksville to participate in its first spring golf action, the North Florida Intercollegiate, Monday and Tuesday, at the Jacksonville Golf and Country Club.
The two-day, 54-hole event will be played on the par-72, 6,050-yard layout which features 100 more yards on the back nine than the front.
In addition to APSU and host North Florida, the event will feature two nationally-known programs in Texas and Houston as well as a trio of three other Ohio Valley Conference programs in Eastern Kentucky, Belmont and Tennessee Tech.
Other teams are Boston, Charleston Southern, Daytona State, Jacksonville, James Madison, McNeese State, Old Dominion, Richmond, Samford, Delaware, Western Carolina and William Mary.
As a result of recent snow and ice covering the local golf courses, the Lady Govs only have had limited opportunities to gain outdoor practice and playing time in recent weeks. As a result, they left Wednesday prior to the winter storms to gain actual extra "course" work in route to their Florida destination.
"We are looking forward to getting the spring season started," APSU coach Sara Robson said. "The weather has been an issue, we were happy to go south, get a little practice in before the event, and do our best to kick off the season on a good note.
"The girls worked hard over the winter; lately it has been all about staying mentally tough and not letting the weather get to us.  We have taken every opportunity to be outside and they have had quality practices."
Like the men before their recent tournament, the Lady Govs and Robson called on former Govs coach Kirk Kayden, now the Mercer coach who helped APSU find practice time in the Macon area Friday and Saturday before arriving in Jacksonville, Sunday.
The Lady Govs took six players to Florida—all will play—including two-time All-OVC performer Jessica Cathey, senior Meghan Mueller, sophomores Morgan Kauffman and Morgan Gardner along with freshmen AnnaMichelle Moore and Anna Pope.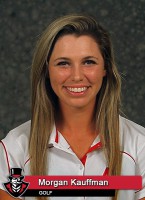 The Lady Govs will be without sophomore Amber Bosworth, who is out indefinitely with a tibia stress fracture.
This will be the first of five spring tournaments, including the OVC championship to be held April 20th-22nd at Hampton Cove on the Robert Trent Jones Trail in Huntsville, Alabama.
The Lady Govs played in six fall tournaments, with its best finish (fourth) coming in their own F&M Bank APSU Intercollegiate. Cathey held APSU's lowest fall scoring average (76.0 strokes per round).