Belmont Sports Information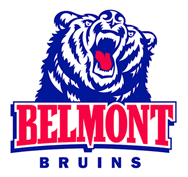 Nashville, TN – Belmont University men's basketball will face national power Virginia (29-3) of the ACC Conference in the second round of the 2015 NCAA Men's Basketball Championship.
Belmont received a No. 15 seed and will face the second-seeded Cavaliers Friday from Time Warner Cable Arena in Charlotte, NC.
Tip time, television and broadcast crew will be announced shortly.
Belmont (22-10) – making its seventh NCAA Tournament appearance in 10 years – will represent the Ohio Valley Conference for the second time in three years.
Belmont joins Gonzaga of the West Coast Conference as only the two NCAA Division I men's basketball programs to earn seven NCAA Tournament automatic bids in the last 10 years.
The Bruins defeated then 25th-ranked Murray State, 88-87, March 7th to win the OVC Championship. Sophomore Taylor Barnette (Lexington, KY) sank a dramatic, fadeaway three-pointer with 3.2 seconds remaining to lift Belmont to victory.
In fact, just two years earlier, Kerron Johnson ('13) sank a 15-foot jumpshot in overtime to carry Belmont to a 70-68 victory over Murray State and propel the Bruins to the 'Big Dance.'
Belmont features All-OVC First Team and Capital One/CoSIDA Academic All-America selection Craig Bradshaw (Ridgetop, TN) and All-OVC Second Team and NCAA Field Goal Percentage leader Evan Bradds (Jamestown, Ohio).
Notes
Belmont is one of only five NCAA Division I-AAA (non-football) member institutions to appear in the NCAA Tournament seven of the last 10 years (Gonzaga, Marquette, VCU, Xavier)
Belmont is an NCAA-best 22-3 in conference tournament games since 2006
Belmont is third in NCAA Division I men's basketball with 14 conference championships since 2006 (seven regular season, seven tournament; Gonzaga, Kansas 16)
Belmont entered the 2014-15 season as one of only six NCAA Division I programs to win 26 or more games each of the last four years (Duke, Florida, Syracuse, VCU, Wichita State)
Belmont has made the second-most three-point field goals in the nation since going from the NAIA to NCAA Division I in 1996-97 (Duke)
Belmont has ranked in the Top 30 nationally in scoring offense each of the last five seasons
Since 2000-01, Belmont Basketball leads the nation in Academic All-Americans (12), which includes junior Craig Bradshaw this season
Head Coach Rick Byrd is in his 29th season at Belmont. He ranks seventh among all active NCAA Division I head coaches in career wins (711)
Belmont dropped three straight December games when Bradshaw was out due to injury