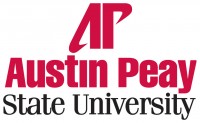 Clarksville, TN – Austin Peay State University's campaign to develop a state-of-the-art trading room for its College of Business students received a major boost last week when Mark Green, MD, president of the healthcare company AlignMD, presented APSU President Alisa White with a $50,000 donation for that project.
"In building our successful healthcare company, the resources that served as the foundation came from here in the Clarksville community: legal services, capital financing and accounting," Green, a Tennessee state senator and physician, said. "AlignMD is an authentic Clarksville entrepreneurial success story."
AlignMD's generous donation will go toward putting a trading room, and adjoining innovation rooms, on the first floor of APSU's Kimbrough Building. The unique space will feature computer stations and terminals to provide students studying finance, marketing and management with business innovation tools that will enhance and extend their business education.
The new rooms will also complement the College of Business' growing reputation as one of Tennessee's top business programs. Earlier this year, the college's Investment Challenge team placed first in the Tennessee Valley Authority's annual Investment Challenge.
Competing against teams from 25 other universities, the APSU team managed an investment portfolio that outperformed the benchmark index by more than 65 percent. The APSU team earned a 22.67 percent return for TVA invested funds, outperforming the Standard and Poor's average by 13.69 percent.
"As a good steward and good corporate citizen, making an investment in the very business community that assisted in our success is not only the right thing to do, it's the responsible thing to do," Green said. "Austin Peay's College of Business is the pool for the next Clarksville success story."
Last year, APSU's Master of Science in Management program was ranked #32 in the country on The Financial Engineer's 2015 Master of Management Rankings. APSU's graduate business program was the highest ranked in Tennessee.
For information on the trading room, contact Susan Wilson, APSU director of major gifts, at .