Written by David E. Gillespie
Blanchfield Army Community Hospital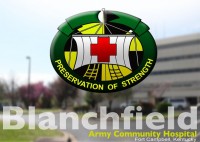 Fort Campbell, KY – Blanchfield Army Community Hospital Commander Col. George "Ned" Appenzeller relinquished command to Col. Telita Crosland Monday afternoon during a Change of Command Ceremony on the hospital's parade field.
In addition to her Doctorate of Medicine, Crosland has degrees in public health and national resource strategy. She is certified by the American Board of Family Medicine, is a Fellow of the American Academy of Family Physicians and is a recipient of the Surgeon General's "A" proficiency designator.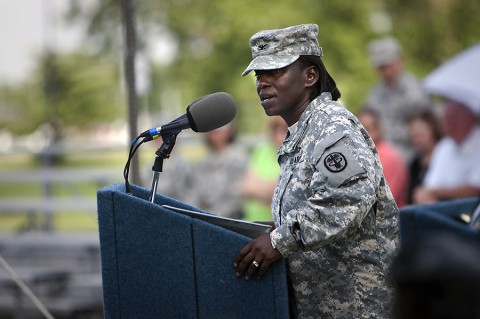 Crosland is a former senior medical officer with the Office of the Surgeon General and was most recently assigned as the Chief of Medical Corps Branch, Human Resources Command, Fort Knox, KY.
"I am truly humbled by the opportunity to command again and blessed to be able to serve here at Fort Campbell," Crosland told the audience after assuming command, symbolized by the traditional passing of the colors.
Echoing remarks from a recent medical commander's training event, Crosland said Army Medicine exists to ensure medical readiness of the force, which enables the military to win the nation's wars. "We do this as a team – a team of highly professional, committed and passionate Soldiers and civilians," she said.
"For my Blanchfield team, I want you to know that we will continue to build on your successes, and we will adjust in the areas needed as we realize our mission."
Crosland replaced Appenzeller, whose two-year command saw remarkable growth with a myriad of projects, many of which are still edging closer to completion.
Brig. Gen. Barbara R. Holcomb, commander of the Southern Regional Medical Command and Market Manager of San Antonio Military Health System, presided over the ceremony and recognized Appenzeller for the many achievements he and his team attained during his command.
"Your tenure has been characterized with emphasis on patient safety, facility restructure and upgrade, and providing your patients quality care," Holcomb said.
"Additionally, your command became the first Army command in the continental United States to earn the Army Safety and Occupational Health Star Award."
During his command, ground was broken on a new "E" Building hospital wing, which along with renovations of existing space, will add nearly 50,000 square feet that will accommodate behavioral health services, house administrative offices and expand the Mother/Baby unit to all private rooms.
Emergency Center construction added 13,540 feet of new space and is altering 10,730 square feet of existing space to improve patient and staff flow. At a cost of more than $42 million, multi-year construction projects and improvements continue as patients are already reaping the benefits of increased services and space to accommodate their medical needs.
"You were instrumental in opening the Fort Campbell National Intrepid Center of Excellence Intrepid Spirit, one of three Traumatic Brain Injury Centers of Excellence in the Department of Defense," Holcomb said to Appenzeller. "You established a partnership with the VA Healthcare System of Ohio and laid the foundation to grow emergency medicine for this area."
Describing him as visionary, respected, inspiring and motivating, Holcomb said Appenzeller implemented a treatment process that decreased long-term opioid prescriptions, improved the integrated disability evaluation system, and expanded surgical services to include total joint replacements and other endoscopic surgeries.
He also instituted a healthy vending campaign and activity-based nutrition labels at Fort Campbell dining facilities, which was noted by the Army Surgeon General to be a Performance Triad best practice.
"This has been an incredibly turbulent two years, with that combination of uncertainty and rapid change," Appenzeller said during the ceremony. "We have seen sequestration, furloughs, deployments across the globe, Ebola and a government shutdown, just to scratch the surface."
Through all of that, Appenzeller said he had never seen a more resilient staff. "They have embraced a growth philosophy, and over the last two years they have grown capacity and capabilities by continuously learning, adapting and changing … They opened a child and family behavioral health center, an Intrepid Center, a new ER, started new surgical procedures, nearly doubled behavioral health, and I could go on for hours," Appenzeller said.
"Ultimately, it isn't buildings or equipment or awards or any kind of stuff that makes a hospital … what makes this hospital great is the people – not just their past performance, which has been phenomenal – but the best part is the future and the potential this staff brings."
Appenzeller will assume a new role at Kelley Barracks in Stuttgart-Moehringen, Germany, where he will serve as U.S. Africa Command Surgeon.