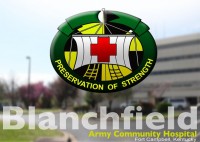 Fort Campbell, KY – The director of the Intrepid Spirit at Fort Campbell recently met with a scientific and medical advisory board in Lexington, KY, to share lessons learned in establishing Traumatic Brain Injury (TBI) regional excellence care.

Dr. Bret Logan, who serves as Intrepid Spirit director and Army Medicine Ambassador, met with the board, known as the Traumatic Brain Injury Project. Logan shared with the board initiatives and programs in place at Fort Campbell to help treat Soldiers with TBI and psychological injures.

The board is supported by Lexington's Association of the United States Army Bluegrass Chapter, who held their quarterly meeting with Logan and Dr. Jim Geddes, director of Spinal Cord and Brain Injury Research Center at the University of Kentucky College of Medicine, serving as guest speakers for their development in brain injury research and treatment.

The goal of Fort Campbell's Intrepid Spirit TBI program is to return Soldiers to duty or to a productive civilian life. Logan's collaboration with the board, as well as University of Kentucky students and faculty, the Veterans Administration and UK's Cardinal Hill Hospital, also met the goal of Army Medicine Ambassadors, to help strengthen the health of the nation by improving the health of our Army.

Under Logan's leadership, the program at Fort Campbell began as one of the first TBI centers in the Army providing medical treatment to Soldiers at Fort Campbell's Warrior Resiliency and Recovery Center. Later the Fort Campbell TBI care team assisted Army Medicine in determining TBI treatment protocols down range. Today, the program offers both modern and ancient techniques treating TBI and psychological health. This evolution has grown to expanding capabilities and using modern equipment in a 25,000 square-foot Intrepid Spirit center.

Logan, who is a neuro-psychiatrist, was responsible for initiating the Warrior Resiliency and Recovery Center, which began treating active duty Soldiers returning from Iraq and Afghanistan in October 2008. The center was initially created to treat the volume of Soldiers returning home from combat operations with concerns, but addresses the continuous need for TBI care in day-to-day living that are not combat related.

The WRRC provided clinical treatment and resiliency training for Soldiers affected by mild to moderate brain injury and post concussive syndrome, post-traumatic stress reactions, and other neuropsychological injuries. The successful outcomes Soldiers experienced after their care plan was complete became a success story with greater than 80 percent returning to duty at the time.

Today, the multidisciplinary team staffed by 58 clinical and administrative staff returns 92 percent of Soldiers receiving care back to active duty. The remaining Soldiers show improvements and may choose to transition from the Army and reintegrate back to civilian life.

During a brainstorming session among Logan and UK scientific and medical advisory board members June 9th, Logan proposed ideas that could enable the University of Kentucky and the Veterans Administration to move ahead with current TBI treatment and research programs in place.

"It's not that you don't have what you need here; it's that you need to be empowered with what you have," Logan told the team, referring to medical insurance companies, private primary care practices, specialty providers and others networking to offer smooth transitions of care in a timely manner.

Logan spoke about the hub-and-spoke model of TBI care within the Army. The hub is the National Intrepid Center of Excellence in Bethesda, MD, and the spokes are smaller facilities providing care to Active Duty Service members assigned to Division-sized installations. There are currently three operating Intrepid Spirits, and the goal is to build six more.

"You will never have enough providers in neuroscience to meet the needs of society," Logan emphasized. "It must be treated in a primary care model."

Logan also highlighted the important role a multidiscipline care approach has in treating mild TBI. "There is no single expertise to treat the condition. Yet together, we have exactly what we need to take care of this problem. Wars are won in teams, by integrated warriors; the same is true for medical care," he said.

"We will not focus on what they can't do, but what they can do," Logan said, praising his own care team at Fort Campbell as he commented about their treatment focus when working individually with patients.

Where UK members and other universities come into play for the military is their ability to advance the research, Logan said. "Science needs to proceed to continue offering TBI care."

A broader spectrum of care should be researched such as TBI, depression, post-traumatic stress disorder and pain management as it relates to the brain, he added.

"Our goal is to expand more into translational and applying some of our research to the clinic and to individuals," said Dr. Jim Geddes. "As part of that, we started looking into blast induced brain injury and through that a network developed."

According to Geddes, causes of brain injury are still not understood. "The major goal is to help the individuals with traumatic brain injury, and to do that, we need to first understand what causes the brain injury." Once a strong understanding is formed, "we can develop better treatments."

Until more research is formed, Army Medicine is moving forward with success in providing care to Soldiers with TBI and psychological injuries. The PIE (Proximity, Immediacy, and Expectancy) approach is used throughout Army Medicine. At Fort Campbell, the primary care manager manages mild TBI symptoms within the first 30 to 90 days, provides education, restricts Soldiers from duty between 7 to 30 days and reevaluates every three to four weeks.

If there is no improvement, Soldiers will receive a referral to the Intrepid Spirit to begin the multi-disciplinary model of care, including occupational therapy, speech and language therapy, neuro-optometry, physical therapy, physical medicine and rehabilitation, anesthesiology, neurology, psychology and psychiatry. Not all Soldiers will need medical care in every discipline; therefore each one receives an individualized care plan that continues to be developed and reassessed every three weeks.

This integrated multidisciplinary environment emphasizes communication and close coordination and integration of care. The techniques are oriented to neuro-modulation where the brain heals itself through brain exercise and reconditioning.

The rehabilitation model is patient and family centered and emphasizes learning, education and patient-directed goal setting. Techniques employed for recovery are ancient, including Tai-chi, Yoga and Acupuncture. Some techniques are also ultra-modern; including cranial electrical stimulation, Trans-cranial magnetic stimulation and quantitative electroencephalogram (QEEG) directed neuro-feedback.

Another added benefit for the TBI model of care used at the Intrepid Spirit is the nurse case management for Fort Campbell Soldiers treated in the program.

In addition, Logan said the importance of sleep cannot be overlooked. "Sleep is critical in the treatment of brain injury and psychological health." Geddess highlighted benefits of partnering with Intrepid Spirit at Fort Campbell.

"Science used to be small groups with small labs and now it is big science, you need a team approach," Geddes said, adding that by partnering with Intrepid Spirit and the number of people that they treat with TBI, gives them a huge patient population from which to gain information.

"Through that information where we can see for example, which individuals have persistent problems, which individuals were able to return to full functioning and what were the characteristics at the time of their injury, what could we have predicted from the injury, can we tell which ones need treatment and would benefit from treatment to recover more quickly? So having that information and working with the partner with that population is just invaluable."

In speaking to the UK research team, Logan said, "It's not the ingredients but the recipe that needs to be understood." The recipe, according to Logan, will be determined in the labs and medical research.



Sections
News
Topics
Afghanistan, Bach, Blanchfield Army Community Hospital, Bret Logan, Fort Campbell Intrepid Spirit Center, Fort Campbell KY, Fort Campbell Soldiers, Fort Campbell's Warrior Resiliency and Recovery Center and National Intrepid Center of Excellence, Iraq, Jim Geddes, Lexington KY, Silke Bernert, TBI, Traumatic Brain Injury, U.S. Army, Univeristy of Kentucky