Austin Peay Sports Information

Chattanooga, TN – Finding consistency will be the theme as Austin Peay State University's volleyball team begins the third week of its 2015 schedule, Friday-Saturday, at the Scenic City Showdown hosted by Chattanooga at MacLellan Gym.

The Lady Govs open the tournament with a 2:00pm (CT), Friday contest against Gardner-Webb. Saturday's action begins with a 9:00am contest against UAB followed by a 6:00pm matchup with host Chattanooga.

Austin Peay (2-6) has battled inconsistency during the season's first two weekends. The Lady Govs showed their potential in a three-match stretch last week that saw it lose a five-set decision to Evansville at home before picking up back-to-back wins against Savannah State and Florida International.
Yet the Lady Govs couldn't keep their momentum going and travel to Chattanooga on the heels of consecutive three-set losses to Conference USA members UAB and Western Kentucky. After three straight matches where APSU hit better than .200, the offense failed to reach that mark in the two losses.
"We need to be more consistent in passing and serve receive so we can run our offense," said Lady Govs head coach Taylor Mott. "We have to continue to serving tough but not make so many service errors. It really comes down to we need to just play volleyball. We've been on an emotional rollercoaster at times so we need to find that even-keeled steady pace of play we know we're capable of."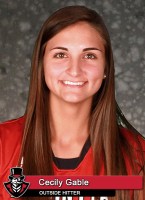 Mott has had the luxury of using her freshmen regularly through the season's first two weeks. Outside hitter Cecily Gable has played in all 27 sets and is second on the team with 59 kills (2.46 per set), including a team-best 10 kills in Tuesday's match at Western Kentucky. Setter Kristen Stucker has taken over as APSU's primary setter and has more than 20 assists in her five starts. In addition, middle blocker Kaylee Taff and outside hitter Logan Carger have each seen significant time early.

"I've been surprised by our freshmen," said Mott. "Usually freshmen come in and aren't up to the speed of the game. We've got a handful of freshmen who've come in and made a difference right away. That's always a pleasant surprise. I also believe it takes some pressure off the team knowing we have that depth available."

Entering the season's third week and with just two weeks until Ohio Valley Conference play begins, Mott believes her team's outlook is has to remain rooted in the next match on the schedule.

"At this point we're looking at every match the same" Mott said. "We're just trying to take one match at a time and trying to find a way to win. Really we're just trying to find some consistency, that's our focus this weekend."
Slay Slides Into Early Rankings
The NCAA produced the first national rankings, Tuesday, and middle blocker Ashley Slay's named popped twice. She enters this weekend ranked 64th nationally with 11 service aces and 122nd in aces per set (0.42). In addition, libero April Adams ranks 89th nationally in total digs (109).
Slay-Marsellis on the Block
Slay and all-around player Aubrey Marsellis have formed a potent blocking tandem for Austin Peay. The 6-0 Slay leads the team with 20 blocks (0.77 per set) this season while the 6-1 Marsellis has posted 15 blocks (0.71 per set).
Scouting The Opposition
Gardner-Webb (3-5)
The Running Bulldogs travel to Chattanooga following a Tuesday win against North Carolina Central. The win snapped a five-match losing streak that included a three-set loss to OVC member Southeast Missouri.

Outside hitter Taylor Lillard leads Gardner-Webb with 49 kills (2.23 per set) but has a .153 attack percentage. Middle blocker Sydney Marshall has been a force at the net, recording 31 blocks (1.03 per set) this season.

UAB (4-4)
Austin Peay will meet UAB for the second time this season, seeking revenge on last weekend's three-set loss at the Blazer Invitational. The Blazers followed that tournament with a three-set loss at North Texas, leveling their overall record.

Outside hitter Gabby Deshotel continues to be UAB's top offensive threat and now has 125 kills (4.17 per set) at a .245 attack percentage.

Chattanooga (4-2)


Chattanooga returns to action after a six-day break following its stay at the Maroon Classic, hosted by Mississippi State. The Mocs won three-set affairs against both Mississippi Valley and Stetson before dropping a four-set contest to the host school.

In addition, Chattanooga owns a three-set victory against OVC member Eastern Kentucky during the season's first weekend. Right-side hitter Sarah Batterton leads the Mocs with 63 kills (3.15 per set) and an impressive .345 attack percentage after two weekends of action.
Sseries Histories
Gardner-Webb: Friday's contest will be the first-ever meeting between Austin Peay and Gardner-Webb.
UAB: Austin Peay and UAB will meet for the ninth time and the second time this season. Last weekend's UAB victory kept Austin Peay winless in the all-time series, which now stands 8-0 in UAB's favor.
Chattanooga: The in-state rivals will meet for the 37th time since the series started in 1980. Austin Peay owns a 23-13 edge in the all-time series, but Chattanooga has won four of the last seven meetings, including last season's four-set victory in Chattanooga.
Catch It Live
Fans can follow this weekend's matches at the Scenic City Showdown via live statistics at www.GoMocs.com
Sections
Sports
Topics
April Adams, APSU, APSU Athletics, APSU Sports, APSU Volleyball, APSU Women's Volleyball, Ashley Slay, Aubrey Marsellis, Austin Peay State University, Cecily Gable, Chattanooga, Chattanooga TN, COnference USA, Eastern Kentucky, Evansville, Florida International, Gabby Deshotel, Gardner-Webb, Kaylee Taff, Kristen Stucker, Lady Govs, Logan Carger, MacLellan Gym, Mississippi State, Mocs, North Texas, Ohio Valley Conference, OVC, Running Bulldogs, Sarah Batterton, Savannah State, Scenic City Showdown, Southeast Missouri, Stetson, Sydney Marshall, Taylor Lillard, Taylor Mott, UAB, UAB Blazer Invitational, Western Kentucky