Clarksville, TN – On January 15th, 2016, both Timothy Grant and Dustin McCracken received contact from Theresa Cobb. She was asking to purchase a large amount of Opana pills.
McCracken, having no pills, conspired with Grant to rob her. The arrangement was to meet at the Bojangles (1836 Tiny Town Road) for the transaction.
Once both parties arrived, Cobb got into the backseat of the vehicle Grant and McCracken were occupying. When Cobb showed the money, McCracken attempted to grab it from her, and a struggle ensued (no weapons).
While this was occurring, Kyle Heade approached the vehicle from the driver's side and fired numerous rounds from a 9mm handgun into the vehicle. Grant was struck five times.
After the incident, McCracken drove Grant to Gateway Medical Center and then "dumped" the car on Ferris Street downtown. Grant is doing well and is released from Vanderbilt University Medical Center.
Detective Dennis Honholt stated, "After the incident, I executed a search warrant at the residence where Cobb lives and where Heade was staying. A disassembled S&W 9mm handgun was found in the trash."
Detective Honholt is requesting public assistance in locating the three suspects—Kyle Heade, Theresa Cobb, and Dustin McCracken.
If anyone locates these individuals, please contact Detective Honholt at 931.648.0656 Ext 5260 or the CrimeStoppers TIPS Hotline at 931.645.TIPS (8477).
Warrants are Wanted For
Kyle Heade
28-year-old Kyle Thomas Heade (White Male) from Fort Campbell, KY (Active/AWOL US Army) wanted for Criminal Attempt Homicide
Kyle Thomas Heade
Sex
Male
Race
White
Age
28
Address
Fort Campbell KY
Height
5′ 11″
Weight
155lbs
Hair Color
Brown
Eye Color
Green
---
Dustin McCraken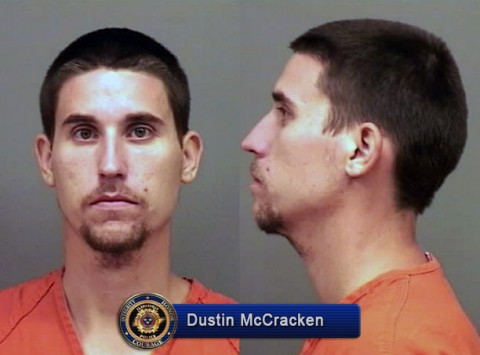 26-year-old Dustin Robert McCracken (White Male) wanted for Robbery and Tampering with Evidence
---
Theresa Cobb
[photo unavailable]
30-year-old Theresa L. Cobb (White Female) wanted for Criminal Attempt Homicide (Accessory)