APSU Sports Information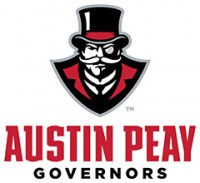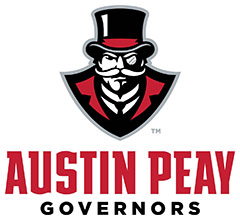 Clarksville, TN – Four former Austin Peay State University athletic greats, who had great impact on their respective programs, were inducted into the APSU Athletics Hall of Fame, Saturday morning, in a breakfast ceremony in the Dunn Center front lobby.
Rowdy Hardy, the winningest pitcher in Governors baseball history and two-time Collegiate Baseball All-American selection; Stephanie Champine, a two-time all-region volleyball player and 2009 OVC Player of the Year; Carrie Burggraf, a five-time Ohio Valley Conference pole vault champion and two-time OVC Scholar Athlete, were inducted along with the late Paul Aaron, a basketball star in the late 1940s who was enshrined from the Honors category.
They became the 111th, 112th, 113th and 114th members of APSU's Athletic Hall of Fame.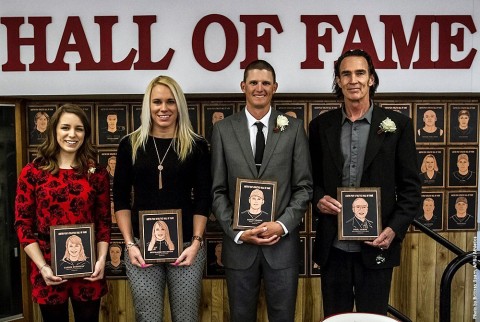 Rowdy Hardy
Austin Peay was fortunate things didn't work out for Rowdy Hardy at his first college baseball stop
After one redshirt year at Ole Miss, Hardy elected to transfer to Jackson State Community College, where he pitched for former Gov Steve Cornelison and led the conference in innings pitched. At that point, Austin Peay set its sights on the durable hurler— then-APSU head coach Gary McClure always had a penchant for lefties. But not even McClure could not have envisioned what the 6-2 slender slinger was going to accomplish during the next three year.
Arriving in Fall 2003, Hardy not only became the anchor of the Govs pitching staff during the mid-2000s but as well the winningest pitcher in Austin Peay and Ohio Valley Conference history. The master of the dead-fish change-up and a tailing fastball that resembled a screwball from yesteryear, Hardy won 32 games in his three years, six more victories than any other Governors pitcher in history.
Hardy made quite the immediate impression in his first season, especially during OVC play. As a sophomore in 2004, he was named the league's Rookie of the Year after finishing with a school-record 12 wins (three losses) with a 2.90 ERA in leading the Govs to a regular-season league title—he finished 10th nationally in victories. After posting a 7-0 league mark and 2.30 ERA, the Bethel Springs native earned the first of three All-OVC awards. He also was named third-team All-America by Louisville Slugger—APSU's first All-American since 2000—after earning American Baseball Coaches Association All-South Region honors.
Hardy followed up his outstanding sophomore season with an equally superb junior campaign, going 11-6—becoming the only Gov pitcher in history with multiple double-digit wins seasons. He also posted a 2.63 ERA—a microscopic 2.04 ERA during league play—and was named first-team All-OVC for a second straight time. During the season he was named OVC Pitcher of the Week three times, two coming after he pitched back-to-back shutouts during league play.
Hardy also earned all-region honors for a second straight year. He was selected APSU's Most Outstanding Male Athlete for the first of two consecutive seasons. The Govs finished the OVC regular-season in second place but defeated Jacksonville State in the title game, earning APSU's first NCAA berth (Knoxville Region) since the 1996 season. Hardy was selected second-team All-America and was chosen to pitch the Govs' NCAA opener against Tennessee and Luke Hochevar, who would become the top pick in that season's pro draft.
With a team besieged by injuries—especially on the infield—in 2006, Hardy still won nine games (9-3)—narrowly missing a third double-digit victory campaign but still posting a career-best 2.58 ERA while leading the Govs to a third-straight 30-win campaign.
Not only are Hardy's 32 career wins an APSU mark but an OVC record as well, two more than second-place Jeff Cruse (1984-87), who played four seasons at EKU. During his career, Hardy averaged just 1.74 walks per nine innings, also a school mark. Hardy pitched 19 complete games in his 45 starts, the most by any APSU pitcher since the early 1980s. His 96 strikeouts in 2005 are the second most in a single season. In fact, Hardy is ranked in the Top 10 in 21 single-season and/or career marks.
After completing his APSU career, he embarked on a six-year minor league career, first with the Kansas City Royals and later with the Atlanta Braves organizations. An undrafted free agent, Hardy was the Royals Minor League Pitcher of the Year for 2007 after compiling a 15-5 record with 2.48 ERA for Wilmington in the Carolina League. He reached as high as Triple-A in the Braves organization.
Hardy was presented by former Governors baseball coach Gary McClure.
Stephanie Champine
She was simply known as "Champ." Never was a nickname more appropriate and never did one person do more to help transform a struggling program into a conference contender.
Jenny Hazelwood was seeking players who could impact her program for the 2008 season. After watching the Lady Govs struggle to an 8-25 record during her first APSU season, the Lady Govs coach knew she needed an influx of talent. Hazelwood had some pieces in place but knew the rebuilding process also needed a mix of young talent and a veteran who could provide an offensive jolt.
Enter Stephanie Champine. Originally from Lambertville Mich., she rose on Hazelwood's radar while at Owens Community College, located outside of Toledo. In her two-year career there she was named a 2007 National Junior College Athletic Association Division II second-team All-American after recording 534 kills and leading the Express to the Region 12A final and a 36-13 overall record in 2007.
Champine stood only 5-10, but her explosive leaping ability made her seem much taller… and her overpowering physical play at the net literally helped transform the Lady Govs from an OVC also-ran to a championship contender, leading the Lady Govs to back-to-back 22-victory seasons.
In her first season in 2008, Champ finished the season with a team-best 405 kills, on a team-high 1,135 attacks, and averaged 3.40 kills per set. She recorded double-digit kills in 25 matches, including an impressive streak of 14 consecutive double-digit kill performances. She also posted a team-high 17 double-doubles (kills and digs), including a streak of seven consecutive double-doubles.
She was chosen as the "Most Valuable Player" of the Lady Govs Volleyball Classic, where she racked up an impressive 48 kills in four matches. She also was named all-tournament team at the Kennesaw State Owl Challenge and the Tulsa Invitational.
So it was no wonder Champine was named first-team All-OVC as well as being selected to the league's All-Newcomer team in 2008 after leading the Lady Govs to a third-place finish. In addition, she was chosen as American Volleyball Coaches Association (AVCA) All-Region. She also was honorable mention AVCA All-America for a team that finished tied for third in the OVC standings.
Her played helped the Lady Govs improve by 14 victories from 2007 to 2008 and, as a result, saw Hazelwood depart the APSU program for her alma mater, Mississippi State.
As good as she was as a junior, Champine was even better as a senior, playing for new coach Mike Johnson. She smashed 488 kills, her 4.32 kills per set ranked 24th among all Division I hitters at year's end. Champine had double-digit kills in 28 matches during the season, including every OVC match, to help lead the Lady Govs to a second-place league finish. She elevated her play in OVC action, finishing with 309 total kills—106 more than the next closest hitter in league play—along with 241 digs, second most on the team.
Champine's dominant play saw her named OVC Offensive Player of the Week four times in 2009 – the most of any player in program history. Ultimately she was voted OVC Player of the Year, becoming only the third APSU player to earn the league's top honor. She was selected first-team All-OVC for a second straight season and earned OVC all-tourney. Again she was chosen AVCA All-Midwest Region team as well as honorable mention All-American.
In the Spring 2010, Champine was named APSU's Most Outstanding Female Athlete. That same spring her jersey was retired at Owens Community College (Perrysburg, Ohio).
Champine was presented by former Governors volleyball coach Mike Johnson, who now is an assistant at Notre Dame.
Carrie Burggraf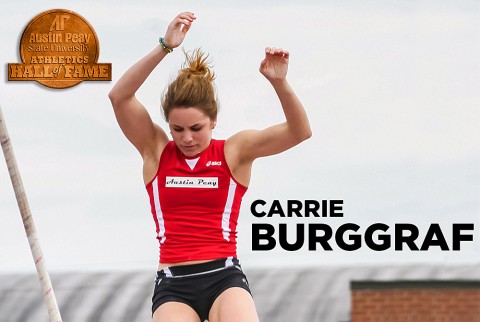 Probably no one has exemplified the term student-athlete more in APSU athletics history than Carrie Burggraf. Few have accomplished as much as Burggraf did as a track and field performer—she was a five-time OVC pole vault champion—and no one achieved what she did outside the field of competition.
Doug Molnar historically has gone to his native state to find pole vault competitors. Molnar and the Lady Govs literally vaulted to the OVC lead in that specialty in the later 2000s with two Ohioans, Molly Bartkiewicz (Westlake, Ohio) and Burrgraf (Marion, Ohio) arriving in 2006 as freshmen. By the following spring Burggraf already was making her mark in the vault. Although injuries interrupted her freshman season, she qualified for the NCAA Indoor championships pole vault in 2007. However, a back injury prevented her from competition during the outdoor season.
But with the injury healed she literally vaulted upward the following year. In the 2008 indoor campaign, she captured four first-place finishes, twice tying with teammate Molly Bartkiewicz, while never finishing lower than fourth. Then she earned six top-five finishes in her sophomore outdoor campaign. Burggraf claimed her first OVC title with a 3.73-meter vault, narrowly edging Bartkiewicz at Southeast Missouri's Stuber Track Complex. That spring she competed in her first NCAA Regional at the University of Arkansas.
As a junior in 2009, Burggraf never finished worse than sixth during the indoor season. She saved her best for last, setting the school indoor record at the OVC Championship with a 3.80-meter vault, winning her second OVC championship at Eastern Illinois' Lantz Indoor Fieldhouse. She picked up where she left off in the outdoor, setting the school outdoor mark with a 3.85-meter vault to open the campaign. She went on to capture her third consecutive OVC pole vault title with a 3.75-meter mark at the outdoor championships hosted by Eastern Kentucky and earning a trip to the NCAA Regional in Louisville, Kentucky. In addition, she was named APSU's Most Outstanding Female Athlete that spring.
Burggraf capped off her exceptional field career with an even stronger senior season. She hit the 13-foot mark in the 2010 OVC championships at Tennessee State, holding off teammate Bartkiewicz in a jump off after both posted 3.96-meter mark. She was named OVC Female Indoor Athlete of the year for her performance.
Then during the outdoor season she vaulted 4.09 meters (13 feet, 5 inches) at Tennessee Tech, not only shattering her OVC Outdoor championship record but claiming her fifth straight OVC pole vault title—she became the first OVC pole vaulter in history to clear 13 feet outdoors. She also made her third straight NCAA Regional appearance, this time at North Carolina A&T. Burggraf was selected as APSU's Female Legends Award recipient as the most valuable senior athlete.
Her on-field performance only tells half the amazing Burggraf story. She earned second-team CoSIDA Academic All-America as a junior and first-team as a senior. Graduating with a 4.0 GPA, she earned the OVC Medal of Honor (highest GPA in a conference-sponsored sport) for four straight years.
Burggraf is the only athlete in OVC history to twice earn the prestigious OVC Scholar-Athlete Award, becoming the first junior student-athlete to earn such distinction because she held the necessary academic credits to qualify.  She also became the only two-time winner of the league's prestigious Steve Hamilton Sportsmanship Award.
As a junior she was honored with Perkins Freeman Scholarship and the following year as the Perkins Freeman Award recipient—the award is based upon highest GPA of rising junior (scholarship) and graduate (award). As a senior she received the John Burgess Award as APSU's top political science scholar—she earned the prestigious Jimmy Carter Center Peace Program internship during Summer 2008.
Burggraf was APSU and the OVC's Women of the Year nominee for 2010 and then received the esteemed NCAA Post-Graduate Scholarship as she continued her studies at the University of Pittsburgh.
APSU track and field/cross country coach Doug Molnar presented Burggraf.
Paul Aaron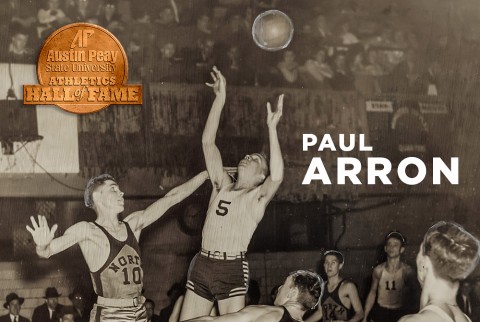 Paul "Slick" Aaron was more than the younger brother of Dave Aaron. He was an outstanding three-sport athlete in his own right, in particular, in basketball during the late 1940s.
When the elder Aaron took over as athletic director and basketball coach in 1946-47, he was fortunate that brother Paul was one of the incoming first-year basketball players. What coincided with the Aarons arrival was the fact Austin Peay played its games for the first time at the National Guard Armory. The Governors comprised a 56-27 record during Aaron's three seasons on the team.
Austin Peay finished the 1946-47 regular season with 17-4 record and then competed in the Middle Tennessee Athletic Basketball League, reaching the finals of the tourney before losing. In the semifinal victory, APSU won 64-46, with Aaron helping lead the way with 15 points.
Since Austin Peay played numerous independent teams that season it was invited to participate in the Independent Basketball Association of America tourney, winning four straight games to claim the title. Aaron had 12 points in the opener to lead Austin Peay past Wright. Aaron, who scored 190 points that season, was named to the Nashville Banner's All-State team.
The next season (1947-48) the Govs moved into the eight-member Volunteer State Athletic Conference.  They finished third in the new league and then took third place in VSAC tournament, with Aaron scoring 10 points in both the tourney semifinal and consolation game. He was named All-VSAC that season. Aaron finished with 195 points, right behind James Stone and George Fisher.
With four starters back in 1948-49 expectations were high, but the Govs got off to an unexpected sluggish start, winning just once in the first nine games. But Aaron played a key role as the Governors turned their fortunes around. After starting 5-11, Austin Peay finished the regular season winning eight of nine to take a 13-12 mark into the VSAC tournament, played at home in the Armory.  In the tourney semifinals Aaron scored 16 points to lead the team to a 50-47 victory against Union.
In the finals against Lincoln Memorial, Austin Peay trailed by five points until Aaron reentered the game with four minutes left to help rally the Govs to a tie. He became the hero when he hit a one-hander in the final minute for the 51-49 victory.
Aaron was named All-VSAC tournament and helped the team gain a berth in the NAIA Tryouts, where the Govs gained a championship berth before falling.
In addition to basketball, Aaron also played tennis, baseball and golf—a sport he continued to play recreationally for many years with former teammate Bob Swope–for the Governors.
After his playing days, Aaron graduated with a bachelor's degree in health and physical education from Austin Peay in 1950. Two years later he received his master's in health and physical education from Peabody College. He then served 33 years as the Director of Physical Education at the Jewish Community Center in Nashville.
Aaron died Jan. 1, 1999, at the age of 75. As a result, son Mark accepted the award for his late father and talked about the influence his father had on his family and those around him.