APSU Sports Information

Clarksville, TN – Unable to strike when the iron was hot, Austin Peay State University's baseball team dropped an 11-4 nonconference contest to No. 12 Missouri State, Sunday, in the final game of the Riverview Inn Governors Challenge at Raymond C. Hand Park.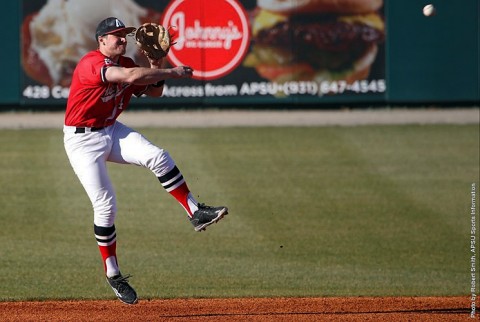 The bottom third of Missouri State's (5-1) roster did the bulk of the damage on the night – the 7-8-9 hitters combining to go 7-for-12 with six runs scored and seven RBI. Bears catcher Eduardo Castro was a thorn in the Governors side all night but his two home runs proved to be game changers.
With Missouri State trailing 4-3 in the top of the sixth, Castro hit a two-run home run off APSU starter Zach Neff to give the Bears a 5-4 lead they would not relinquish. He then added a grand slam in the ninth inning to put the game out of reach. Castro finished the night 3-for-5 with six RBI and scored three times.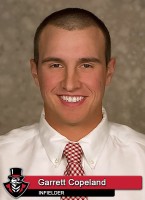 Austin Peay (4-3) had its opportunities early in the contest, but failed to score in its first seven at bats with a runner in scoring position – all in the first four innings. The Govs opened the game with shortstop Garrett Copeland's triple to center field, but saw the next three batters strike out to end the first inning. A walk and a single to start the third inning went for naught with both runners caught out on the basepaths.
The Govs would break through in the fourth inning as they posted three consecutive two-out hits. First baseman Dre Gleason started the run with a RBI single, right fielder Josh Wilson doubled and that duo scored on catcher Ridge Smith's two-run single.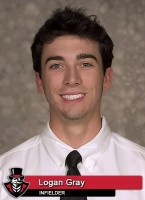 Austin Peay then would grab its only lead in the fifth, when third baseman Logan Gray doubled to score second baseman Garrett Copeland for a 4-3 lead. The Govs opportunity to pad their lead was cut down when Missouri State right fielder Alex Jefferson made a diving catch on left fielder Cayce Bredlau's line drive and then doubled off Gray who strayed too far from second to end the threat.
From there Missouri State relievers would retire the final 12 batters they faced, striking out seven.
Govs starter Zach Neff (0-2) suffered the loss after allowing five runs on 10 hits in five-plus innings.
Copeland and Gray each went 2-for-4 to pace an APSU offense that was held to nine hits.
Missouri State starter Dylan Coleman (2-0) picked up the win after allowing four runs on eight hits while striking out five in five innings. Reliever Sam Perez tossed three scoreless innings, striking out six, before Bryan Young tossed the ninth.
Inside the Box Score
Shortstop Garrett Copeland again started (112th consecutive start) and led off the game with a triple, extending his reached safely streak to 39 games.
Austin Peay was held without a home run for the first time in 2016.
The Govs had three extra-base hits with Logan Gray and Josh Wilson notching the team's 21st and 22nd doubles, respectively, while Copeland's triple was APSU's fifth this season.
Left fielder Cayce Bredlau was held without a hit, ending his six-game hit streak.
Next Up
Austin Peay begins a six-game road trip with a 3:00pm (CT), Wednesday contest against nationally-ranked Kentucky at Cliff Hagan Field in Lexingtonm KY.
Box Score
Missouri State (5-1) -vs- Austin Peay (4-3)
| | 1 | 2 | 3 | 4 | 5 | 6 | 7 | 8 | 9 | | | R | H | E |
| --- | --- | --- | --- | --- | --- | --- | --- | --- | --- | --- | --- | --- | --- |
| Missouri State | 1 | 1 | 1 | 0 | 0 | 3 | 0 | 0 | 5 | | 11 | 17 | 1 |
| Austin Peay | 0 | 0 | 0 | 3 | 1 | 0 | 0 | 0 | 0 | | 4 | 9 | 2 |
W: Coleman,Dylan (2-0) L: NEFF, Zach (0-2)

Missouri State 11
Position
Player
AB
R
H
RBI
BB
SO
LOB
cf
Steinmetz,Hunter
6
2
1
0
0
1
1
dh
Dezort,Matt
3
0
3
1
0
0
0
ph/dh
Graham,Blake
2
0
1
1
0
1
0
3b
Burger,Jake
6
0
3
1
0
0
3
lf
Johnson,Spencer
6
1
1
0
0
3
1
1b
Paulsen,Justin
3
1
0
0
1
0
0
rf
Jefferson,Alex
4
1
1
0
0
1
5
2b
Meyer,Aaron
4
2
3
1
1
0
0
c
Castro,Eduardo
5
3
3
6
0
0
1
ss
Eierman,Jeremy
3
1
1
0
1
0
0
p
Coleman,Dylan
0
0
0
0
0
0
0
p
Perez,Sam
0
0
0
0
0
0
0
p
Young,Bryan
0
0
0
0
0
0
0
Totals
42
11
17
10
3
6
11
Austin Peay 4
Position
Player
AB
R
H
RBI
BB
SO
LOB
2b
COPELAND, Garrett
4
1
2
0
0
1
0
ss
SMITHSON, Clayton
3
0
0
0
0
2
1
3b
GRAY, Logan
4
1
2
1
0
2
0
lf
BREDLAU, Cayce
4
0
0
0
0
1
1
dh
ROBLES, Alex
2
0
0
0
0
1
0
ph/dh
HAMILTON, Chase
2
0
1
0
0
0
0
1b
GLEASON, Dre
4
1
1
1
0
1
0
rf
WILSON, Josh
4
1
1
0
0
1
0
c
SMITH, Ridge
3
0
1
2
1
1
1
cf
WILLIS, Imani
2
0
1
0
0
1
1
ph
CONROY, TJ
1
0
0
0
0
1
0
cf
MASSONI, Patrick
0
0
0
0
0
0
0
p
NEFF, Zach
0
0
0
0
0
0
0
p
CARKUFF, Jared
0
0
0
0
0
0
0
p
NEWBERG, Brett
0
0
0
0
0
0
0
p
SPARKS, John
0
0
0
0
0
0
0
Totals
33
4
9
4
1
12
4
Missouri State
| Player | IP | H | R | ER | BB | SO | WP | BK | HBP | IBB | AB | BF | FO | GO | NP |
| --- | --- | --- | --- | --- | --- | --- | --- | --- | --- | --- | --- | --- | --- | --- | --- |
| Coleman, Dylan (W, 2-0) | 5.0 | 8 | 4 | 4 | 1 | 5 | 0 | 0 | 0 | 0 | 20 | 22 | 3 | 5 | 76 |
| Perez, Sam | 3.0 | 0 | 0 | 0 | 0 | 6 | 0 | 0 | 0 | 0 | 9 | 9 | 0 | 3 | 33 |
| Young, Bryan | 1.0 | 1 | 0 | 0 | 0 | 1 | 0 | 0 | 0 | 0 | 4 | 4 | 2 | 0 | 13 |
| Totals | | 9 | 4 | 4 | 1 | 12 | 0 | 0 | 0 | 0 | 33 | 35 | 5 | 8 | 122 |
Austin Peay
| Player | IP | H | R | ER | BB | SO | WP | BK | HBP | IBB | AB | BF | FO | GO | NP |
| --- | --- | --- | --- | --- | --- | --- | --- | --- | --- | --- | --- | --- | --- | --- | --- |
| Neff, Zach (L, 0-2) | 5.0 | 10 | 5 | 5 | 0 | 1 | 1 | 0 | 1 | 0 | 24 | 26 | 5 | 9 | 85 |
| Carkuff, Jared | 0.2 | 3 | 1 | 1 | 0 | 1 | 0 | 0 | 0 | 0 | 5 | 5 | 0 | 1 | 12 |
| Newberg, Brett | 0.1 | 1 | 0 | 0 | 0 | 1 | 0 | 0 | 1 | 0 | 2 | 3 | 0 | 0 | 8 |
| Sparks, John | 3.0 | 3 | 5 | 4 | 3 | 3 | 1 | 0 | 1 | 1 | 11 | 15 | 2 | 2 | 66 |
| Totals | | 17 | 11 | 10 | 3 | 6 | 2 | 0 | 3 | 1 | 42 | 49 | 7 | 12 | 171 |