Tennessee State Representative Curtis Johnson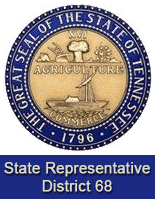 Nashville, TN – The Montgomery County Legislative Delegation had the honor of meeting with Austin Peay State University President Alisa White and six students from their honors program this week. They came to the Legislature to showcase their undergraduate research and what they're working on at the moment.
The faculty that accompanied them was the Provost and Vice President for Academic Affairs, Dr. Rex Gandy, Director of Business and Community relations Carol Clark, and the Director of the Honors Program, Dr. Linda Barnes. These students are very bright and creative and deserve recognition.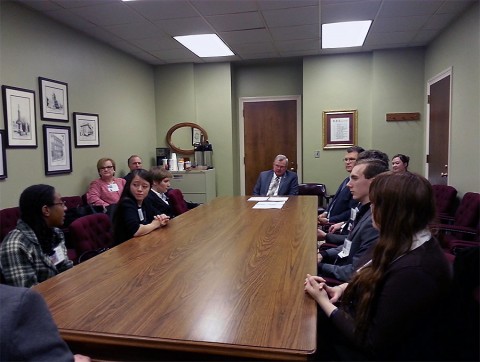 The six students are: Nicole Kirch who is researching "How effective are various filters at removing noise from audio signals?"; Nicolas Lee who is researching "The fool According to Gratiano" ; Nicole Santoyo who is researching "Southern Epic: Addressing Contemporary Tennessean Life"; Lane Parmely what is researching "Investigating the effects of Ligand-Binding to loops in NDA I-Motifs"; Amber Kearns who is researching "Bridging the Two Disciplines"; Shelia Johnson who is researching "The expression of Collagen IV; and Laminin V in Mammary Epithelium" and finally Travis Powell who is researching "Genocide and its Socio-Economic Origins" .
We are very proud of our Austin Peay students and their many achievements. They have a bright future ahead of them. Go Peay!
House approves Legislation addressing the growing problem of Opioid Abuse
Two bills which address the growing problem of opioid abuse were moving through the House this week, including legislation to expand patient access to lifesaving opioid antagonists. House Bill 2225 passed the full House on Thursday would require the Tennessee Department of Health to draft a Collaborative Pharmacy Practice Agreement where standards and parameters are to be outlined for the dispensing of the medication by pharmacists.
An antagonist is a drug that blocks opioids by attaching to the opioid receptors without activating them.  Opioid overdoses can be accidental from a legitimately obtained prescribed medication or as a result of the abuse of prescription opioids or heroin, and can result in death if not treated promptly.
According to the Centers for Disease Control and Prevention, 44 people die as a result of prescription opioid overdose every day in the United States.  Among people 25 to 64 years old, drug overdose caused more deaths than motor vehicles crashes.
Under the bill, a pharmacist must complete an opioid antagonist training program approved by the Department of Health within the previous two years to dispense the medication.  It also establishes immunity from disciplinary or adverse administrative actions, as well as immunity from civil liability, if dispensed pursuant to a valid statewide collaborative pharmacy practice agreement.
At least 24 other states either have enacted legislation or introduced a bill to give pharmacists some level of authority to dispense opioid antagonists at their discretion.
The other bill which is scheduled to be heard in the House Criminal Justice Subcommittee next Tuesday ensures that medical directors of pain clinics are highly qualified. Legislation tightening the requirements for medical directors and owners of pain management clinics was approved during the 2015 legislative session.
Opioid pain relievers such as oxycodone, hydrocodone, fentanyl and hydromorpone are responsible for three-fourths of all prescription drug overdose deaths according to the Center for Disease Control (CDC). The 2015 law required the medical director or owner of a pain clinic be a licensed physician who holds the required continuing medical education and subspecialty certification in pain medicine.
House Bill 1982
House Bill 1982 provides that a medical provider can qualify for state licensing as a pain management specialist by passing the two-part exam administered by the American Board of Interventional Pain Physicians (ABIPP). The physician must still be certified by the ABIPP. This allows for physicians that have been in practice for some time, an option that does not require a full-time fellowship which takes a year to complete.
Contact Information
Rep. Curtis Johnson
15 Legislative Plaza
Nashville, TN 37243
615.741.4341
rep.curtis.johnson@capitol.tn.gov
For more information about the Tennessee General Assembly, check our website at www.capitol.tn.gov