APSU Sports Information

Nashville, TN – Playing in his first Ohio Valley Conference tournament, senior center Chris Horton played like a man who wanted his college career to continue. Horton scored 37 points and grabbed 21 rebounds as No. 8 seed Austin Peay State University stunned No. 5 seed Tennessee Tech, 92-72, Wednesday night in first-round tourney action in Municipal Auditorium.
The Governors now will face No. 4 seed Tennessee State, 6:00pm, Thursday, in the tourney quarterfinal action, also in Municipal Auditorium.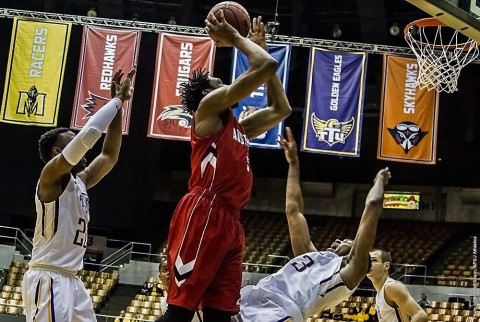 And the Governors live another day because of Horton's dominating performance. He matched his career point high—set against Lipscomb back in December—by going 13 of 16 from the floor. His 21 rebounds broke his personal best set in the final home game of the 2014-15 season when he grabbed 20 against SIU Edwardsville.
It was the most rebounds in the OVC tourney since Kenneth Faried had 20 against the Govs in the APSU loss. According to ESPN Stats & Info, Horton is only the second college player this season to record 35 points and 20 rebounds, the other being North Carolina's Brice Johnson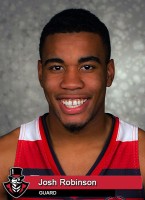 Horton's 37-point effort was facilitated by teammates who rolled up 22 assists, six by point guard Josh Robinson and five from senior forward Khalil Davis. Horton's 37 points were the most by a Gov in an OVC contest since Bubba Wells tallied 43 against Morehead State in the 1997 event.
In a contest where both teams showed early nerves with turnovers and some missed easy shots. Although it was Tennessee Tech scoring the opening bucket it was the Governors who got untracked first. With Chris Horton getting involved early and then a three pointer by Chris Porter-Bunton, the Govs led by as much as seven, 17-10, with 11:12 left in the half.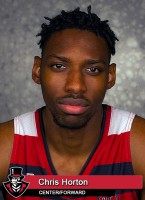 The Golden Eagles then went on a 5-0 run to slice the deficit to two, but that was as close as the Golden Eagles would get the rest of the half as Horton's offensive aggressiveness saw two reserve TTU post players pick up three fouls while the starters had two. Horton dominated with 20 points and 12 rebounds—he picked up season double-double 22 in the first half! Horton connected on 7-of-10 shots while also dishing three assists against the double teams.
But it wasn't just Horton. Redshirt freshman forward Chris Porter-Bunton continued his strong recent off-the-bench play with 10 points—he finished with 12, including a pair of three pointers. John Murry, who didn't play at all in February, had seven points off the bench. Torrance Rowe's nine points and Hakeem Rogers eight points kept TTU within striking distance.
As a result, the Govs took a 47-35 advantage into intermission. And hope for a Tennessee Tech comeback ended early in the second half. Freshman forward Jared Savage, who sat much of the first half in foul trouble, connected for two early three pointers.
When sophomore point guard Tre' Ivory flipped up a shot off the glass that went and was fouled, his subsequent free throw gave APSU a 61-41 lead with 15:28 left in the game.  That would as close as Tech would get until Ryan Martin scored on a three-point play with 2:45 was left to make it a 90-71 contest.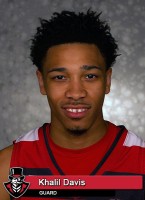 The Governors finished the contest shooting 54 percent (32 of 59) from the floor. They held Tennessee Tech to 39 percent (24 of 62) from the floor. A team known for its three-point shooting, the Golden Eagles connected on just 5-of-29 (17 percent) of their attempts—Aleksa Jugovic and All-OVC guard Torrance Rowe combined for just 1-of-17 from three-point land.
Foul troubles in their efforts to combat Horton also was a factor as four Golden Eagle inside players totaled 17 fouls between them. With Horton leading the way, APSU held a dominating 45-32 advantage on the boards—the nation's leading offensive rebounder finished with eight offensive grabs.
In addition to Horton and Bunton, Robinson ended with 11 points, five coming from the free-throw line.
Rowe ended with 18 points while Martin added 17.
Box Score
Austin Peay 92, Tennessee Tech 72
| | 1 | 2 | Total |
| --- | --- | --- | --- |
| Austin Peay | 47 | 45 | 92 |
| Tennessee Tech | 35 | 37 | 72 |
Austin Peay 92
Player
FGM
-FGA
3FGM
-3FGA
FTM
-FTA
OFF
-DEF
TOT
PF
TP
A
TO
BLK
STL
MIN
Horton, Chris
13-16
0-0
11-18
8-13
21
4
37
3
3
0
2
37
Robinson, Josh
3-12
0-8
5-6
1-2
3
1
11
6
4
0
2
32
Savage, Jared
3-7
3-7
0-0
0-4
4
4
9
3
0
0
1
22
Davis, Khalil
2-6
0-3
3-4
1-4
5
4
7
5
0
0
0
33
Jones, Kenny
3-5
0-0
0-3
1-4
5
1
6
2
0
2
0
16
Porter-Bunton, Chris
4-5
2-2
2-2
0-2
2
5
12
0
1
0
0
21
Murry, John
3-6
1-1
0-0
1-1
2
1
7
0
3
0
0
18
Ivory, Tre'
1-1
0-0
1-2
0-0
0
1
3
3
0
0
0
9
Glotta, Zach
0-0
0-0
0-0
0-0
0
2
0
0
1
0
0
7
Diop, Assane
0-0
0-0
0-0
0-0
0
3
0
0
0
0
0
3
Harris, Steve
0-1
0-0
0-0
0-1
1
0
0
0
0
0
0
1
Budrys, Domas
0-0
0-0
0-0
0-0
0
0
0
0
0
0
0
1
TEAM
0-0
0-0
0-0
0-2
2
0
0
0
1
0
0
0
Totals
32-59
6-21
22-35
12-33
45
26
92
22
13
2
5
200
Tennessee Tech 72
Player
FGM
-FGA
3FGM
-3FGA
FTM
-FTA
OFF
-DEF
TOT
PF
TP
A
TO
BLK
STL
MIN
Rowe, Torrance
6-18
1-10
5-6
1-1
2
1
18
6
3
0
0
38
Martin, Ryan
6-10
0-1
5-8
1-6
7
4
17
0
0
0
1
27
Morse, Anthony
4-7
0-0
0-0
4-4
8
4
8
0
1
1
1
19
Thomas, Shirmane
2-4
0-1
0-2
2-1
3
3
4
0
3
0
0
20
Jugovic, Aleksa
0-10
0-7
3-4
0-1
1
0
3
3
0
0
3
33
Rogers, Hakeem
3-9
3-8
2-2
0-6
6
3
11
0
1
0
1
22
Frazier, Savonte
2-2
0-0
3-5
0-2
2
3
7
1
0
0
0
10
Ramsey, Mason
1-2
1-2
0-0
1-1
2
5
3
2
0
0
1
12
Alexander, Courtney
0-0
0-0
1-2
0-0
0
4
1
0
1
0
0
16
Henderson, Markell
0-0
0-0
0-0
0-0
0
0
0
0
0
0
0
2
Hansbrough, Tre
0-0
0-0
0-0
0-0
0
0
0
0
0
0
0
1
TEAM
0-0
0-0
0-0
0-1
1
0
0
0
0
0
0
0
Totals
24-62
5-29
19-29
9-23
32
27
72
12
9
1
7
200