APSU Sports Information

Lexington, KY – Austin Peay State University's baseball team allowed a lead to slip away late, dropping a 3-2 nonconference decision to Kentucky, Wednesday afternoon, at Cliff Hagan Stadium.
Austin Peay (4-4) got a stellar start from freshman Josh Rye, who retired the first eight batters he faced before allowing a third-inning single. Rye would keep the Wildcats scoreless until the fourth when he surrendered a two-out solo home run to designated hitter Gunnar McNeill.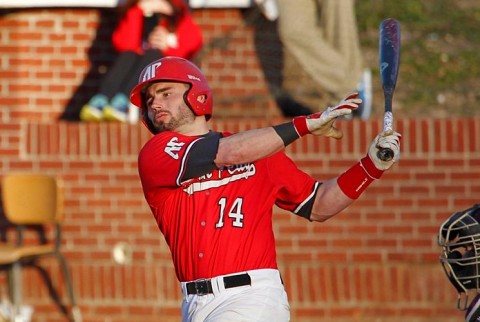 Austin Peay would level the scoring immediately in the fifth when catcher Ridge Smith led off the inning with a home run to left field. Shortstop Clayton Smithson followed with a double and second baseman Garrett Copeland received a base on balls.
Center fielder Patrick Massoni moved the runners with a sacrifice bunt and third baseman loaded the bases with another walk. Left fielder Cayce Bredlau lined out to the shortstop for the inning's second out, barely avoiding a double play as Copeland scrambled back to second.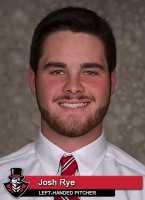 Designated hitter Alex Robles then stepped to the plate and worked a bases-loaded walk out of Kentucky Reliever Justin Lewis for a 2-1 lead. The Govs would leave the bases loaded as first baseman Dre Gleason flew out to deep left field.
After the fourth, Rye turned the ball over to Jared Carkuff, who held Kentucky scoreless for the next three innings. The senior righty worked around a one-out double in the fifth and then a two-on, one-out situation in the sixth. He finished the outing with a three-up, three-down seventh.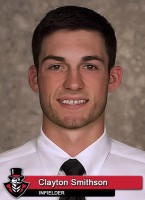 The Govs went to the bullpen again in the eight with Caleb Powell facing the leadoff batter and surrendering a single. CJ Burrow then took the mound and negated a potential sacrifice bunt with a bullet to second base for the out. After hitting a batter, he fielded another infield hit and threw to third to get the lead runner, leaving runners on first and second with two out.
Burrow's luck would run out as McNeill tied the game with a single to left center. Then pinch hitter Luke Becker singled through the right side, pushing in the go-ahead run. Austin Peay could not respond in the ninth with two of its four batters striking out.
Burrow (0-1) suffered the loss after allowing one run on two hits in the eighth. Rye was left with no decision after allowing one run on three hits in four innings.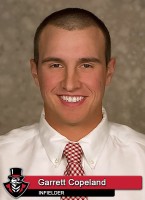 Smith finished the day 3-for-3 with a RBI and a walk. Second baseman Garrett Copeland walked three times, extending his reached base safely streak to 40 games.
Kentucky reliever Zach Strecker (1-0) picked up the win after tossing a scoreless eighth inning. Closer Sean Hjelie picked up his first save with a scoreless ninth. Wildcats starter Zach Pop did not allow a run over 3.1 innings, allowing three hits and two walks while striking out two.
McNeill went 2-for-4 with two RBI to pace Kentucky's offense. Center fielder Storm Wilson also had two hits.
Austin Peay continues its six-game road trip with a 5:00pm (CT), Friday contest at Mercer that is the opening game of a three-game set.
Box Score
Austin Peay (4-4) -vs- Kentucky (4-3)
| | 1 | 2 | 3 | 4 | 5 | 6 | 7 | 8 | 9 | | | R | H | E |
| --- | --- | --- | --- | --- | --- | --- | --- | --- | --- | --- | --- | --- | --- |
| Austin Peay | 0 | 0 | 0 | 0 | 2 | 0 | 0 | 0 | 0 | | 2 | 8 | 1 |
| Kentucky | 0 | 0 | 0 | 1 | 0 | 0 | 0 | 2 | X | | 3 | 8 | 1 |
W: Zach Strecker (1-0) L: BURROW, CJ (0-1) S: Sean Hjelle (1)
Austin Peay 2
Position
Player
AB
R
H
RBI
BB
SO
LOB
2b
COPELAND, Garrett
2
0
0
0
3
1
0
cf
MASSONI, Patrick
3
0
0
0
0
0
2
ph
HAMILTON, Chase
1
0
0
0
0
0
1
cf
WILLIS, Imani
0
0
0
0
0
0
0
3b
GRAY, Logan
4
0
0
0
1
1
2
lf
BREDLAU, Cayce
5
0
1
0
0
1
0
dh
ROBLES, Alex
3
0
1
1
1
1
0
pr
BLACKBURN, Kyle
0
0
0
0
0
0
0
1b
GLEASON, Dre
4
0
2
0
1
1
4
rf
WILSON, Josh
4
0
0
0
0
0
4
c
SMITH, Ridge
3
1
3
1
1
0
0
ss
SMITHSON, Clayton
2
1
1
0
1
0
0
p
RYE, Josh
0
0
0
0
0
0
0
p
CARKUFF, Jared
0
0
0
0
0
0
0
p
POWELL, Caleb
0
0
0
0
0
0
0
p
BURROW, CJ
0
0
0
0
0
0
0
Totals
31
2
8
2
8
5
13
Kentucky 3
Position
Player
AB
R
H
RBI
BB
SO
LOB
cf
Storm Wilson
4
0
2
0
0
0
1
1b
Evan White
4
0
0
0
0
0
2
3b
JaVon Shelby
3
1
0
0
0
0
0
lf
Tristan Pompey
4
1
1
0
0
0
0
dh
Gunnar McNeill
4
1
2
2
0
1
0
2b
Connor Heady
3
0
0
0
0
1
2
ph/2b
Luke Becker
1
0
1
1
0
0
0
rf
Dorian Hairston
3
0
0
0
0
0
0
ss
Riley Mahan
3
0
1
0
0
0
0
c
Kole Cottam
3
0
1
0
0
0
0
p
Zach Pop
0
0
0
0
0
0
0
p
Zach Logue
0
0
0
0
0
0
0
p
Justin Lewis
0
0
0
0
0
0
0
p
Daniel Tillo
0
0
0
0
0
0
0
p
Zach Strecker
0
0
0
0
0
0
0
p
Sean Hjelle
0
0
0
0
0
0
0
Totals
32
3
8
3
0
2
5
 Austin Peay
Player
IP
H
R
ER
BB
SO
WP
BK
HBP
IBB
AB
BF
FO
GO
NP
Rye, Josh
4.0
3
1
1
0
0
0
0
0
0
15
15
8
4
54
Carkuff, Jared
3.0
2
0
0
0
2
0
0
0
0
12
12
6
1
51
Powell, Caleb
0.0
1
1
1
0
0
0
0
0
0
1
1
0
0
3
Burrow, CJ
(L, 0-1)
1.0
2
1
1
0
0
0
0
1
0
4
5
0
2
16
Totals
8
3
3
0
2
0
0
1
0
32
33
14
7
124
Kentucky
Player
IP
H
R
ER
BB
SO
WP
BK
HBP
IBB
AB
BF
FO
GO
NP
Zach Pop
3.1
3
0
0
2
2
0
0
0
0
12
15
2
5
55
Zach Logue
1.1
2
2
2
2
0
0
0
0
0
4
7
2
1
25
Justin Lewis
2.0
1
0
0
3
1
0
0
0
0
7
10
3
2
42
Daniel Tillo
0.1
0
0
0
1
0
0
0
0
0
1
2
0
1
11
Zach Strecker
(W, 1-0)
1.0
1
0
0
0
0
0
0
0
0
3
4
0
3
14
Sean Hjelle
(S, 1)
1.0
1
0
0
0
2
0
0
0
0
4
4
1
0
13
Totals
8
2
2
8
5
0
0
0
0
31
42
8
12
160