Tennessee Highway Patrol Trooper saves Fort Campbell Soldier's Life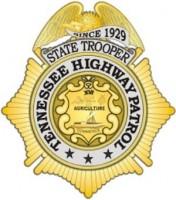 Nashville, TN – The Tennessee Highway Patrol (THP) was very proud to have Trooper Vincent Meaker assigned to Montgomery County of the THP Nashville District honored by U.S. Army Colonel Craig Alia of Fort Campbell Kentucky.

Colonel Alia met with Trooper Meaker personally to show his appreciation for his heroic actions and duty before self that saved a Fort Campbell soldier's life.

Trooper Meaker was patrolling I-24 in Montgomery County, February 29th, 2015 at 12:30am. During this time, he observed a pickup truck traveling east on I-24 at a very high rate of speed.

Immediately Trooper Meaker stopped his patrol car on the on ramp and clocked the pickups speed to be 106 mph in a 70 mph zone.

As Trooper Meaker was attempting to catch up to the pickup, he observed the driver exiting the right side of I-24 and lost control, flipping the vehicle multiple times. The pickup immediately caught on fire, trapping the driver inside.

Once Trooper Meaker pulled onto the scene, he immediately ran towards the burning pickup to render aid. As Trooper Meaker reached the pickup, he observed smoke engulfing the cab of the pickup and the driver trying to kick the door open. Trooper Meaker then forced the door open and pulled the driver out of the vehicle. Shortly after freeing the driver, the interior of the pickup was on fire. These heroic actions performed by Trooper Meaker saved the young, Fort Campbell, soldier's life.

"I am very proud of the actions performed by Trooper Meaker, his bravery is exemplary," Said THP Colonel Tracy Trott.

For his actions, U.S. Army Colonel Craig Alia presented Trooper Meaker the Wings of Destiny 101st Airborne certificate of appreciation for selfless-service. The presentation took place at the THP State Trooper office in Montgomery County Friday, March 18th.

The Tennessee Department of Safety and Homeland Security's (www.TN.Gov/safety) mission is to serve, secure, and protect the people of Tennessee.
Video
Tennessee state trooper clocks vehicle speeding, 106 mph in a 70 mph zone. The vehicle crashed, trapping driver. The trooper rushed to the driver's aid a US Army soldier and forced the jammed door open saving the driver.
Sections
News
Topics
Craig Alia, Fort Campbell, Fort Campbell KY, I-24, Interstate 24, Montgomery County, Nashville TN, Tennessee, Tennessee Department of Safety and Homeland Security, Tennessee Highway Patrol, Tennessee State Trooper, THP, Tracy Trott