Written by Sgt. Katie Eggers
Headquarters, 101st Airborne Division (Air Assault)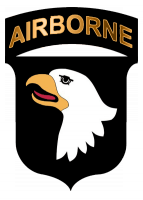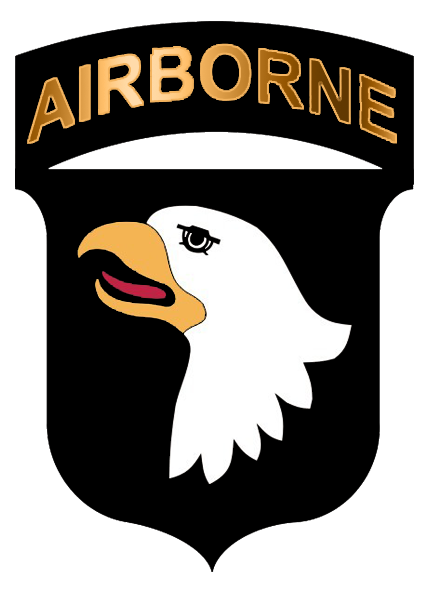 Baghdad, Iraq – Early Sunday morning at Union III, the sound of a guitar and hymns being sung could be heard among the pitter-patter of raindrops. Before the sun had even come up, a group of Soldiers endured the weather to gather for an Easter sunrise service. By the end of the service, the rain subsided, giving Soldiers the opportunity to take in their surroundings.
The Easter sunrise service was just one of five religious services held at Union III and one of many services across the Combined Joint Force Land Component Command – Operation Inherent Resolve (CJFLCC-OIR) area of operations in celebration of the holiday.
"At each location across the CJFLCC we held Christian services, which include protestant and Catholic, and Latter Day Saints," said Lt. Col. David A. Bowlus, CJFLCC-OIR chaplain.
Being able to accommodate service members across Iraq required a lot of coordination and planning.
"We not only used air, but also ground transportation, especially up north in Erbil," said Bowlus. "We had a ministry team convoy from Erbil to Makhmur and offer services there."
A chaplain team even travelled to Fire Base Bell, providing eight services there at gun points and perimeter security points, said Bowlus.
"The report from the chaplain was that they are by far the happiest personnel in Iraq even though they are living in the worst conditions," said Bowlus. "Just a great attitude, and they were very appreciative to see a chaplain on Easter."
Weather became an issue for some services, but that didn't stop the chaplains.
"Due to weather, we were unable to move our Catholic priest," said Bowlus. "There was a service, and five locations were able to participate in that."
Services across Iraq were coordinated not only with U.S. Army chaplains, but also with sister services such as Marines and the Air Force, as well as with coalition chaplains who provided services, said Master Sgt. Fredrick D. Murphy, CJFLCC-OIR master chaplain assistant.
"There was a great collaboration and teamwork when it came to our coalition partners being a part of making sure services happened at locations where we didn't have a particular priest or a chaplain of a certain denomination," said Murphy.
Attendance at religious services has been increasing each week. At Union III, a choir, known as U3 Harmony, even formed about a couple weeks ago and performed at Easter services, boosting moral.
"A spiritually healthy individual is an individual who's most resilient," said Bowlus. "More and more research is showing that. That's what excites me. I just know that we're contributing to the health of the force in our ability to accomplish our mission by helping Soldiers or helping our entire coalition grow spiritually by offering these services."
Currently, the unit ministry team is preparing to accommodate for religious holidays from other denominations, such at Ramadan and Passover.
"We have a Jewish rabbi who is going to be coming into theater to provide Passover services for our Jewish Soldiers," Bowlus said.
The religious support personnel in Iraq provide Soldiers and coalition members with counseling services, bible studies, prayer breakfasts, and any other assistance they might need in regards to their particular denomination.
"We also work with others in terms of if they wanted to get any type of material, or things of that nature, ordered for their religious beliefs or denominations for that matter," said Murphy. "We assist and support in that endeavor and that goes along with their free exercise of religion."
Chaplains also help to assist commanders to teach value of life and suicide prevention classes.
"A significant aspect for the unit ministry team is ministry of presence and battlefield circulation," said Bowlus. "As we talk to Soldiers, from the highest rank down to the lowest, it helps us to assess morale. It helps us to assess the spiritual conditions of the troops and to advise commanders on the state of forces."
Holding Easter services in the Middle East held a deeper spiritual meaning for Bowlus. In the bible, God told Abraham to leave his native country to the land that God would show him.
"There's an oasis in Fallujah where he, according to history, he stopped and then continued down to the Holy lands," said Bowlus. "To be able to be here and to provide for the spiritual growth and the spiritual needs of the CJFLCC-OIR is historically significant for us. For me it brings extra meaning."