Fort Campbell, KY – Campbell Crossing's 2016 Earth Day event was a huge success over the weekend. Fort Campbell Soldiers and family members came out for an afternoon full of exciting games and activities including fun crafts, face painting, educational booths, food from Whitt's BBQ and more.
Although the event was planned to be outdoors, the rain did not keep residents away. The event held at the Family Resource Center, kicked off with the National Anthem, the Fort Campbell Troop 101 Boy Scouts presenting the Colors, and the Department of Environment-Forestry presenting the Tree City Award to Garrison Commander Col. James R. Salome.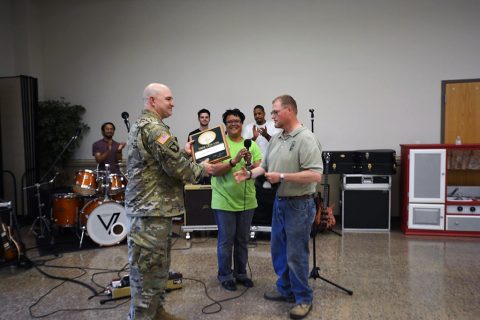 "Our Earth Day event provides us with the opportunity to engage our residents and help spread awareness on the importance of recycling and sustainability," said John Bredehoeft, project director for Campbell Crossing. "We promote sustainability and environmental awareness all year long through our SYNERGY program, and our vigorous recycling efforts. These events help get our residents excited to start implementing conservation practices in their homes as a family, while also providing them the opportunity to get out for a fun afternoon and interact with their community."
Residents enjoyed a presentation from the Nashville Zoo, live music from the Vedra band, taking selfies in the photo booth and more! Attendees showed their support for Earth Day by taking the pledge to "reduce, reuse, and recycle" and posted them on the pledge wall.
Each guest was provided a reusable water bottle that could be filled at a Culligans water station, to reduce plastic waste and promote sustainability. Munie helped children and family's plant flowers to take home and watch blossom, and Synergy hosted a fun game of water bottle toss that promoted recycling.
Campbell Crossing also held an Upcycle competition, where residents were invited to repurpose something deemed "useless" and turn it into something new and beautiful. Three lucky winners were chosen.
First place winner, Deirdre Sanford, repurposed and painted an old bed frame, making it look good as new. Second place was Claudia Twiss, with her thrift store find, transforming an old dresser into a navy and copper masterpiece with a little paint and new hardware; and third place winner, Angie Olivera, who turned an old entertainment center into a child's platy kitchen.
Campbell Crossing would like to thank all those that came out and participated in this year's event. Participating vendors included: Culligans, Whitt's BBQ, CH2M Hill, the Nashville Zoo, Army Community Service, Munie, USO, Suicide Prevention, Cultural Resources, Backdoor Boutique, Dept. of Environment-Forestry, Boy Scouts, Girl Scouts, Comcast, Fort Campbell Vet, and Cenema Face Painting.
Miss out on this year's event? To find out more about Earth Day or upcoming events, visit our events page on Facebook at www.facebook.com/CampbellCrossing/events
Photos
About Campbell Crossing
Campbell Crossing LLC, the partnership between developer Lend Lease and the Department of the Army, is the premier housing community for the Soldiers and families of the 101st Airborne Division (Air Assault) and home to the first zero-energy homes project ever constructed on a military installation. Lend Lease took over operations of Fort Campbell's on-post housing in 2003 as part of the Military Housing Privatization Initiative (MHPI), a program aimed at improving the quality of life for Soldiers and their families.
Since then, the Community has received numerous recognitions, including the Army's 2012 RCI Project of the Year, National Association of Home Builders (NAHB) National Green Building Award and the National Council for Public-Private Partnerships Innovation Award. Lend Lease will own, manage, renovate, develop, and sustain the more than 4,500 homes of Campbell Crossing until 2053.
For more information visit www.campbellcrossingllc.com