Clarksville, TN – Today, May 20th, 2016, members of the Clarksville Community, along with communities across the United States throughout this National Police Week, gathered to remember law enforcement officers who lost their lives in the line of duty and to honor their memory.
In 1962, President Kennedy proclaimed May 15th as National Peace Officers Memorial Day and the calendar week in which May 15th falls as "National Police Week." Established by a joint resolution of Congress in 1962, National Police Week pays special recognition to those law enforcement officers who have lost their lives in the line of duty for the safety and protection of others.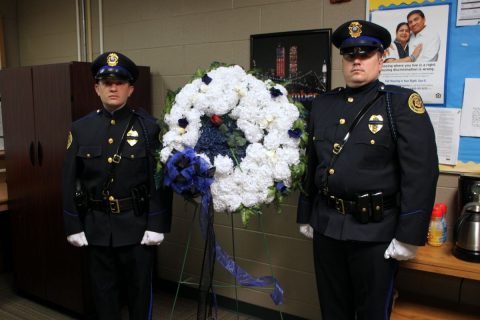 Chief Al Ansley from the Clarksville Police Department (CPD) first thanked those who were in attendance. He spoke about the 121 Officers who lost their lives in the line of duty last year, and local Officers and Deputies who lost their lives throughout the history of law enforcement in the city and the county.
He also reminded attendees of the Officers who have already died this year in the line of duty and some of their courageous acts. One of the many incidents was about Florida Officer John Kotfila who died in March when he sacrificed his own life to save the lives of others, by driving into the path of a vehicle going the wrong way on a one-way street.
Chief Ansley discussed the many examples of Officers who gave their lives or suffered debilitating injuries to protect their communities, yet the majority of national media stories are about Officers accused of misconduct, calling this a misrepresentation of the majority of Police Officers in the United States.
Ansley challenged all law enforcement officers—"Never become complacent, always remain diligent and never take any circumstance for granted…I will close by saying that I believe this community, unlike many others across the nation, supports and respects their Officers. And I am proud to be a part of the thin blue line, "Ansley concluded.
Clarksville Mayor Kim McMillan stressed the quality of local personnel, stating, "Our officers are among the best prepared in the nation."  At one point she spoke directly to the many law enforcement officers in the crowd:  "We hold you in our hearts and in our prayers; not just today, but every day."
Other guest remarks came from Montgomery County Mayor Jim Durrett, Assistant District Attorney Danny Brollier, and Lt Col Tammie Crews from Fort Campbell. They all spoke about their respect and support for the law enforcement Officers and Deputies in the Clarksville Community. Lt Col Crews quoted President Calvin Coolidge:  "A nation which forgets its protectors will itself be forgotten."
A memorial wreath was brought forward, and new flowers were added to the wreath in memory of those officers who died in the line of duty.
As 'Taps' played, all stood in silence remembering our fallen heroes, along with their families, friends, and comrades—who pay a terrible price, too.
First, thank you to the widows of our fallen heroes who were in attendance:
Rhonda Glenn Davis was married to CPD's Aaron Douglass Glenn
Kimberly Barrett was married to CPD's Tyler Barrett
Michelle Hodge was married to MCSO's Larry Hodge
Jennifer Johnson was married to MCSO's David "Bubba" Johnson
Special thanks to those who staged the event and those in attendance today.
Photo Gallery