Clarksville, TN – Today, Friday, May 20th, 2016 at 1:00pm, the Clarksville Police Department, Tennessee Highway Patrol, Kentucky State Police, Christian County Sheriff's Office, Montgomery County Sheriff's Office, Hopkinsville Police Department and Oak Grove Police Department put on a press event that was coordinated by the Tennessee Highway Safety Office (THSO).
Law Enforcement Liaison (LEL) Tony Burnett from the THSO led the event by welcoming the media and others in attendance. He thanked all the law enforcement personnel representing each of the agencies and explained the Hands Across the Border (HATB) campaign.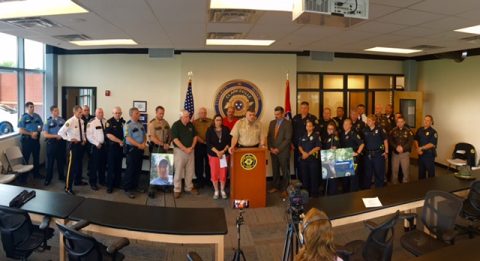 Richard Holt spoke about the role of the Governor's Highway Safety Office and the importance of law enforcement partnerships across state boundaries. He also discussed seat belt usage.
Gina Head was the special guest speaker for this event and spoke about the impact of losing her son Tyler to an impaired driver. The checkpoint is being named the Tyler J. Head Memorial Checkpoint. Tyler was killed in Clarksville on February 3rd, 2012 when his vehicle was hit head-on by an impaired driver on Madison Street.
Chief Al Ansley from the Clarksville Police Department spoke about the Clarksville community and the CPD's commitment to keeping drivers safe and the enforcement efforts of the CPD.
Kentucky Traffic Safety Prosecutor Bobby Stokes discussed Kentucky traffic fatality statistics and Hopkinsville Police Department's enforcement efforts.
Sgt Jimmy Brown from the Montgomery County Sheriff's Office spoke about the Montgomery County community and the MCSO's commitment to keeping drivers safe and the enforcement efforts of the MCSO.
LEL Burnett concluded the event by reminding the public that during HATB they will be looking for all traffic violations but especially drivers and passengers not wearing their seat belts. He continued that increased enforcement will be ongoing all summer long on both sides of the border.
Photo Gallery