Written by Staff Sgt. Timothy Moore
86th Airlift Wing
Beuzeville au Plain, France – U.S. Airmen, Soldiers, veterans and French citizens gathered June 1st , 2016 the Currahee Memorial in the Normandy region to pay their respects to the men who died at the crash site on D-Day near Beuzeville au Plain, France.
In attendance for the ceremony, part of the 72nd annual commemoration of the Invasion of Normandy in 1944, were Soldiers from the historic 101st Airborne Division (Air Assault) at Fort Campbell, Kentucky, and Airmen from the 86th Airlift Wing at Ramstein Air Base, Germany.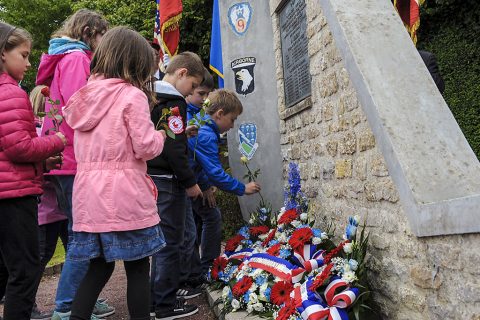 "It's an honor to come out here and represent the United States here in Normandy for those that served in the past, especially at this memorial," said U.S. Air Force Tech. Sgt. Matthew Miller, a flying crew chief with the 86th Aircraft Maintenance Squadron.
During the ceremony, U.S. Army Staff Sgt. Daniel Desaulniers was given the opportunity to represent his unit during the wreath-laying portion.
"This was an once-in- a-lifetime opportunity," Desaulniers, a platoon sergeant with the 2nd Battalion, 506th Infantry Regiment, 101st Airborne Division. "It's something I can carry with me for the rest of my life."
Veterans from World War II and other wars were also present for the ceremony.
"It's humbling to be here with these veterans, to see them here still representing what they did as a unit here to liberate France," Desaulniers said. "It's awe-inspiring to see them still standing here. It motivates me to be a better Soldier seeing them here wearing all of their unit crests."
Jack Hamlin, a World War II veteran who served with the U.S. Coast Guard Rescue Flotilla One, explained why it was important to hold these ceremonies and tell these fallen heroes' stories.
"I read the Band of Brothers book," Hamlin said. "At the end, there is one [person], and his grandson said, 'But grandfather you're a hero.' [He replied], 'I was not a hero, but I served with a bunch of heroes.' That's the way I feel."
Though Hamlin helped to save more than 400 men on D-Day alone, he does not consider himself a hero as he was not directly involved in combat.
"I witnessed heroes in the water," he said. "When I go back and give speeches to school children, I want them to know the reason I talk about this is because they should know about history. A lot of the veterans won't talk about it at all. You can see what they went through. They saw something they don't want to talk about. I saw something that I want to relate to the school children."
While relating their stories may seem like a small thing, many agree it is the least that can be done.
Photo Gallery