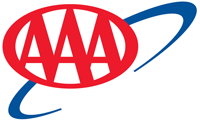 Tampa, FL – Gas prices may have hit their annual peak. The national average price for a gallon of gasoline has declined for eight consecutive days. Regionally, prices have been falling longer: 12 days in Florida (5¢) and Georgia (6¢), and 11 days in Tennessee (6¢).
"Gas prices usually hit their highest point of the year during the first six months and that could be what has happened in the past couple weeks," said Mark Jenkins, spokesman, AAA – The Auto Club Group.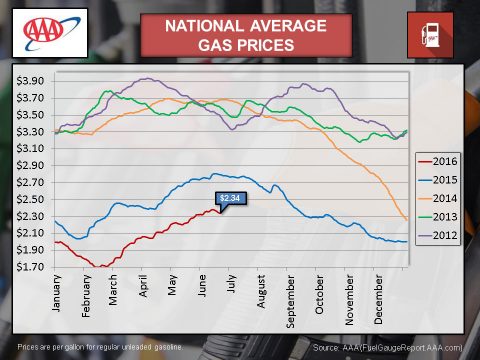 "Gasoline supply shouldn't be a problem moving forward, as refineries increase production this time of year to meet increased demand for the summer travel season," stated Jenkins. "However, pump prices could rise if there are swings in the price of crude, supply disruptions, or if a major storm moves into the Gulf of Mexico. After the summertime, prices usually decline through the fall and winter seasons, as people drive less and demand for fuel declines."
In the southern states, gas prices hit their highest point of the year on June 7th. On that day, the average price was $2.35 in Florida, $2.28 in Georgia, and $2.20 in Tennessee.
The national average peaked on June 11th at $2.38. Pump prices reached their lowest point of the year on February 25th, when averages were $1.74 in Florida, $1.64 in Georgia, and $1.50 in Tennessee.  Last year, gasoline peaked at $2.72 in both Georgia and Florida, on June 15th and 18th respectively; and $2.58 in Tennessee on June 17.
The price of crude oil continues to have a major impact on prices at the pump, and crude prices are falling. West Texas Intermediate settled at $47.98 a barrel on the NYMEX, averaging $47.91 for the week – the lowest weekly average since May 20th. The decline is attributed to reports of increased output from major production countries like Iran, Saudi Arabia and Russia.
Current and Past Price Averages
Regular Unleaded Gasoline
Sunday
Saturday
Week Ago
Month Ago
One Year Ago
Two Years Ago
National
$2.336
$2.341
$2.378
$2.262
$2.799
$3.675
Florida
$2.299
$2.305
$2.337
$2.201
$2.719
$3.605
Georgia
$2.216
$2.222
$2.261
$2.205
$2.716
$3.579
Tennessee
$2.137
$2.145
$2.185
$2.095
$2.582
$3.458
Click here to view current gasoline price averages
AAA updates fuel price averages daily at www.GasPrices.AAA.com. Every day up to 120,000 stations are surveyed based on credit card swipes and direct feeds in cooperation with the Oil Price Information Service (OPIS) and Wright Express for unmatched statistical reliability. All average retail prices in this report are for a gallon of regular, unleaded gasoline.
About The Auto Club Group
The Auto Club Group (ACG) is the second largest AAA club in North America.  ACG and its affiliates provide membership, travel, insurance and financial services offerings to over 9 million members across eleven states and two U.S. territories including Florida, Georgia, Iowa, Michigan, Nebraska, North Dakota, Tennessee, Wisconsin, Puerto Rico and the U.S. Virgin Islands; most of Illinois and Minnesota; and a portion of Indiana.
ACG belongs to the national AAA federation with more than 56 million members in the United States and Canada and whose mission includes protecting and advancing freedom of mobility and improving traffic safety.