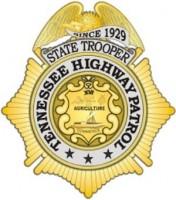 Nashville, TN – On Thursday, January 5th, 2017, the Tennessee Highway Patrol's (THP) Interdiction Plus Team (IPT) arrested William A. Holley, 31, of Fort Wayne, Indiana for drug trafficking. At the time of the traffic stop four children ranging from ages 5 to 10 years of age were in the vehicle.
THP Lieutenant Wayne Dunkleman observed a 2016 Toyota Sienna minivan traveling South on I-65 in Maury County following too close to another vehicle. Lieutenant Dunkleman stopped the vehicle which was a rental vehicle on I-65 at mile marker 37.
As LT. Dunkleman made contact with Holley who was the driver, LT. Dunkleman was advised by Holley that he and his four children were traveling from Fort Wayne, Indiana to Tuscaloosa, Alabama.
As Lt. Dunkleman interviewed Holley he noticed that Holley was extremely nervous and was giving off other possible indicators of criminal activity.
During the roadside interview Troopers Jeremy Miller and Richard Campbell arrived to assist. Holley advised the troopers that he was currently on probation in Indiana for possession of marijuana.
Lieutenant Dunkleman requested a K9 sweep of the vehicle by Trooper Miller and his K9 partner Dolche. This resulted in a positive drug alert to the vehicle. At this same time Trooper Campbell checked with THP dispatch and found Holley to be suspended. As the troopers interviewed Holley he stated that his coat may have a marijuana smell.
A probable cause search was conducted on the vehicle and four pounds of high grade marijuana was located in the cargo area in a black duffle bag. Lieutenant Dunkleman arrested Holley without incident and transported him to the Maury County Sheriff's Office where he was charged with manufacturing for resale a schedule six drug.
The Department of Children's Services responded to the Maury County Jail and took custody of the children until relatives could arrive from out of state. Additionally, the Springhill Police Department assisted with providing child restraint seats that allowed for safe transportation of the children.
The Tennessee Department of Safety and Homeland Security's (www.TN.Gov/safety) mission is to serve, secure, and protect the people of Tennessee.