APSU Sports Information
Clarksville, TN – Austin Peay State University's baseball team will wear an alternate jersey during the season for the first time in program history, working with Under Armour and The Game Headwear to recreate a classic jersey-hat combination from program history.
The Governors will pay homage to the 1965-67 teams, which celebrate their 50th anniversary this year, with a jersey-hat combination drawn from those team's home uniforms.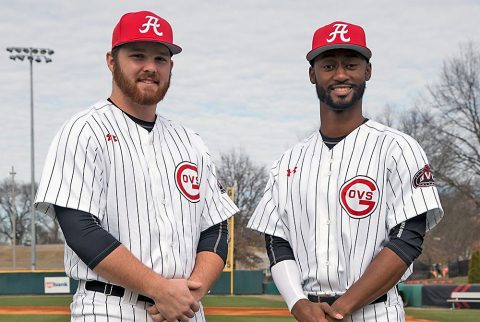 The classic white uniform with black pinstripes is adorned with the Govs baseball logo from that period – an oversized G with OVS inscribed.
Topping it off is a solid red hat, which was revealed Thursday, also displays a classic "A" for the front logo while the new Governors logo is sewn on the back.
"We wanted to do something to pay respect to the teams that came before us," said Governors head coach Travis Janssen. "This is a program whose alumni have immense pride in their history and all of their accomplishments, who also have taken time to come back and reconnect with their team. Looking back at the older team photos we saw this classic look and grabbed on to it as a great way to show our respect to them."
In addition to the throwback jersey, the Govs have a new red uniform in their lockers this season. The red top features the current Austin Peay wordmark arched across the front. It will be paired with the standard black cap with red bill and the AP logo sewn onto the front.
The Governors will continue to show their support for members of the military. This season, the Govs will wear a red hat with navy blue bill, but the AP logo has been fashioned with an American Flag design. In addition, above the Govs logo on the back of the cap is the acronym NSDQ to recognize the 160th Special Operations Aviation Regiment and their motto "Night Stalkers Don't Quit."
"We have formed a fantastic relationship with members of the 160th," said Janssen. "We had the opportunity to connect with them this summer during a staff retreat. They invited us back to Fort Campbell with our team to work on team building and leadership training. Our team's experience working with the 160th has been outstanding. We have so much respect for the leadership and members of the 160th. On behalf of the entire program we feel extremely grateful to be in this partnership."
Austin Peay has paired with the 160th SOAR this season. The Governors have traveled to Fort Campbell to take part in team-building exercises with members of the regiment. The baseball team then hosted the children of the unit earlier in February as part of a special camp to show the team's gratitude and members of unit had the opportunity to take part in batting practice.