APSU Sports Information

Indianapolis, IN – After fighting a four-quarter battle in Hinkle Fieldhouse, Austin Peay State University women's basketball team dropped its season opener to Butler, 75-54, Saturday night.
The Governors held their own in the first quarter as their defense inside, led by freshman Kelen Kenol and senior Brianne Alexander, forced Butler to look elsewhere for their points.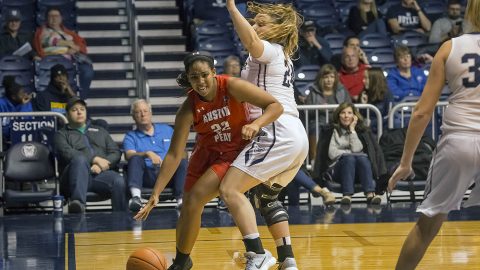 Alexander took control down low offensively, racking up seven points in the first quarter, showing determination fighting through contact and converting an and-one opportunity in the final minute of the opening period.
The bench gave valuable minutes in the second quarter, putting up nine points. Junior transfer Jemiah Harrison went 2-for-2 in the paint as she stepped in for Kenol, who spent much of the second quarter in foul trouble. Freshman Brianah Ferby got her first action off the bench, tallying three steals in the second quarter alone and four in the game.
Despite the much needed lift from the bench, the Govs went into halftime down 25-36.
Late in the third quarter the Govs made a comeback push, cutting the lead to single digits. Senior Bri Williams and redshirt junior Falon Baker engineered the comeback controlling the floor, each dishing out three assists, with Baker adding 5 points.
Heading into the fourth quarter the Governors looked to mount an attack, but were unable to knock the Bulldogs out of their offensive rhythm. Butler was able to string together several possessions, going on a 13-0 run to seal the game. The Governors continued to fight, but were unable to dent the Bulldog lead.
Game Notes
Saturday's game was only the second time that Austin Peay has ever played in Hinkle Fieldhouse, the last matchup coming in 1997.
Alexander was the Govs all-around player recording stats in four different categories: nine points, three rebounds, two blocks and one assist.
In her first action as a Gov, Brianah Ferby recorded a team high four steals.
Michaela Campbell led the Governors in scoring, tallying 11 points in her first action as a Governor.
Keisha Gregory and Williams played 31 and 34 minutes respectively for the Govs Saturday.
Austin Peay had seven debuts Saturday, as Campbell, Kenol, Harrison, Brandi Ferby, Brianah Ferby, Myah LeFlore and Lainey Persinger all played their first minutes as Governors.
Catching up with coach Midlick
Quick Reflection
"We have to go back and look at shot selection, we had quick shots and turnovers. When you cut the lead to single digits late in the third period, you've got to find a way to continue to compete and give yourself a chance to win in the end."
Mid-game adjustments
"Our game plan coming in was to stop their post player number 34 Tori Schickel, and I thought our team did a really good job. We guarded the post well, and they left that and went to a high ball screen with Jennings, and we have to do a better job at stopping that."
Focus on the Future
"I saw good things, and I don't want our team to get down and they have to understand a lot of what we talked about after the game, shot selection, valuing the basketball and defensive transition. We have to continue to get better in a lot of areas, and I thought we had over the past week, and we need to continue to do so."
Up Next for APSU Women's Basketball
Austin Peay will host Christian Brothers in its home opener 7:00pm, Tuesday, November 14th, at the Dunn Center.