APSU Sports Information
Clarksville, TN – Austin Peay State University volleyball's senior middle blocker Ashley Slay, junior setter Kristen Stucker and head coach Taylor Mott each received one of the Ohio Valley Conference's major year-end awards, presented Wednesday night prior to the start of the 2017 OVC Volleyball Championship at the Dunn Center.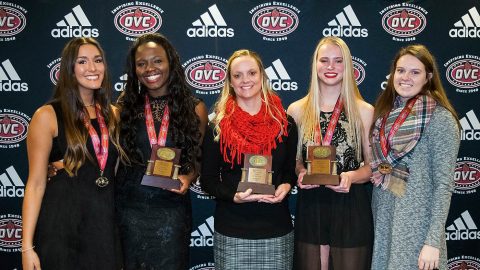 Slay, of Nashville, became the fourth Austin Peay athlete – and first since 2009 – to be named the league's Offensive Player of the Year. She joins Connie Caldwell (1987), Isabel Canedo (1992) and Stephanie Champine (2009) as the only Govs to receive the league's top volleyball award.
Stucker, of Johnstown, Iowa, was named the conference's Setter of the Year for a second consecutive season in just the third season the award has been presented by the league.
Mott, in her sixth season at Austin Peay, becomes only the second Governors head coach – and first since 1992 – to be named the OVC's Coach of the Year. It is the fifth time an APSU head coach has been named the league's top mentor, former head coach Cheryl Holt received the honor four times.
In addition to the league's top honors, a record four Governors athletes were named to the 34th Volleyball All-OVC teams. Slay and Stucker were each selected First-Team All-OVC, becoming the first pair of Govs to be named to first team honors in the same season since 2011. In addition, redshirt junior outside hitter Christina White and freshman outside hitter Brooke Moore were named Second-Team All-OVC.
Mott and the Governors will host the 2017 OVC Volleyball Championship, Thursday-Saturday, at the Dunn Center. The tournament gets underway with the opening match between Murray State and Jacksonville State at 11:00am, Thursday. Top-seeded Austin Peay will face No. 8 seed Southeast Missouri in the opening day's final match, beginning at 7:00pm, Thursday. Fans can attend of the tournament matches free of charge.
Award Winner Bios
Ashley Slay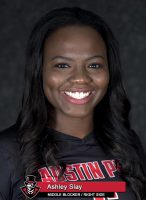 Ashley Slay led the OVC's top offensive unit with 443 kills during the regular season, 214 (3.75 per set) of those coming in OVC play. For a second consecutive season, she was the only OVC hitter to be ranked among the top five in both hitting percentage (5th, .327) and kills per set in league play.
Slay's 443 total kills ranks 21st among all Division I hitters and her 4.45 points per set (combining kills, blocks and service aces) ranks 51st national.
Slay was named OVC Offensive Player of the Week four times in 2017, twice in the regular season's final three weeks.
Kristen Stucker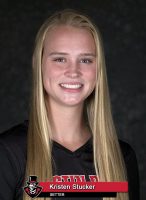 Kristen Stucker has paced Austin Peay to its best offensive output under the current scoring format, the Govs averaging 13.94 kills per set which also ranks 34th among Division I teams. In so doing, she has become one of the nation's best setters, statistically speaking, ranking second in total assists (1,338) and 16th in assists per set (11.44) among all Division I players.
In addition, Stucker was the only OVC setter to average more than 10 assists per set during the season. She won outright or shared the league's Setter of the Week award as astounding 10 of the season's 12 weeks. In addition, Stucker was named one of six recipients of the league's prestigious Scholar-Athlete Awards earlier this month.
Head Coach Taylor Mott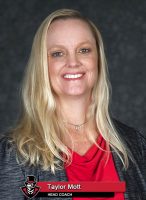 A year after her 2016 Governors posted 24 wins and were one of Division I's most improved squads, head coach Taylor Mott led her charges to Austin Peay's first regular-season title since 1992.
The program's 27 regular-season wins set a program record and are one win shy of tying the program's all-time record, including the postseason, of 28 wins set by the 1992 team.
Personally, Mott recorded her 400th career win and her 100th Austin Peay victory this season.
Christina White
Christina White has enjoyed the best season of her career and moves into the postseason with 338 kills this season, nearly doubling her career total (360) entering the season.
She also has posted career season bests in digs (279) and service aces (47) en route to nine double-double performances this season.
White's 47 aces this season currently leads all OVC players and ranks 57th nationally.
Brooke Moore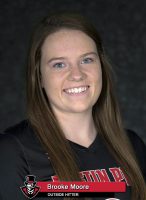 Brooke Moore has made quite the statement in her rookie campaign, ending regular season play with 236 kills (2.02 per set), 286 digs (2.44 per set) and 42 service aces (0.36 per set).
However, down the stretch she became one of the Govs top offensive threats, averaging 3.19 kills per set while posting a .320 attack percentage in the regular season's final six matches.
Moore's 42 aces ranked 34th nationally and seventh among Division I freshmen.