Written by Annette P. Gomes
Warrior Care and Transition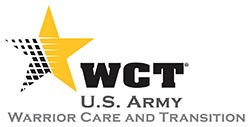 Arlington, VA – Sgt. 1st Class John Dvorak knows how to make lemonade out of life's lemons. A once avid runner and a self-described gym rat, Dvorak found himself adjusting to a new normal after sustaining injuries during physical training.
Dvorak has a list of injuries to include two herniated discs that have caused nerve damage as well, neuropathy and nerve pain in his left leg and a drop foot. "My drop foot has slowed my pace down and caused my gait to be off," Dvorak said. "With my gait off, it has caused me to be flat footed and now I have plantar fasciitis."
Plantar fasciitis is a disorder that results in pain in the heel and bottom of the foot. The pain is usually most severe with the first steps of the day or following a period of rest.
While assigned to Fort Campbell, KY's Warrior Transition Battalion, Dvorak was introduced to recumbent cycling by the Adaptive Reconditioning team to help aid in his physical and emotional well-being.
"I began riding because I could no longer run and wanted to get more cardio in due to my weight gain. I had been on a "dead man's" profile for almost a year prior to coming to the WTB and while recovering from two different back surgeries," Dvorak said. "Riding in a recumbent bike was mentioned to me by Dr. Lindsey Davison of the WTB and I thought I would try it out. It was different than riding an upright bike, but I enjoyed riding and being more active."
Lt. Col. Shawn Butler, the Fort Campbell WTB Commander, says activities like these are critical.
"Some soldiers are unable to do pushups or sit-ups or they can't run or participate in the regular Army physical therapy activities. However, if we show them alternative exercises or alternative things they can do, it shows they can still be physically fit. This becomes a confidence builder, it shows their resilient and it's an example for others to follow, "Butler said.
Initially, Dvorak began riding 10 to 20 miles a week, and by the spring of 2017, he says he was hooked on riding and was gaining a "friendly reputation" along the way.
"I started riding twice a week with the group and the rides started getting longer and longer. I was given the nickname "Beast Mode" shortly after riding, "Dvorak laughed. "As I pushed myself to keep up with the upright bikes, and often was told to slow down as some upright riders couldn't keep up with me. By mid-June I was riding up to 30 miles on a single ride."
In August of 2017, Dvorak registered for the fourth annual Bluegrass Rendezvous bike ride, a two day trek in and around Fort Campbell and the surrounding areas of Kentucky and Tennessee.
"The Bluegrass Rendezvous ride challenged me both physically and mentally. It is not easy to ride a recumbent bike and hills are even harder than riding on an upright bike. You have to make sure that you keep your body fueled and hydrated while riding especially on long distance rides. You mentally have to prepare as completing a long ride wears you out, but when you have to do it two days in a row, you force yourself out of bed the second day!" he said.
Beyond the physical ride, Dvorak says he's learned an important lesson on his path to recovery.
"Prior to coming to the WTB, I did consider myself broken and thought I would never be back to normal. I know that I am not back to where I want to be physically and may never get back to "normal." I do believe that being at the WTB and having access to numerous activities designed to assist wounded Soldiers has allowed me to recover and be more active than I thought I would be. I learned that just because I'm injured, it doesn't mean I cannot push myself to be better and stronger! I never imagined I would ride a bike 10 miles, let alone 167 over two days!"
Sections
News
Topics
Arlington VA, Fort Campbell KY, Fort Campbell's Warrior Transition Battalion, Kentucky, Lindsey Davison, Shawn Butler, Tennessee