#11/13 Tennessee (8-0) vs. Troy (4-1)
Wednesday, December 6th, 2017 | 6:00pm
Knoxville, TN | Thompson-Boling Arena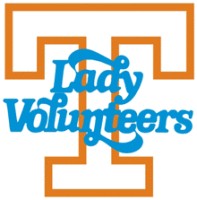 Knoxville, TN – No. 11/13 Tennessee (8-0) meets Troy (4-1) at 6:00pm CT on Wednesday, December 6th at Thompson-Boling Arena.
The UT-TU game is the sixth of seven home tilts in UT's first 10 scheduled contests. It also is the third phase of a four-game home stand.
The Lady Vols remain undefeated after romping past Alabama State, 104-51, on Sunday afternoon in Knoxville. The triumph was Tennessee's fifth at home this season and marked the sixth time in eight games in 2017-18 that the Lady Vols have limited an opponent to 60 or fewer points.
Troy, meanwhile, brings a two-game winning streak into Wednesday's contest.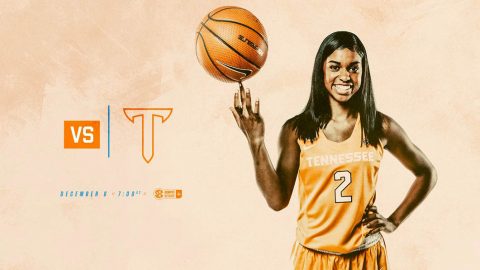 After dropping a close one at Ole Miss, 96-93, on November 21st, Troy won at Tennessee State, 95-66, on November 27th and triumphed at home vs. Jacksonville, 89-88, on December 1st.
Bob Kesling (PxP), Madison Blevins (Analyst) and Maddy Glab (Reporter) will describe the action for the Tennessee-Troy online broadcast on SEC Network+ (SECN+) and WatchESPN.
Mickey Dearstone will handle the call for IMG College/Lady Vol Network radio/online broadcasts for the 19th season. A link to the live audio stream can be found on each Hoops Central page or the Lady Vol schedule on UTSports.com.
Air time for games on the Lady Vol Radio Network is generally 30 minutes prior to tip-off.
Game Promotions
There will be a post-game autograph session with Kasiyahna Kushkituah at section 116 on the concourse.
There will be a high-five tunnel for the first 50 kids every game! Pick up a wristband for the tunnel at section 113 on the concourse.
Free parking & shuttle service from UT's Ag Campus.
Halftime performance by Austin-East H.S. African Drum and Dance
Home Sweet Home
This is the 31st season that the Tennessee women's and men's basketball teams have called Thompson-Boling Arena home, and the Lady Vols own a 433-35 mark (.925) in the venue.
UT is 80-12 (.870) there during Holly Warlick's sixth season at the helm and has won seven straight at T-BA, dating back to last season.
The Lady Vols have a 586-59 (.909) home record in contests played at Thompson-Boling Arena, Stokely Athletics Center and Alumni Gym.
UT finished 13-3 at home in 2016-17.
Capacity at Thompson-Boling Arena is 21,678.
UT has led the nation in attendance 19 times in the past 26 years, finishing second the past three years after an 11-season run at No. 1.
Tennessee ranked second in the nation in home attendance last season with an average of 9,184 through 16 dates and currently ranks fourth at 7,911 per contest.
Coming Up for UT Lady Vols
The Lady Vols will welcome the highest ranked team to Knoxville since the 2013-14 season, when No. 2/4 Texas comes to Thompson-Boling Arena on Sunday.
The match-up will be televised nationally on ESPN2 at 2:00pm CT.
Following the Texas contest, UT will head west and play its first two true road games of the season at Long Beach State on December 17th (4:00pm CT/2:00pm PT) and at #18/18 Stanford on December 21st (8:00pm CT/6:00pm PT).
Sunday's game vs. the Longhorns is being billed as an ORANGE OUT, with fans being asked to show up in true Tennessee Orange to counter the burnt orange of Texas.
2000 fans will receive a Lady Vol Flag.
First 350 fans receive nachos, next 250 fans receive Petros "hint of orange" tea.
There will be a halftime recognition, as UT welcomes back to Rocky Top Lady Vol National Champions spanning three different decades – the 1987 National Champions, the 1997 National Champions and the 2007 National Champions.
It's Kids' Day. Every Sunday home game is Kids' Day! Check out the fun at Kids' Corner at Gate F!
Post-game lay-ups for kids every Sunday home game!
High-five tunnel for the first 50 kids every game! Pick up a wristband for the tunnel at section 113 on the concourse.
Free parking & shuttle service from UT's Ag Campus
Tennessee Reset
Tennessee is one of only two SEC schools and 15 total teams remaining unbeaten this season as of December 5th. League schools UT and Mississippi State stand at 8-0.
The Lady Vols are off to their best start since the 2013-14 squad began the year 10-0 en route to a 29-6 overall record.
Tennessee will try to improve to 9-0 on the season on Wednesday. If UT accomplishes that feat, it would mark the 11th time in program history that has occurred.
The Big Orange women have won seven of eight games by double-digit margins, including by 43 vs. Central Arkansas and 53 vs. Alabama State in their last two games.
Holly Warlick has started the same five players every game thus far. That quintet includes Jaime Nared and Rennia Davis at the forward positions, Mercedes Russell at center and Evina Westbrook and Meme Jackson at guard.
The last time Tennessee opened a season with a starting five and utilized the same quintet this long was in 2007-08, when the lineup of Candace Parker, Angie Bjorklund, Nicky Anosike, Shannon Bobbitt and Alexis Hornbuckle reported for the opening tip the first 11 games of that campaign. UT went 10-1 in that span and went on to win the NCAA title with a 34-3 record and the SEC title with a 14-0 mark.
UT has four players averaging double figures in scoring, including seniors Mercedes Russell (18.0) and Jaime Nared (15.8), and freshmen Rennia Davis (12.9) and Anastasia Hayes (12.6).
Russell has led Tennessee in scoring five times, while Nared has done so twice and Davis and Hayes tied for honors on one occasion.
Russell has scored in double figures in every game, while Hayes and Davis have done so seven times and Nared has hit 10 or more in six games.
Holly Warlick's squad has led at the half of all eight games, including a double-digit margin in six of those.
UT Statistical Nuggets
The Big Orange women have won the battle of the boards in every game, forging a +11.3 advantage on the glass thus far.
Tennessee leads the SEC and ranks 10th nationally, pulling down 47.2 rebounds per game, with Jaime Nared (9.3), Mercedes Russell (8.5) and Rennia Davis (8.1) leading the way.
The team is fourth nationally in defensive rebounds per game, grabbing 32.
The squad from Rocky Top has shot a higher percentage than seven of eight opponents and stands at 48.2 for the season. That rate ranks Tennessee No. 13 nationally and second in the SEC.
Mercedes Russell continues to shoot at an extremely high percentage, connecting on 69.3 percent of her shots (61 of 88). She leads the SEC with that accuracy and ranks No. 3 nationally.
Junior Meme Jackson scored in double figures in back-to-back games for only the second time in her career. The wing from Murfreesboro hit for 11 vs. Central Arkansas and then was one shy of her career high with 20 vs. Alabama State.
Jaime Nared and Mercedes Russell each have scored 20 or more points in three games this year.
Nared became the 45th Lady Vol to eclipse the 1,000-point mark, netting 21 vs. Oklahoma State and moving her total to 1,004 in her 100th career game. She now stands 43rd at 1,036
Russell passed 1,000 points last season and currently ranks 30th with 1,237. She is 23 behind Latina Davis (1,260).
The Lady Vols are fourth in the NCAA in free throws attempted (221) and fifth in free throws made (152).
1,000/1,000 Watch for Mercedes Russell
Mercedes Russell is on track to become only the sixth player in Lady Vol history to reach the 1,000-mark in both scoring and rebounding.
Russell currently has 1,237 points and 850 rebounds through eight games.
The other five players and their totals include Chamique Holdsclaw (3,025/1,295), Tamika Catchings (2,113/1,004), Sheila Frost (1,790/1,043), Glory Johnson (1,643/1,218) and Bashaara Graves (1,509/1,044).
Lockdown Defense
Tennessee ranks 15th nationally and second in the SEC in field goal percentage defense at .336.
The Lady Vols are 17th nationally and first in the SEC in three-point field goal percentage defense at .235.
On the season, Holly Warlick's squad has held opponents to an average of 58.4 points per game (62nd nationally), with six of eight foes failing to score more than 60.
Tennessee set a school record for fewest points allowed in a second half, giving up only 10 to Central Arkansas on November 30th.
All 10 of those points came in the third quarter, as the Lady Vols shut out the Sugar Bears in the final stanza, marking the first time UT had "pitched a shutout" in a quarter.
UCA finished with 34 points for the game, marking the 10th-lowest total ever scored by a Tennessee foe.
UT's two games have resulted in opponents committing 24 and 23 turnovers, respectively, and the Lady Vols grabbing 13 and 14 steals, respectively, vs. Central Arkansas and Alabama State. Those totals are (or were) the highest this season.
Over the past three games, Tennessee has given up only six points on fast breaks and 16 second-chance points.
Getting Off to a Great Start
Tennessee has made a habit of getting off to great starts lately. A 182-99 first quarter tally over opponents proves it.
UT started the game 12-0 vs. Alabama State en route to a 30-12 first quarter, followed by a 31-14 second stanza on December 3rd. The 31 is the fourth-highest point total in a quarter in school history.
The Big Orange posted a 22-8 first quarter vs. Central Arkansas.
UT went up 10-0 to open the Marquette game.
The Lady Vols were up 6-0 on Oklahoma State en route to a 24-10 first quarter lead.
The Big Orange burst out to a 7-0 advantage over South Dakota on the way to a 24-9 first quarter.
UT Last Time Out (UT 104, ASU 51)
No. 12/13 Tennessee came alive on offense, with six players scoring in double digits as the Lady Vols beat Alabama State, 104-51, Sunday afternoon in front of a crowd of 8,004 at Thompson-Boling Arena.
Tennessee (8-0) relied on offense in the paint and winning the turnover battle convincingly to produce the team's best offensive showing since scoring 110 versus Troy last year. Senior center Mercedes Russell led the charge vs. Alabama State (1-7), scoring 22 points on 8-of-10 shooting from the floor. She now is hitting 69.3 percent (61-of-88) for the season.
Junior guard Meme Jackson fired in 19, coming up a point shy of her career best. Freshman forward Rennia Davis filled the stat sheet with 18 points, nine rebounds, and five assists. Senior forward Jaime Nared and freshmen guards Anastasia Hayes and Evina Westbrook also hit double figures, contributing 14, 13 and 11 points, respectively. Redshirt junior forward Cheridene Green grabbed 10 boards, continuing her strong interior play.
Tennessee relied on suffocating defense to get its offense going at a breakneck pace in the first quarter. A quick steal and score by Westbrook helped get Tennessee off to a 12-0 start. All seven Lady Vols that played during the quarter scored on the way to an impressive 30-12 lead.
The Tennessee offensive explosion continued in the second stanza of the game, as Russell completely took over, scoring 16 of UT's 31 points. The Lady Vols outscored Alabama State 36-10 in the paint and had zero turnovers to the Hornets' 14 at the half, taking full advantage of a clear advantage in team length and athleticism. The teams entered the half with the Lady Vols in command, 61-26.
Dominating the First Stanza
Tennessee's 30 first-quarter points against Alabama State tied for the fourth most points ever scored in any quarter by a Lady Vols team. UT bettered that in the second frame, scoring 31 to improve the fourth-best all-time total.
Through eight games UT has outscored opponents in the first quarter, 182-99.
The Series vs. Troy
Tennessee and Troy are meeting for the third time in women's basketball.
The teams first played on Dec. 14, 2013, when the #3/3 Lady Vols won, 103-64, in Knoxville.
Last season, UT won in a track meet-style game over the Trojans, 110-84, at Thompson-Boling Arena on December 21st.
The Trojans are members of the Sun Belt Conference, and the Lady Vols are 7-6 all-time vs. that league.
Second-year Tennessee assistant coach Sharrona (Alexander) Reaves began her coaching career at Troy and helped the school to a 50-35 record during her stint there from 1995-98.
While at Troy, Reaves coached a player named Heather Lenoir (now Heather Ervin), who would later become her co-worker at Tennessee in 2016-17.
Ervin (at Troy from 1997-99) serves as Tennessee women's basketball's director of recruiting operations and player personnel and is originally from Sweetwater, Tennessee.
Last Meeting Between UT and TU
Alexa Middleton scored a career-high 29 points and Jaime Nared, Mercedes Russell and Jordan Reynolds posted double-doubles to lead Tennessee to a 110-84 win over Troy on December 21st, 2016, at Thompson-Boling Arena.
The Lady Vols' (7-4) 110 points in the win were their most since a 111-44 win over Saint Francis (Pa.) on December 3rd, 2014. UT shot 51.3 percent from the floor and limited Troy (6-4) to just 34.3 percent shooting.
Tennessee played without its second-leading scorer, Diamond DeShields, who was held out due to injury. UT finished the game strong, scoring a program-record 38 points in the fourth quarter.
Middleton scored 15 of her 29 points in the first half and was 7-of-10 on 3-pointers, tying for the fourth-most by a Lady Vol in a single game. Nared scored 15 of her 21 points in the second half and finished with a career-high 14 rebounds. Russell had 18 points and 11 rebounds. Reynolds scored 12 points, dished out a career-high 13 assists and had eight boards. Meme Jackson posted career bests with 18 points, seven rebounds and five assists. Schaquilla Nunn added 10 points and eight rebounds.
Claresa Banks led Troy with 19 points. Jayla Chills had 17 points and 10 rebounds for the Trojans.
Troy Reset
Troy returns one starter and has six total letterwinners back from last year's 22-11 squad that finished third in the Sun Belt with a 12-6 record but won the league tournament to earn a first round bout opposite eventual NCAA runner-up Mississippi State. The Bulldogs won that tilt by a score of 110-69.
The Trojans are led by diminutive senior guard Amanda Mendoza, who averages 14.3 points per contest and has hit 12 threes to pace TU.
Roughly 78 percent (35-45) of Mendoza's shots have come from behind the arc. Mendoza ranks second in the Sun Belt and 43rd nationally with 3.0 threes per game.
Troy has four more players averaging double figures in points and regularly plays 13 players.
Troy has played at least 12 players in 39 consecutive games dating back to the 2015-16 season. This year, the Trojans' bench is outscoring its counterparts, 44.6-22.6, on average.
Sky'Lynn Holmes, a 6-1 junior forward, averages a double-double of 10.6 points and 10.8 rebounds.
Troy ranks second in the NCAA, forcing 29.4 turnovers per game. The Trojans have forced 20-plus turnovers in every game this season including a program-record 48 at Tennessee State.
Troy is ranked in the top eight nationally in five categories: turnovers forced (2nd), offensive rebounds/game (3rd), scoring offense (5th), steals/game (8th), turnover margin (8th).
The Trojans have scored at least 89 points in all five games this season. Troy scored 90-plus points in five of its first six games last year.
Troy Last Time Out (TU 89, JU 88)
Amber Rivers scored on a layup off an inbound play with just 0.2 left on the clock to upend Jacksonville 89-88 in the Trojans last game on Friday.
After Jacksonville's Jasmyn Brown drilled a deep three to give the Dolphins an 88-87 lead, Troy called a timeout with 1.7 seconds on the clock advancing the ball to the offensive timeline. Kayla Robinson inbounded the ball to a wide open Rivers, who calmly banked in a layup for her only points of the contest and what proved to be the deciding basket.
Four Trojans scored in double digits, paced by Sky'Lynn Holmes with 17.