APSU Sports Information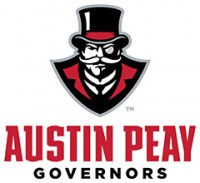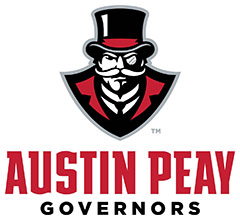 Clarksville, TN – An impressive fall semester for Austin Peay State University's student athletes translated into the classroom with the department's varsity teams posting a record 3.110 grade-point average for the Fall 2017 semester.
The department saw a record 204 student-athletes receive academic recognition during the recently concluded fall semester. Records also fell with the total number of athletes named to the Athletics Director's Honor Roll (97), earning Austin Peay dean's list recognition (107) and posting a perfect 4.0 GPA during the semester (51).
Eleven of the department's varsity teams finished the semester with at least a 3.0 team GPA. The women's tennis program saw five of its six athletes post a 4.0 GPA en route to a 3.964 team GPA. The men's tennis team led the way on the men's side with a 3.691 GPA that was its best since Fall 2013, when individual team GPAs were available.
The Governors football team boosted the charge toward the record-breaking fall with a team-record GPA in the fall. In addition the volleyball (3.631 GPA), men's basketball (3.269) and baseball teams (3.262) each posted their best GPAs since Fall 2013.
The other team's posting a 3.0 GPA were: women's golf (3.569), women's cross country (3.517) softball (3.484), women's track and field (3.281), men's golf (3.234) and soccer (3.104).
In addition to the department's varsity teams its cheer and dance programs saw 19 students named to the athletics director's honor roll and another 14 earn APSU dean's list honors – four posting perfect 4.0 GPAs.
A complete listing of the Fall 2017 Athletics Director's Honor Roll follows. Individuals named to the Austin Peay dean's list and earned a 4.0 grade-point average also are noted. The athletics department will recognize all its student-athletes receiving academic honors during halftime of the Jan. 25 Governors men's basketball game against Eastern Kentucky.
Established in 1990-91, the Athletics Director's Honor Roll recognizes the outstanding academic accomplishments of Austin Peay State University student-athletes. To earn recognition student-athletes must be enrolled full time and achieve at least a 3.0 grade-point average for a semester.
Fall 2017 Austin Peay Athletics Academic Honor Roll
All student-athletes listed received academic recognition during the fall. Any student-athlete listed without notation were members of the Athletics Director's Honor Roll (3.0-3.499 GPA). Notations following a student-athlete's name indicate the following: (DL) – Austin Peay's Dean's List (Undergraduates with 12 hours earned and at least a 3.50 GPA); (4.0) – Posted a 4.00 GPA; + – student-athlete played multiple sports, is counted only once in department totals.

The following list is based on grades reported to the athletics department by the APSU Office of the Registrar on January 3rd, 2018.

BASEBALL
Truman Brown (DL)
Michael Costanzo
Andrew Denning (DL, 4.0)
Andrew Flaherty
Garrett Giovannelli
Harley Gollert (DL, 4.0)
Bobby Head
Jaxon Herchenbach (DL, 4.0)
Tyler Hubbard
Garrett Kueber (DL)
Greg Leban
David Martinez (DL)
John McDonald (DL)
Brett Newberg
Devin O'Donovan
Parker Phillips
Cam Pleasant
Jacques Pucheu (DL)
Max Remy (DL, 4.0)
Josh Rye (DL, 4.0)
Alex Sala
Josh Shrouder
Cody Spurgeon
Tyler Thompson (DL)
Brandon Vial (DL)
Nick Walker (DL, 4.0)
Ross Walker (DL, 4.0)
Imani Willis
Kyle Wilson (DL)

MEN'S BASKETBALL
Ferran Bernacer (DL, 4.0)
Domas Budrys (DL, 4.0)
Ivan Cucak
Zach Glotta (DL)
Dayton Gumm
Steve Harris
Tre' Ivory (DL)
Acoydan McCarthy (DL, 4.0)
Chris Porter-Bunton (DL)
Ed Stephens
Averyl Ugba

WOMEN'S BASKETBALL
Falon Baker (DL, 4.0)
Brandi Ferby
Brianah Ferby
Keisha Gregory
Jemiah Harrison
Kelen Kenol
Lainey Persinger (DL, 4.0)
Shelbe Piggie


MEN'S CROSS COUNTRY
Andrew Abel
Daniel Davis (DL, 4.0)
Wesley Gray
Hezron Kiptoo
Thomas Porter

WOMEN'S CROSS COUNTRY
Sarah Carpenter (DL) +
Alura Endres (DL, 4.0) +
Caroline Kiplagat (DL) +
Emmaculate Kiplagat +
Keleah Shell (DL, 4.0) +
Sophia Wilson (DL) +
Sarah-Emily Woodward (DL) +

FOOTBALL
Josh Alexander
Kyle Anderton (DL)
Noah Beeler (DL)
Logan Birchfield
Elijah Brown (DL, 4.0)
Juantarius Bryant
Terrius Callahan
James Coleman
Brady Dorris
Brandon Dove
Max Ewoldt
Jaylen Flye-Sadler
Jarrett Giacchino (DL, 4.0)
Mason Harwell
Michael Hoover
Reagan Hyde (DL)
Coreon Jackson
Kordell Jackson
Brevon Johnson (DL)
Seth Johnson
Benedict Louis
Jalen Marsalis
Jack McDonald (DL, 4.0)
Prince Momodu
Tre Nation
Jeremiah Oatsvall (DL)
Jule Pace
Cole Phillips
Trey Pruitt
Ryan Rockensuess (DL)
Hunter Schmeisser (DL)
Gunnar Scholato
Hunter Scholato
Nic Screnock (DL, 4.0)
Ethan Self (DL)
Corey Simmons (DL)
Calvin Sims Jr.
Omouri Skinner (DL)
Devin Stuart
Ahmaad Tanner (DL)
Elijah Teat (DL, 4.0)
Lloyd Tubman
Pat Walker (DL)
Emanual Williams

MEN'S GOLF
Michael Busse
Jay Fox (DL, 4.0)
Chase Korte
Austin Lancaster
Sam Lopez (DL)
Alex Vegh (DL)
Garrett Whitfield (DL)

WOMEN'S GOLF
Riley Cooper (DL, 4.0)
Morgan Gardner (DL, 4.0)
Ashton Goodley (DL, 4.0)
Taylor Goodley (DL, 4.0)
AnnaMichelle Moore
Andrea Presilla (DL, 4.0)
Meghann Stamps (DL)
Sarah Beth Struble

WOMEN'S SOCCER
Brice Bement (DL, 4.0)
Goodwin Brown
Jade Dauriat
Ann Peyton Diffenbaugh
McKenzie Dixon (DL, 4.0)
Melody Fisher
Morgan Jackson
Katie Kenward (DL)
Claire Larose (DL, 4.0)
Pamela Penaloza-Pardo
Kirstin Robertson
Gybson Roth (DL, 4.0)
Renee Semaan
Jennifer Smith (DL)
Abby Therrell
Taylor White (DL)
Ashley Whittaker

SOFTBALL
Kacy Acree (DL)
Matti Byrd
Drew Dudley
Victoria Eccleston
Kelsey Gray
Kelsey Gross (DL)
Cassidy Hale (DL, 4.0)
Emily Harkleroad (DL)
Alexis Hill
Erica Inagaki
Katie Keen (DL)
Kelly Mardones
Carly Mattson
Lauren Meitzler
Emily Moore (DL, 4.0)
Savanna Oliver
Brooke Pfefferle (DL)
Morgan Rackel (DL, 4.0)
Natalie Schilling
Bailey Shorter (DL)
Katelyn Smith (DL)
Hannah Thompson
Kendall Vedder (DL, 4.0)

MEN'S TENNIS
Evan Bottorff (DL)
Aleh Drobysh (DL, 4.0)
Christian Edison (DL, 4.0)
Timo Kiesslich (DL, 4.0)
Jacob Lorino (DL, 4.0)
James Mitchell
Almantas Ozelis
Hunter Sanders
Chad Woodham

WOMEN'S TENNIS
Ana Albertson (DL)
Brittney Covington (DL, 4.0)
Helena Kuppig (DL, 4.0)
Fabienne Schmidt (DL, 4.0)
Claudia Yanes Garcia (DL, 4.0)
Lidia Yanes Garcia (DL, 4.0)

WOMEN'S TRACK AND FIELD
Savannah Amato (DL)
Diamond Battle
Kaitlyn Black
Morgan Bradley (DL)
Sarah Carpenter (DL) +
Kamille Dunbar
Alura Endres (DL, 4.0) +
Nia Gibbs-Francis (DL, 4.0)
Denia Hill-Tate (DL)
Dascha Hix (DL)
Allana Johnson
Caroline Kiplagat (DL) +
Emmaculate Kiplagat +
Maya Perry
Gretchen Rosch (DL)
Keleah Shell (DL, 4.0) +
Tymeitha Tolbert
Lennex Walker (DL, 4.0)
ReBecca Wheeler (DL, 4.0)
Sophie Wilson (DL) +
Sarah-Emily Woodward (DL) +

WOMEN'S VOLLEYBALL
MiMi Arrington (DL)
Logan Carger (DL)
Cecily Gable (DL, 4.0)
Ginny Gerig
Nina Korfhage (DL, 4.0)
Brooke Moore (DL)
Allie O'Reilly
Jenna Panning (DL)
Ashley Slay (DL)
Chloe Stitt (DL)
Kristen Stucker (DL, 4.0)
Kaylee Taff (DL, 4.0)
Katelyn Theiss (DL, 4.0)
Haley Turner
Caroline Waite (DL)
Christina White (DL)

CHEER
Alyssa Amann (DL)
George Bezold (DL, 4.0)
Lydia Brewster
Tre'Donavouis Bush
Alexis Butler
Natalie Johnson (DL)
Erica Knight
Austin Kohlberg
Erica Lester (DL)
Ashley McEnaney
Mackenzie Messina (DL)
Jon Reed (DL)
Carlos Rios
Alison Rose (DL)
Brianna Shifflett (DL, 4.0)
Kylie Simerly
Taylor Smith
Nicholas Sternloff
Jensen Stevens
Eric Suminski
Emiliy Swafford
Khari Turner (DL)

DANCE TEAM
Taylor Brentari (DL)
Mackenzie Christiansen
Megan Cundiff (DL)
Kimberly Cunningham (DL, 4.0)
Sierra Hines (DL, 4.0)
Alexandria Jones
Macy Mayfield (DL)
Allie Privitt
Giulia Terry
Taylor Vanders
Kyrstin Young



Sections
Sports
Topics
Abby Therrell, Acoydan McCarthy, Ahmaad Tanner, Aleh Drobysh, Alex Sala, Alex Vegh, Alexis Hill, Allana Johnson, Allie O'Reilly, Almantas Ozelis, Alura Endres, Ana Albertson, Andrea Presilla, Andrew Abel, Andrew Flaherty, Ann Peyton Diffenbaugh, AnnaMichelle Moore, APSU, APSU Athletes, APSU Athletics, APSU Athletics Directors Honor Roll, APSU Sports, APSU's Dean's List, Ashley Slay, Ashley Whittaker, Ashton Goodley, Austin Lancaster, Austin Peay State University, Averyl Ugba, Bailey Shorter, Benedict Louis, Bobby Head, Brandi Ferby, Brandon Vial, Brett Newberg, Brevon Johnson, Brianah Ferby, Brice Bement, Brittney Covington, Brooke Moore, Brooke Pfefferle, Carlos Rios, Carly Mattson, Caroline Kiplagat, Caroline Waite, Cassidy Hale, Cecily Gable, Chad Woodham, Chase Korte, Chloe Stitt, Chris Porter-Bunton, Christian Edison, Christina White, Claire Larose, Clarksville TN, Claudia Yanes Garcia, Cole Phillips, Coreon Jackson, Corey Simmons, Daniel Davis, Dascha Hix, David Martinez, Dayton Gumm, Denia Hill-Tate, Devin O'Donovan, Devin Stuart, Diamond Battle, Domas Budrys, Drew Dudley, Ed Stephens, Elijah Brown, Emily Harkleroad, Emily Moore, Emmaculate Kiplagat, Erica Inagaki, Erica Lester, Ethan Self, Evan Bottorff, Fabienne Schmidt, Falon Baker, Garrett Giovannelli, Garrett Kueber, Garrett Whitfield, George Bezold, Ginny Gerig, Goodwin Brown, GPA, Greg Leban, Gretchen Rosch, Gunnar Scholato, Gybson Roth, Haley Turner, Hannah Thompson, Harley Gollert, Helena Kuppig, Hezron Kiptoo, Hunter Sanders, Hunter Schmeisser, Hunter Scholato, Imani Willis, Ivan Cucak, Jack McDonald, Jacob Lorino, Jacques Pucheu, Jade Dauriat, Jalen Marsalis, James Coleman, James Mitchell, Jarrett Giacchino, Jaxon Herchenbach, Jay Fox, Jemiah Harrison, Jenna Panning, Jennifer Smith, Jeremiah Oatsvall, John McDonald, Josh Alexander, Josh Rye, Josh Shrouder, Juantarius Bryant, Jule Pace, Kacy Acree, Kaitlyn Black, Kamille Dunbar, Katelyn Smith, Katie Keen, Katie Kenward, Kaylee Taff, Keisha Gregory, Keleah Shell, Kelen Kenol, Kelly Mardones, Kelsey Gray, Kelsey Gross, Kendall Vedder, Khari Turner, Kirstin Robertson, Kordell Jackson, Kristen Stucker, Kyle Anderton, Kyle Wilson, Lainey Persinger, Lauren Meitzler, Lennex Walker, Lidia Yanes Garcia, Lloyd tubman, Logan Birchfield, Logan Carger, Macy Mayfield, Mason Harwell, Max Ewoldt, Max Remy, McKenzie Dixon, Megan Cundiff, Meghann Stamps, Melody Fisher, Michael Busse, Michael Costanzo, Michael Hoover, Mimi Arrington, Morgan Bradley, Morgan Gardner, Morgan Jackson, Morgan Rackel, Natalie Johnson, Natalie Schilling, Nia Gibbs-Francis, Nic Screnock, Nick Walker, Nina Korfhage, Parker Phillips, Pat Walker, Prince Momodu, Rebecca Wheeler, Renee Semaan, Riley Cooper, Ross Walker, Ryan Rockensuess, Sam Lopez, Sarah Beth Struble, Sarah Carpenter, Sarah-Emily Woodward, Savanna Oliver, Savannah Amato, Seth Johnson, Shelbe Piggie, Sierra Hines, Sophia Wilson, Steve Harris, Taylor Brentari, Taylor Goodley, Taylor Smith, Taylor Vanders, Taylor White, Terrius Callahan, Thomas Porter, Timo Kiesslich, Tre Nation, Tre' Ivory, Trey Pruitt, Truman Brown, Tyler Hubbard, Tyler Thompson, Tymeitha Tolbert, Victoria Eccleston, Wesley Gray, Zach Glotta