NASA Headquarters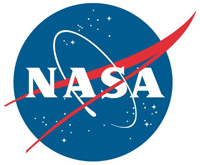 Washington, D.C. – Engineers preparing NASA's deep space exploration systems to support missions to the Moon, Mars, and beyond are gearing up for a busy 2018. The agency aims to complete the manufacturing of all the major hardware by the end of the year for Exploration Mission-1 (EM-1), which will pave the road for future missions with astronauts.
Planes, trains, trucks and ships will move across America and over oceans to deliver hardware for assembly and testing of components for the Orion spacecraft and the Space Launch System (SLS) rocket while teams at NASA's Kennedy Space Center in Florida prepare the Ground Systems infrastructure. Testing will take place from the high seas to the high skies and in between throughout the year and across the country, not only in support of EM-1, but also for all subsequent missions.
Orion
Early in the year, engineers at Kennedy will bolt Orion's heat shield to the crew module. The heat shield will endure temperatures as high as 5,000 degrees Fahrenheit, half as hot as the surface of the Sun, when Orion returns from its missions near the Moon. Mating the heat shield is a crucial step before the service module arrives from Europe in the middle of the year.

Once the powerhouse for the spacecraft arrives, technicians will outfit it for mating with the crew module and stack the elements together, joining propulsion lines, avionics and other connections. After the major elements are stacked together, technicians will verify that the integrated crew and service module work as expected and hardware is responding as intended before shipping the stack to NASA's Plum Brook Station in Sandusky, Ohio for testing in 2019.

NASA engineers and the U.S. Navy will head out to sea off the coast of California in January to evaluate how they plan to recover Orion after the EM-1 test flight. In Yuma, Arizona, engineers will perform three remaining tests to qualify Orion's parachutes for missions with crew, and at White Sands Test Facility in New Mexico, workers will continue tests to verify the propulsion system for Orion's European Service Module works as planned.

At the Denver facility of Orion prime contractor Lockheed Martin, a structural test article will undergo pressure, acoustic, pyrotechnic and other testing to help ensure Orion can stand up to vibrations, loads, sounds and blasts associated with separation events in flight.

Work is already well underway and will continue for the Orion spacecraft that will carry astronauts on Exploration Mission-2 (EM-2). Workers are welding the primary elements of Orion's structure at Michoud Assembly Facility in New Orleans and will ship the completed vessel to Kennedy by the end of 2018.

At NASA's Johnson Space Center in Houston, engineers will review the life support and crew survival systems, and astronauts and test subjects will continue evaluations of the crew interface. NASA engineers are preparing a test version of the spacecraft and separation ring for a mid-air test of Orion's launch abort system. A precursor to the EM-2 crewed flight of Orion, the test, called Ascent Abort 2, will validate the operations of the launch abort system in a dynamic flight environment.
Space Launch System
SLS engineers will move at full throttle to complete building rocket hardware that will roar off the launch pad. Michoud will see a surge of activity, as five major structural pieces of SLS come together to form the 212-foot-tall core stage. The four RS-25 engines that will produce two million pounds of thrust upon launch will be attached to the stage.

Engineers will ship the integrated hardware on the Pegasus barge to NASA's Stennis Space Center near Bay St. Louis, Mississippi, for the final test in 2019 before launch, called the "green run" test, when all four engines roar to life and drain the core stage tanks of more than 700,000 gallons of propellant in a mere eight minutes.

The brains of the rocket, the core stage avionics and flight computers, will complete qualification and functional testing and be readied for the green run.

Solid rocket booster segments made by Orbital ATK in Utah will ride the rails to Kennedy and join booster parts, such as the aft and forward skirts.

Two launch adapters made at NASA's Marshall Space Flight Center in Huntsville, Alabama will also arrive at Kennedy. Pegasus will take the 30-foot-tall launch vehicle stage adapter, and NASA's Guppy cargo airplane will carry the Orion stage adapter. The Orion stage adapter not only connects the Orion vehicle to the SLS, but will also be loaded with 13 small satellites.

SLS testing will continue as the core stage structural test articles for the liquid hydrogen tank, intertank, and liquid oxygen tank arrive at Marshall and are loaded into towering test stands to be pushed, pulled and twisted to simulate flight. Meanwhile, engineers are working on the design of the Exploration Upper Stage and preparing drawings and engineering products for a Critical Design Review in late 2018.

Plans call for using the Exploration Upper Stage on EM-2 as part of the first crewed flight test. SLS teams will also continue to build core stage components and other rocket parts for EM-2 and test engines in support of future missions with crew.
Ground Systems
Workers at Kennedy will continue to ready NASA's modernized spaceport in Florida for blast off of the rocket and spacecraft. In the spring, the mobile launcher will be rolled out to Launch Pad 39B ahead of a fit check that will verify all physical connections between the launcher and pad systems fit before rolling it into the Vehicle Assembly Building (VAB) for testing.

This includes the major interfaces such as mount mechanisms and ignition overpressure and sound suppression water pipes, as well as smaller interfaces like gaseous nitrogen and helium supply lines and access platforms. After testing in the VAB is complete, the mobile launcher will roll back to the pad for several months of full system testing.

Over the summer, critical software updates used for command and control to support EM-1 will be completed and teams will prepare for crewed missions.

Ground systems engineers will begin launch pad preparations for launch processing in support of EM-2 by fabricating umbilicals that will service the Exploration Upper Stage engines while the rocket is on the pad. Workers will also start construction for a massive holding tank for liquid hydrogen that will be pumped into the core stage of SLS.

All the work by NASA and its contractors helps set the stage for an even busier 2019, when Orion and SLS will be integrated, tested, and rolled out to the launch pad — one of the final steps before EM-1. That initial test flight of the SLS — launched from NASA's modernized spaceport in Florida — will send Orion beyond where any spacecraft built for humans has ventured.

All of this foundational work in 2018 and 2019 will enable NASA's efforts to build a flexible, reusable and sustainable infrastructure that will last multiple decades and support missions into deep space of increasing complexity.



Sections
Sports
Topics
Astronauts, Deep Space Exploration, Exploration Mission-1, Florida, Houston TX, Mars, Moon, NASA, NASA Glenn's Plum Brook Station, NASA Heaadquarters, NASA's John F. Kennedy Space Center, NASA's Johnson Space Center, NASA's Johnson Space Center's White Sands Test Facility, NASA's Orion spacecraft, NASA's Space Launch System, NASA's Stennis Space Center, National Aeronautics and Space Administration, New Mexico, Orbital ATK Inc., Sandusky OH, St. Louis MS, Washington D.C.