Nashville, TN – Dan Gibbs and Joshua Roberson have been honored by being named the 2017 TWRA Wildlife Biologist of the Year and Wildlife Technician of the Year, respectively.
The annual awards are presented by the TWRA Wildlife and Forestry Division. Division Chief Mark Gudlin announced the winners at the January meeting of the Tennessee Fish and Wildlife Commission.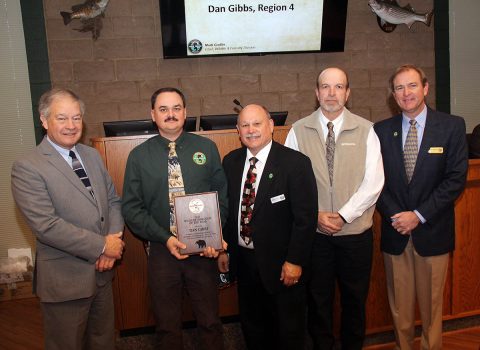 Gibbs began his TWRA career in 1997 and has served as a biologist in East Tennessee since 2002, responsible for regional management of bear, deer, turkey, waterfowl, small game, and furbearers.
In 2016, he was also designated as the Statewide Bear Program Leader. Roberson serves in TWRA Region I and has worked on Kentucky Lake and Natchez Trace Wildlife Management Area for the past seven years.
The Biologist of the Year is the latest honor for Gibbs. He was named Southeastern Association of Fish and Wildlife Agencies (SEAFWA) Biologist of the Year this past fall.
Gibbs was instrumental in establishing the current Tennessee bear hunt zones, based on data and management techniques that allow for sustainability or growth in each zone. He has worked closely with various organizations and communities on bear conflict and nuisance issues. Gibbs is also responsible for coordinating with the Appalachian Bear Rescue (ABR) in admitting orphaned bear cubs and later relocating cubs into the wild.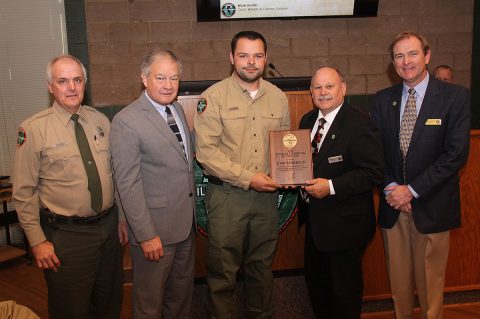 In the last two years, Gibbs has worked with several partners to obtain funding to put radio collars on relocated nuisance bears or orphaned cubs rehabilitated by the Appalachian Bear Rescue Center and subsequently released in the wild to follow their movements and survival. He established an on-line bear reporting system on the TWRA website for the public to log in bear sightings, which should provide data for gauging bear interactions with the public and westward expansion of bear range in the state.
Gibbs currently serves as the Chair of the SEAFWA Large Carnivore Working Group and has long been an active member of the Southeast Black Bear Work Group. His leadership and involvement over the last several years in these working groups have resulted in a multistate bear population study based on DNA analysis of hair samples, and adoption of a multistate educational outreach program called BearWise.
Gibbs's work and influence in the bear arena helped the scheduling of the annual National Bear-Human Conflict Workshop in Gatlinburg in March, the first time it will be held east of the Mississippi River.
Roberson has worked to help maintain and promote hunting, fishing and trapping. He assists in banding every year at the Tennessee National Wildlife Refuge's Duck River Unit where he has helped band more than 1,000 geese and 2,500 wood ducks. Roberson has notoriety as a trapper, particularly trapping beavers on waterfowl impoundments.
He is a certified Hunter Education Instructor and assists local wildlife officers in teaching multiple Hunter Education classes annually in Benton County. Roberson has also volunteered in other youth outdoor events such as Free Fishing Day and the Tennessee National Wildlife Refuge's "Green Wing Day" that allows youth to participate in wood duck banding.
In aspirations to further his education and knowledge, he has also taken extra training classes offered by the state as well as attending seminars that have been conducted by local universities pertaining to wildlife management.