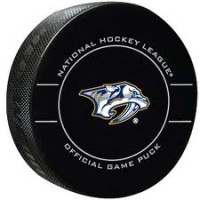 Nashville, TN – The Nashville Predators saw their franchise record win streak come to an end tonight at the Bridgestone Arena, as the New Jersey Devils won it in a shoot-out, 3-2.
New Jersey dominated the play throughout the game, after the Predators were first to score, and then took a 2-1 lead, until just over one minute in regulation, when Ryan Johansen tied the game at 2-2.
Both teams had multiple scoring opportunities on the night, but the puck was a "quirky" thing tonight as players were "whiffing" on shots, and or missing empty net opportunities all night.
Nashville's Mattias Ekholm put the Predators on the board first, at 1:17 of the first period, scoring on a wrist shot to give Nashville an early 1-0 lead. Ekhom was unassisted on the play.
New Jersey started turning up the defensive pressure, keeping Nashville out of their offensive zone and the pressure finally broke through when Sami Vatanen tied the game at 1-1 when his slap shot beat Juuse Saros in goal for the Predators.
Brian Boyle gave New Jersey the lead at 11:24 of the second period when his shot scored over the shoulder of Saros, and now the Devils had a 2-1 lead.
As the Predators were running out of time in regulation, Ryan Johansen scored on a rebound off of a Keith Kincaid save attempt and tied the game at 2-2.
Neither team could score during the 3 on 3 overtime and the teams went to a shootout where New Jersey would win it.
Needing a goal to tie, Nashville's Craig Smith failed to score on Kincaid and the game was over.
This loss ends the 10 game win streak the Predators were on, but the Predators still lead the Western Conference with 98 points.
Nashville welcomes their nearest rival in the central division, Winnipeg, on Tuesday night to close out a four game home stand.
Puck drops at 7:00pm at the Bridgestone Arena.