Written by Curtis Johnson
Tennessee State Representative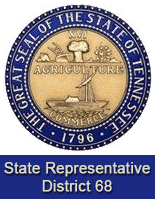 Nashville, TN – Next week, the full House will consider legislation that seeks to place the nation's motto, "In God We Trust," in all Tennessee schools. House Bill 2368 calls for the motto be displayed in a prominent location. The establishment of this motto was signed into law in 1956 by President Eisenhower, but was imprinted on U.S. coins and currency long before that time.
According to a 2003 joint poll by USA Today, CNN, and Gallup, 90% of Americans support the inscription "In God We Trust" on U.S. coins.
In 2006, on the 50th anniversary of its adoption, the United States Senate reaffirmed "In God We Trust" as the official national motto of the United States of America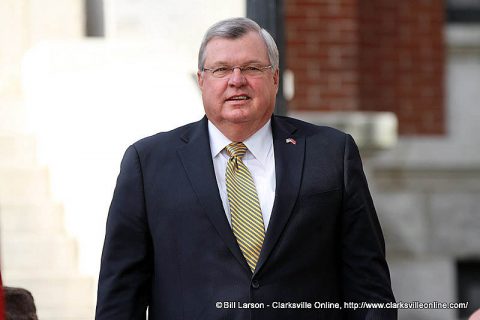 House Approves Tuition Transparency and Accountability Act
Legislation providing more transparency and accountability when it comes to tuition and fee hikes at the state's colleges and universities will be considered by the full House next week. House Bill 1684 seeks to slow down tuition increases, which have risen by 125 percent over the past decade, by putting constant pressure on the process.
Approximately 50 percent of graduates from colleges in Tennessee have debt that averages around $25,000.
Under the bill, governing boards must give public notice 15 days prior to a meeting to adopt an increase in tuition and mandatory fees in order to allow for public comment and awareness. Any tuition increase must be substantiated by stating the amount of increase, the reason for the increase, and any steps that may have been taken to control it.
The legislation also requires each university to provide in a student's acceptance letter a "predictive cost estimate," projecting how much tuition and fees will costs for a four-year period.
Finally, the proposal calls for the governing boards of each university to submit a report to be distributed to the General Assembly with information on how the tuition increases were spent during the previous year.
Tennessee Receives High Ranks for its Low Tax, Pro-Growth Status
Tennessee received high marks from two sources this week for its low tax, pro-growth status. The financial website, Wallet-Hub, released a new study on Tuesday showing Tennessee has the lowest tax burden in the nation. The study estimates a median income household in Tennessee paid only $3,667 in state and local taxes in Tennessee last year, which is over a third less than the average nationwide, and less than any other state in the country.
Under conservative leadership, Tennessee has cut taxes by $572 million annually, with policies in place to reduce them even more in years to come. This includes reducing the sales tax on food by nearly 30 percent, phasing out of the Hall tax, cutting business taxes on manufacturing, and eliminating the gift tax and inheritance tax.
The other high mark received by Tennessee this week was from the U.S. Bureau of Labor Statistics which reported that the state had the second biggest decline in the nation in unemployment rates. Tennessee's unemployment rate is down 1.2 percentage points, from 4.5 percent to 3.3 percent from January 2017 to January 2018.
The state is experiencing the lowest unemployment rates in Tennessee history, while the job growth rate is greater than 17 percent. Over the past several years, Tennessee has passed tort reform and overhauled workers' compensation to offer businesses more predictability, and has addressed broadband accessibility to help spur economic development in rural areas.
Tennessee ranks 7th in the nation for the number of net new manufacturing jobs created since 2012. The state has also seen strong rural job growth with a 31.7 percent increase in new job commitments in 2017 over that of five years ago.
Contact Information
Rep. Curtis Johnson
606 Cordell Hull Building
Nashville, TN 37243
615.741.4341
For more information about the Tennessee General Assembly, check our website at: www.capitol.tn.gov