Clarksville, TN – Seeing UH60 Black Hawk helicopters circling above is not unusual in Clarksville Tennessee. However, seeing them land at Austin Peay State University's campus in Downtown Clarksville is.
As part of a coordinated effort between Austin Peay's Governors Guard ROTC program and the Tennessee National Guard, the APSU ROTC department has arranged to have Black Hawk helicopters land on campus three times over the next several weeks.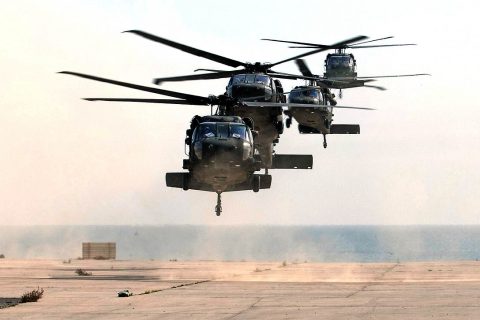 The training is open for public viewing and media coverage.
The first landing will take place Thursday, March 29th, 2018 at approximately 9:00am, landing one helicopter on the front lawn of the Dunn Center, located at the corner of Marion Street and Drane Street. APSU ROTC Cadets will conduct loading and off-loading training for approximately 90 minutes while the aircraft is landed. The aircraft will depart at approximately 10:30am.
The second landing will involve five Black Hawks, with an estimated landing time between 7:30am-8:30am Friday, April, 13th. The aircraft will land on the Dunn Center front lawn and the University Recreation Intramural Field, also located at the corner of Marion Street and Drane Street. APSU ROTC cadets will load onto the aircraft to be transported to Milan, Tennessee where they will conduct a Joint Field Training Exercise. The cadets will return between 12:00pm-1:30pm Sunday, April 15th using the same fields for landing.
"This is one of the advantages of the University supporting our military community—supporting the military is part of the culture of Austin Peay," said Lt. Col. John Montgomery, Professor of Military Science.
"The University has been tremendously supportive of our ROTC program and when you combine that with the support we get from Fort Campbell, and the Tennessee National Guard, it results in us consistently being one of the best programs in the country," said Montgomery.
Anyone planning to view the landings and training is asked to do so from a safe distance and to not interfere with those involved in the training. Recommended areas for viewing are sidewalks surrounding the perimeter of the Dunn Center lawn, or outside the fence of the Intramural Field.