Clarksville's First Thursday Art Walk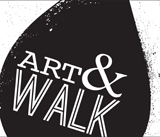 Clarksville, TN – Produced by The Downtown Clarksville Association, Clarksville's First Thursday Art Walk is a free, self-guided tour spanning a 5-block radius that combines visual art, live music, engaging events and more in the heart of Downtown Clarksville.
With 10+ venues, bars and businesses participating each month, the First Thursday Art Walk in Clarksville is the ultimate opportunity to savor and support local creative talent.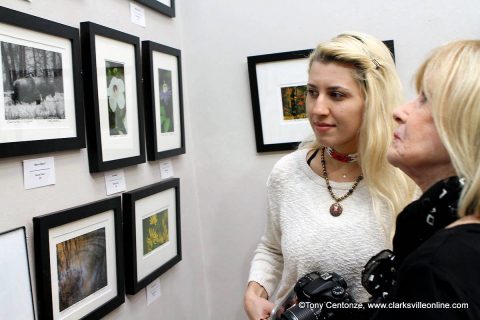 The June Art Walk will be held June 7th, 2018 from 5:00pm to 8:00pm at the shops and galleries on Public Square, Franklin Street, and Strawberry Alley.
The participating businesses are listed below as well as a description of the work they will be exhibiting and services they will be offering during the event.
Downtown Commons (215 Legion Street)
Artist Information
Bloom Where You Are Planted
Bookmark art project with fresh flowers.
Join Arts for Hearts Clarksville volunteers at Downtown Commons on June 7th from 5:30pm-7:30pm to create fresh flower bookmarks. Explore, Create and Love art with us.
Kids must be 6 and up to participate. Adults welcome. All supplies and instruction provided.
Produced by The Downtown Clarksville Association, First Thursday Art Walk is a free, self-guided tour spanning a 5-block radius that combines visual art, live music, engaging events and more in the heart of Downtown Clarksville.
Downtown Artists Co-op (96 Franklin Street)
The DAC is an association of talented local artists and interested patrons dedicated to promoting the visual arts in the Clarksville-Montgomery County area.
Our objectives are to sponsor art exhibitions of work by Co-op members and regional artists, to provide continuing support for the Co-op and its membership through the sale of art work, to encourage arts education with outreach programs and scholarship fundraisers, and to develop membership services which directly support the arts community.
Artist Information
Form, Flow and Nature: Sofia Asadi
Sofia describes her inspiration: Forms and flow play a great role in my artworks. Negative and positive space owe their entities to one another. My intention is to reflect a series of contradictions that have always been involved in my life onto my artworks.
As a Persian, I am highly influenced by my native culture. I draw upon this culture to create abstract forms inspired by Persian calligraphy and/or a reflection of the nature.
For more information go to our website at www.downtownartistsco-op.com or visit us on Facebook : Downtown Artist Cooperative.
The Framemaker (705 North Second Street)
For over two decades, The Framemaker has offered a unique selection of frames and art services to the Middle Tennessee area.
Artist Information
Last Show in Clarksville by Connie Livingston-Dunn
The Framemaker proudly presents new work by Connie Livingston-Dunn. This exhibit is part of Clarksville's First Thursday Art Walk on June 7th, 2018. An opening reception will be held from 5:00pm to 8:00pm. The exhibit will remain on display at the Framemaker throughout the month of June during normal business hours (Monday through Friday 10:00am to 5:00pm).
Connie Livingston-Dunn is a multi media artist who enjoys exploring new directions in painting, mixed media, and digital / fractal collages. Her paintings range from the vibrancy of a rainbow of colors to the subtle aging of wabi sabi and the impression of impermanence, imperfection and incompleteness. As a retired art therapist, the expressionists and visionary artists, such as Kandinsky and his philosophy, have been major influences in her style.
Her current artworks can be very ambiguous in meaning and content with concealed symbolism and pure abstraction. She likes viewers to unravel the unspoken visual poetry that is within the artworks to expose an altered point of view and new way of seeing our surroundings.
The Framemaker is located at the corner of North Second Street and Georgia Avenue, across from the Clarksville Academy.
The Roxy Regional Theatre – (100 Franklin Street)
Peg Harvill Gallery
For those who enjoy the visual arts, the Peg Harvill Gallery, located just beyond the lobby, hosts twelve shows annually featuring locally and nationally known artisans. Shows generally open the first Thursday of each month for our First Thursday Art Walk.
Artist Information
The Roxy Regional Theatre's Peg Harvill Gallery is proud to host an exhibit by illustrator, Edward R. Gilman, during the June 2018 First Thursday Art Walk.
Edward R. Gilman | 1903 – 1989 | Illustrator
Painted foods and beverages in the era before color photography. Stone lithography. Academic training and careers in Boston, and after 1936, at his New York City studio.
Lithography printing of his artwork for clients, Coca-Cola; Atlantic & Pacific stores; United Fruit; Armor & Swift; Fanny Farmer; Betty Crocker; Knox; Jordan's; etc. The soda-fountain sprite with the Coca-Cola bottle cap for a hat was his invention.
Advertising illustrations for magazines, billboards, cookbooks, product promotion. A contemporary of Norman Rockwell, and an outdoor painter of New England scenes.
Built sailing ship scale models; had a marionette theater; made masks and sculptures. World War One veteran, U.S. Navy artist. Married Dorothy Slaton, another artist, in 1922. Together, hosts of a Boston arts and crafts circle of creative friends and professionals.
For tickets to and information about our current production of "Annie, Jr", please visit www.roxyregionaltheatre.org or call the box office at 931.645.7699.
Additional gallery hours are Monday through Friday, 9:00am–2:00pm.
DBOgallery (128 N. Second Street)
Artist Information
The artists for the month at the DBO Gallery will include Alfredo Alvarez, a Cuban born artist who is new to the Clarksville art scene, Olasubomi Aka-Bashorum, the artist behind the Starry Night Clarksville Mural, Lucas Ryan Chambers, the creator of the Faces of Downtown Clarksville and other artists from the throughout the region.
The DBO Gallery is the newest addition to the Clarksville Art Walk and includes live music and new and interesting forms of art. The DBO Gallery, located inside of the Regions Building at 128 North Second Street, offers a new line-up of artists each month, so be sure to stop by for a one-of-a-kind experience!
Edward's Steakhouse (107 Franklin Street)
Artist Information
Edward's Steakhouse is proud host photographer, Rafael Rios, during the June 2018 First Thursday Art Walk.
Rafael Rios was born in Mayaguez PR and raised by his grandmother and aunt. Graduated with an Associates Degree in Business Administration with a concentration in Computer Science, he has since been searching for his dream job.
Married, with three beautiful girls whom he loves so much, Rafael embarked on his photography venture in 2015. An injury at work forced him to stay home and do nothing but rest and recover. He spent valuable and well deserved time with his family but soon after, realized he was getting board and desperate to get out of the house.
His wife took pity on him and bought his first DSLR camera. Excited, Rafael began taking pictures of everything. He taught himself all the ins and outs of the camera. Google and YouTube were, and still are, his best friends. He was inspired by so many great photographers like; Peter McKinnon, Jonathan & Angie Scott, Serge Ramelli and so many others out there.
He pushed himself, day in and day out, striving to be like his mentors. He attributes some of his success to a documentary on Netflix called, "Tales by Light," which he continues to watch whenever he needs inspiration or just feels like reminiscing back to his beginning.
Practicing every day, and not giving up, he has been able to travel to Puerto Rico, Tennessee, Colorado and now, Texas (where he resides) to capture a multitude of amazing and beautiful photos. And with each and every photo captures, he continues to strive for excellence. His goals include; the ability to travel and capture many more beautiful shots, so the world can enjoy his gift.
"Thanking God for giving me the strength to continue, my family for the unconditional support, my friends that love my work and all those that have given my the courage and push to continue with my photography. Thank you."
Stop in, see the art, listen to Jackson Miller on the piano and enjoy the Thursday night special, 1/2 priced $7.00 appetizers and 2 for 1 draft drink special.
The Customs House Museum (200 S. 2nd Street)
The Customs House Museum and Cultural Center is Tennessee's second largest general interest museum. It features fine art, history, and children's exhibits.
Artist Information
First Thursday Art Walk
Thursday, June 7th, 5:00pm–7:00pm
The museum is open to the public with free admission as part of Downtown Clarksville's First Thursday Art Walk.
Exhibits
Brenda Buffett: Explored Movement
June 1st – July 1st | Planters Bank Peg Harvill Gallery
A graduate of O'More College of Design with a degree in Fine Arts, Brenda Buffett's paintings are colorful acrylic abstracts. The paintings are full of movement, and are inspired by the Nashville music scene, the urban landscape, and the images of a growing city. This exhibition is sponsored in part by Nashville Arts Magazine.
Interpreting the Familiar: The Art of Hattie Marshall Duncan
June 6th – August 19th | Jostens Gallery
African American folk sculptor Hattie Marshall Duncan creates expressive sculpture that offers a loving, humorous portrayal of her hometown community in Jackson, Tennessee. She uses common household items such as wire hangers, plastic bottles and old stockings to build the frames.
After molding the figures, she adds texture and detail by applying coffee grounds for hair, pine cones for hats, and broken egg shells for clothing.
World in Wood: The Folk Art of Herbert Baggett
May 15th – July 29th | The Leaf Chronicle Lobby
Wooden figures by Tennessee artist Frank Baggett are on display. These objects are from the Customs House Museum & Cultural Center's permanent collection.
Tennessee Watercolor Society 2018 Biennial Exhibition
May 19th – July 27th | Crouch & Orgain Galleries
The Tennessee Watercolor Society will open its 36th Juried Exhibition of water media paintings on paper at the Customs House Museum & Cultural Center on Saturday, May 12th. Sixty works have been selected for display by juror and artist Lian Quan Zhen.
Following its run at the Customs House, a selection of 30 paintings will continue across Tennessee as a traveling exhibit for the duration of 2018, stopping at three gallery venues including a final show at the Hunter Museum in Chattanooga.
Nathaniel Mather: Stories Through Color
April 3rd – June 24th | Kimbrough Gallery
The paintings of Nathaniel Mather, in their shallow spaces, childlike renderings of animals, flowers, and rough-edged patches of color are done in water medium materials on canvas and board. Born and raised in California, Nathaniel works in Nashville as an artist and illustrator.
Exquisite Miniatures
April 15th – June 24th | Kimbrough Gallery
Wes and Rachelle Siegrist are an American husband and wife team who mesmerize viewers with miniature paintings so exquisitely crafted that they are often mistaken for tiny photographs. Their tiny treasures, as collectors often refer to them, typically measure less than 9 square inches and appear even more detailed when viewed under magnification!
A hallmark of their work is their ability to convey the feeling of a larger canvass or the essence of the natural world in miniature. "Exquisite Miniatures" consists of fifty signature paintings including landscapes, portraits, still lifes, wildlife, and other subjects by Wes and Rachelle Siegrist.
"Exquisite Miniatures" by Wes and Rachelle Siegrist, Produced by David J. Wagner, Ph.D., Curator/Tour Director; for further information, visit davidjwagnerllc.com and artofwildlife.com.
Our Town: Stories Within Clarksville's Doorways
February 28th – September 30th | Memory Lane
An exhibition of regional stories featuring photographs and artifacts from our collection, including: the jail, Trinity Episcopal Church, the Court House, the Capitol Theater, and more.