Written by Pfc. Beverly Mejia
40th Public Affairs Detachment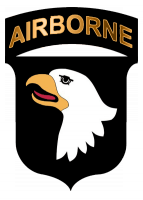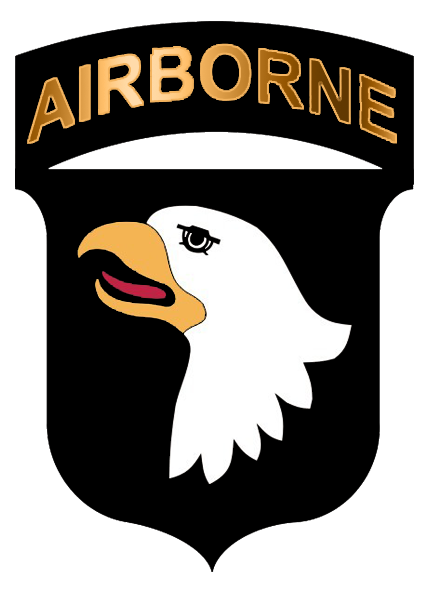 Fort Campbell, KY – The Secretary of the Army Mark T. Esper shared his recently published Army Vision with Soldiers, leaders, Families and civilians of the 101st Airborne Division and Fort Campbell, Tuesday during a visit to the post.
"The Army Vision speaks about where we want to be in the year 2028 and within that it outlines manning, training, equipping and leading," Esper said.
As secretary of the Army, Esper has constitutional responsibility of all aspects in relation to the U.S. Army, to include organization, recruiting, equipping, training and supervision of more than 1.4 million active duty, Reserve and National Guard Soldiers, as well as Army civilians and their Families.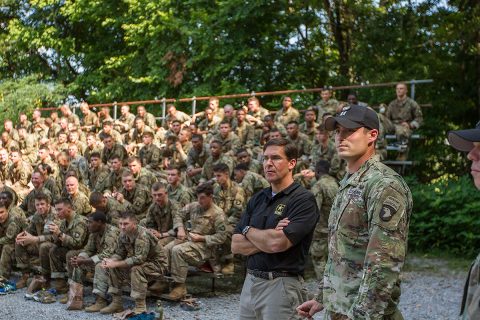 Esper's visit allowed Fort Campbell leaders to provide an overview of the post's readiness and training of its Soldiers and civilians, including the care and welfare of their Families.
The visit began with an intense physical fitness circuit training alongside the Soldiers of 3rd Battalion, 187th Infantry Regiment, 3rd Brigade Combat Team. Esper served with the Iron Rakkasans during his early days on active duty that includes a deployment to operations Desert Shield/Desert Storm.
"This morning we got the opportunity to workout with the secretary of the Army," said Pfc. Holland Wiler, B Co., 3-187th Inf. Regt. "We always stay physically ready to deploy, our bags are always packed and we're ready to move out at any time of day, month or year."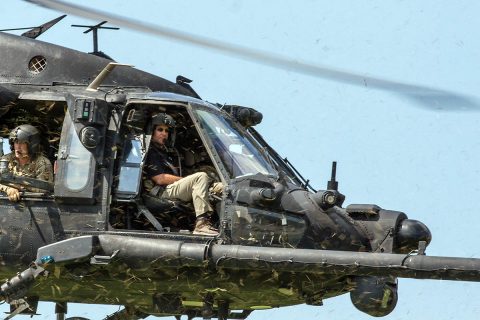 After the first of several round tables with spouses, Soldiers and leaders, Esper proceeded to The Sabalauski Air Assault School where he received familiarizations on a UH-60 Black Hawk cockpit and toured the air assault obstacle course. During the obstacle course, Esper observed current students in action as they went through the course to earn their air assault wings.
"The secretary of the Army is here at The Sabalauski Air Assault School to assess today's Army capabilities and lethality," said Staff Sgt. Brian Laitila, instructor with TSAAS. "He is here today to view the 101st's air assault training. Air assault is important because it's now become a highly Army operated skill, which allows forcible entry by inserting troops in an accurate manner and providing mass combat power when needed, this is what the Army does."
Later in the day the secretary visited subterranean combat training conducted by the 2nd Brigade Combat Team Soldiers. The Soldiers demonstrated their adaptability to the newest type of underground warfare by effectively communicating, navigating though dark and narrow mazes, breaching large obstacles and providing all-around security while below surface levels.
Approximately 150 Soldiers, civilians and Family members gathered for a town hall and question and answer session with the secretary. He discussed the Army's vision and expectation of manning, training, equipping and leading in the upcoming years.
"The entire Army is deployed at a very high rate now," Esper said. "I'm told that the 101st is the most deployed division. What I'm aiming to do is increase the size of the Army. We need to be ready for the high-intensity conflict that we are preparing for in the future."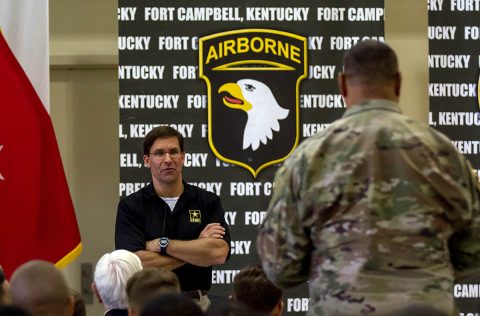 Esper elaborated where he wants the Army to be in the next 10 years.
"On manning, I want to make sure that our units are at full strength, I want to ensure that our Soldiers are well-trained, physically fit, mentally strong and tough. On training, I want us to stay focused on high-intensity conflict as told by the National Defense Strategy, focused on dense urban terrain and prepared to operate in an environment free of electronics."
On leading, I want to make sure we are growing a great officer corps and NCO [noncommissioned officer] corps, which is the back bone of our Army."
Esper said he frequently reflects on his time at Fort Campbell, and how he is using leadership skills he learned as a young lieutenant to now guide him as the Secretary of Army.
"You can't go wrong with the 101st Airborne Division," Esper said. "In terms of leadership, I was blessed with a lot of good leaders here, both those who mentored me and those who I served with.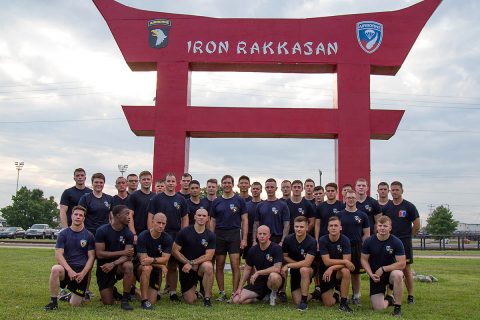 "In all my different experiences whether in the Army, National Guard or Reserve or working on Capitol Hill, a day doesn't go by where I don't draw from an experience here as I think about my current duties and responsibilities" stated Esper.
"I reflect back on those experiences to better understand how I can help shape the Army," said Esper.