Austin Peay State University

Clarksville, TN – NASA recently honored Austin Peay State University with its Marshall Space Flight Center Group Achievement Award for the University's help during the 2017 Great American Eclipse.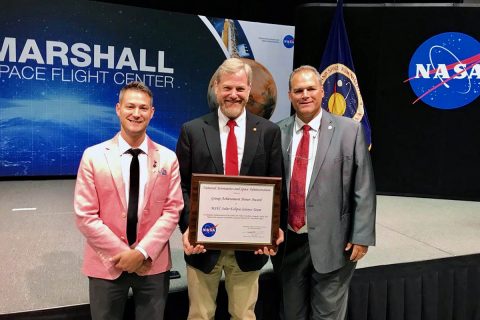 Austin Peay earned the award because of "exemplary implementation of the NASA core values of excellence, integrity, safety and teamwork in execution of activities associated with the 2017 total solar eclipse," according to NASA's citation that accompanied the award.
Austin Peay representatives Dr. Donald Sudbrink, professor and chair of the APSU Department of Agriculture; Bill Persinger, executive director for Public Relations & Marketing; and Bryan Gaither, lab manager for the Department of Physics, Engineering and Astronomy, accepted the award with other members of the Marshall Space Flight Center Solar Eclipse Team on August 22nd in Huntsville, AL.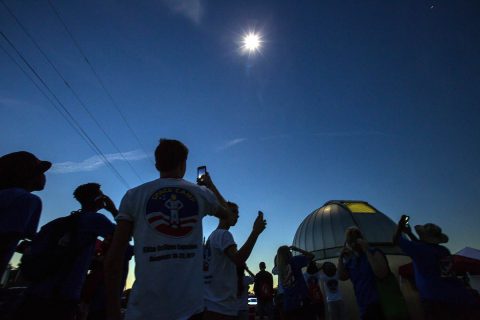 "We are so proud to have been a part of this accomplished and hard-working team that was able to deliver the spectacular 'Peay-clipse' science and education event," Sudbrink said.
Around 1:25pm August 21st, 2017, hundreds of people cheered in the near-dark inside Austin Peay's Fortera Stadium. At that moment, the moon passed in front of the sun during a total solar eclipse, and people from as far away as Finland came to APSU to experience the event.
Austin Peay was situated near the epicenter of the eclipse, meaning the sky darkened for more than two minutes – one of the longest periods of darkness in the world.
"As an institution of higher learning, we couldn't let this opportunity to educate and enrich the public slip away, and for the years leading up to the eclipse, Austin Peay's faculty and staff prepared for this once-in-a-lifetime occurrence," APSU President Alisa White said.
Education and enrichment were key components in NASA's justification for awarding Austin Peay.
"In the months and weeks leading up to the eclipse, the team demonstrated NASA's core value of excellence by using the solar eclipse as a conduit to reach the public, educating not only about the eclipse itself, but the unique solar observations enabled by the eclipse and the science performed at (Marshall Space Flight Center) by solar physicists," the NASA citation reads.
Austin Peay was named an official NASA event, with the space agency sending scientists and a film crew to the University's farm in Montgomery County. The images they captured were broadcast across the world, including on a large screen in New York's Times Square.
The University also hosted the viewing party at Fortera Stadium, an educational fair for children and a lecture by former astronaut Rhea Seddon.