Ohio Valley Conference (OVC)
Brentwood, TN – The Ohio Valley Conference and ESPN have reached an extension of their media rights agreement, which will now include a minimum of 600 conference events on ESPN+, the recently launched multi-sport, direct-to-consumer subscription streaming service from The Walt Disney Company Direct-to-Consumer & International segment and ESPN.
The first OVC events to be broadcast on ESPN+ will be two football games on Thursday, August 30th, 2018. In total, 36 OVC football games will be streamed on ESPN+ this season. Another eight games will be streamed live on ESPN3 as part of the league's Game of the Week package.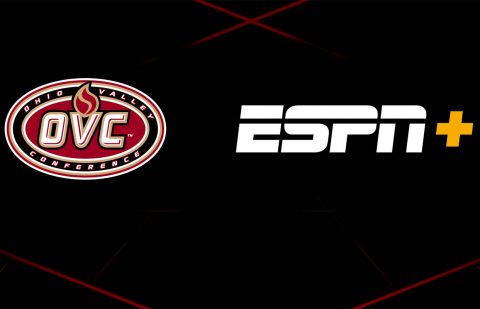 The sports of soccer and volleyball will see regular season contests air on the OVC Digital Network this fall before ESPN+ becomes the exclusive streaming home of Ohio Valley Conference productions and features exclusive regular-season and OVC Championship broadcasts.
"The OVC membership is delighted to be able to extend our long-standing partnership with ESPN and to expand our level of exposure with ESPN+ during this its inaugural year," said OVC Commissioner Beth DeBauche. "ESPN+ is an innovative initiative that will permit the OVC to not only serve its current fanbase, but expand its reach, as sports fans in general will be able to view our exciting contests and learn more about the storied history of the league."
Added Burke Magnus, ESPN executive vice president of programming, "We are very happy to be continuing a great relationship with the OVC and its rich sporting legacy across multiple sports. The passionate and dedicated fans and alumni of OVC member institutions will have a dynamic new digital home for sports on ESPN+, alongside an incredible lineup of other live sports and original programming."
Under the arrangement, the OVC Men's basketball championship game will continue to air on either ESPN or ESPN2, with ESPNU and ESPNNEWS broadcasting additional events. Additional linear opportunities are included, and the OVC will maintain its exposure on ESPN3, including a Football Game of the Week.
The Ohio Valley Conference is the latest addition to the comprehensive ESPN+ lineup, which includes hundreds of MLB and NHL games, thousands of college sports events, domestic and international soccer, Grand Slam tennis, Top Rank boxing, UFC (beginning 2019), international rugby, cricket, original shows and series, the full library of 30 for 30 films, and more.
ESPN has previously announced deals with the Atlantic 10, Big South, Conference USA, The Ivy League and Sun Belt, with hundreds of games from those and other conferences available on the platform each year.
Fans can subscribe to ESPN+ through the ESPN App for just $4.99 a month (or $49.99 per year).
About ESPN+
ESPN+ is the first-ever multi-sport, direct-to-consumer subscription streaming service from The Walt Disney Company's Direct-to-Consumer and International division in partnership with ESPN. It offers fans thousands of additional live events, on-demand content and original programming not available on ESPN's linear TV or digital networks. ESPN+ is an integrated part of the completely redesigned ESPN App.
Already the leading sports app, the new ESPN App is the premier all-in-one digital sports platform for fans across mobile and tv-connected devices. ESPN+ is also available through ESPN.com.