Written by Maria Yager
Blanchfield Army Community Hospital Public Affairs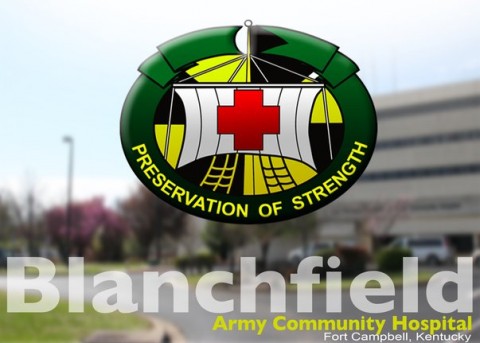 Fort Campbell, KY – Notes of encouragement and school supplies collected by team members from Blanchfield Army Community Hospital's Department of Behavioral Health were donated to the Clarksville-Montgomery County Education Foundation's Teacher Warehouse, September 6th, 2018.
"Once a quarter our department does a team-building activity and now we are donating supplies to the Teacher Warehouse for Clarksville-Montgomery County. It is a great organization in which every teacher in Montgomery County is eligible to go get free supplies for their classrooms," said Maj. Julie Shin, BACH deputy chief of behavioral health.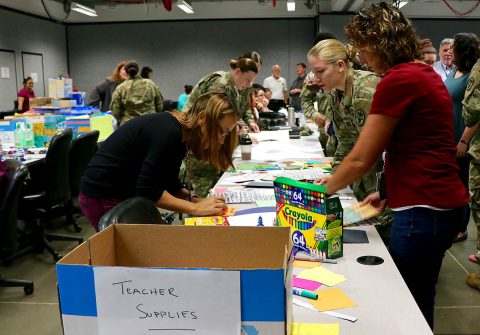 "We know that often teachers' jobs are sometimes very taxing, very thankless and so we thought we'd make these cards of encouragement so when they come to get their supplies they can also pick up these cards, hopefully to inspire them throughout the year as they deal with all of our young ones and teach and inspire them," Shin stated.
Blanchfield's Department of Behavioral Health is composed of ten clinics serving active duty and children on post. It includes social workers, psychologists, nurse practitioners, technicians and psychiatrists.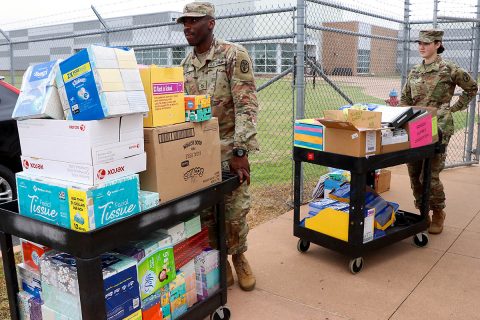 "It's a good time to get together and build that esprit de corps as a department and put their efforts to something else, which is just wonderful. Our staff seems to really enjoy it."
Over the summer, Soldiers and civilian staff collected commonly used school supplies like crayons, notebooks, disinfectant wipes and tissues. After a training evolution, some staff made cards to show their appreciation for the work teachers do.
"I enjoyed it. Especially being a service member myself, I always get cards from schools, so just being able to give that same support back to the teachers because their jobs are so important it was great just to be able to give back to them as well," said participant, Capt. Marquita Barr, a social worker intern at BACH.
After three months, the items were consolidated for a planned delivery to the Teacher's Warehouse.
"Contributions to our teacher warehouse mean the world to them. So many of our teachers spend money out of their own pockets to supply their classroom with things their students need," said Katie Williams, coordinator, CMC Education Foundation, who accepted the supplies on behalf of the warehouse. "The donations we get from the community are wonderful. We appreciate all the support we get from the community. Our community has been very giving and generous to us and we appreciate everything that we receive."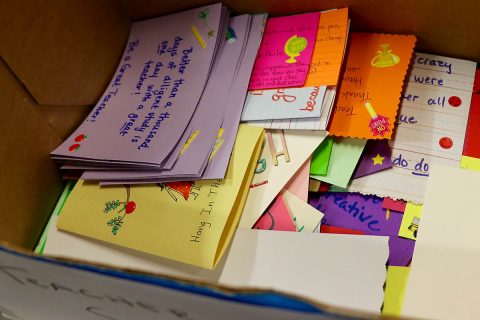 The Department of Behavioral Health offers Adult Behavioral Health services to active duty service members who are assigned to non-tenant units at Fort Campbell. In addition, Embedded Behavioral Health is offered within the combat brigades.
Other services within the department include Emergency Behavioral Health, Child and Family Behavioral Health System, School Behavioral Health, Child and Family Psychiatry Service, Marriage and Family Therapy, and Family Advocacy Program.