Written by Staff Sgt. Caitlyn Byrne
101st Airborne Division (AA) Sustainment Brigade Public Affairs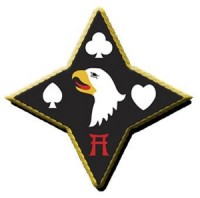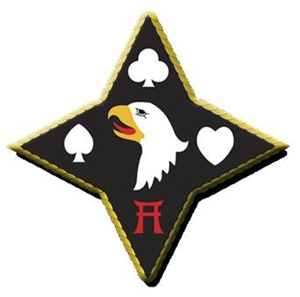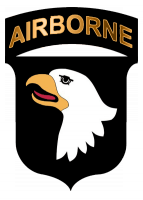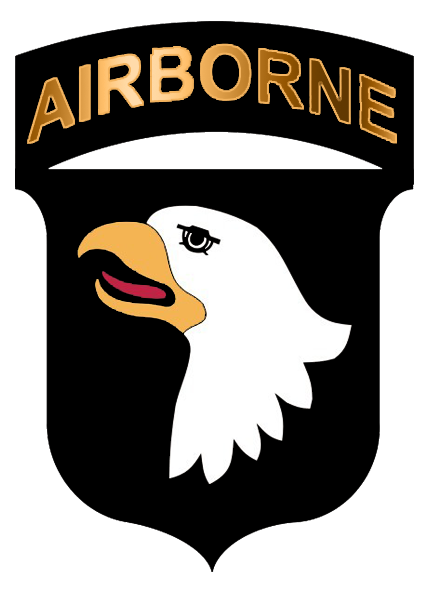 Bagram Airfield, Afghanistan – Pebbles and dust flew as the black and tan German Shepard, Larry, a working dog from United States Forces-Afghanistan Mad Dog Kennels, hurtled toward his intended target, a burly man from AMK9's contract working dog team in a bite suit.
In an explosion of muscle and fur, Larry launched himself at the man, clamping his jaws around a healthy portion of the suit.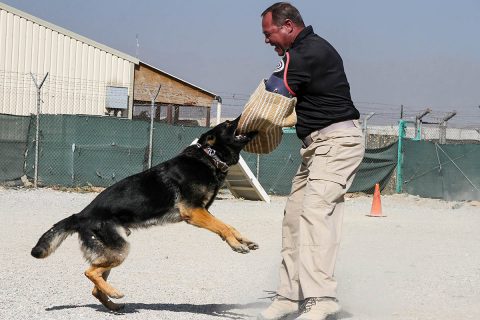 After a few moments, his handler, Spc. Austin Lancaster, native of Amarillo, Texas and military working dog handler for the 180th Military Working Dog Detachment at Fort Leonard Wood, gave Larry the command to release the man and Larry obliged with a few excited whines.
Clipping a leash back onto Larry's collar, Lancaster and Larry proceeded to lead the "perpetrator," the man in the bite suit, toward the other end of the facility, in an exercise of escorting him off the premises. Soldiers, contractors and D.A.
Civilians watching from the wooden benches on the other side of the fence cheered enthusiastically, ending Larry's run and ushering in the next working dog team in the K9 competition.
The K9 competition, held at Bagram Airfield, Afghanistan, September 16th, consisted of four events: detection, obedience, agility and controlled aggression. In each event, the working dog teams were evaluated on their expedience to complete the task, their accuracy, their focus and their obedience to their handlers' commands.
Based on these evaluations, the nine working dog teams (three U.S. Army teams and six AMK9 contractor teams) were awarded corresponding points, and the team that ended up with the most points won.
The K9 competition was the idea of Sgt. 1st Class Christopher Ogle, native of Beaver Creek, Ohio and working dog program manager for USFOR-A. Ogle said that he wanted to create an event that would boost morale as well as give the handlers and their dogs something to work for and sharpen their skills.
"The Soldiers and their dogs prepared for this event for over a month, training each day to hone their skills and further their bonds," said Ogle. "This type of work and training is beneficial not only in terms of the competition, their readiness also helps make the forward operating base safer."
Ogle emphasized that all of the skills that the working dog teams practiced for the competition are also skills that they utilize in everyday operations. Through their training they are getting better at searching for weapons caches, improvised explosive devices and contraband, he said. The dogs become more attuned to their handlers, making them able to anticipate commands as well as learning to obey their handlers despite distractions.
"Our dogs enhance our detection capabilities greatly," Ogle said. "Dogs can detect contraband or I.E.D.s up to 50 feet away, which in turn keeps our Soldiers out of harm's way. The work that our teams are doing every day is greatly increasing our readiness, allowing the units that we support to stay safe and continue with their operations."
Staff Sgt. Victoria Cope, native of Le Grande, California and kennel master for the Mad Dog Kennels, shared how proud she was of her Soldiers who participated in the competition.
"I'm proud of them," said Cope. "They represented the whole kennel and worked really hard to show how much we train to get to that successful end-state. I am especially proud of Spc. Lancaster; he is our youngest Soldier and he has excelled since he got here."
Lancaster, who arrived in Bagram just two months ago, has had Larry since February of 2017. Since then they have bonded and spent countless hours working together, training and preparing to go on missions like the one they are currently deployed for now.
"It has actually been super fun," said Lancaster about the K9 competition. "I am very proud of how Larry performed. We've been training for over a month, doing two to four training sessions in a day."
Lancaster stated that his main mission while deployed is to train and to make sure that all of the units that he and Larry escort get home safe.
"Once we are validated and Sgt. 1st Class Ogle sees that we are ready, Larry and I will then go outside the wire with varying units, helping to ensure their safety while they accomplish their missions," said Lancaster.
With their long training hours and difficult missions, it doesn't hurt that Lancaster's battle buddy is also his best friend.
"I love my job," said Lancaster. "It's amazing to get to work with the dogs, and having Larry with me makes missing home a little easier."