Clarksville Police Department

Clarksville, TN – On October 19th, Clarksville Police responded to a traffic crash at the intersection of College Street and Riverside Drive that sent five men to the hospital. The crash investigation is still ongoing and no charges have been filed at this time.
All of the individuals, except for one, have been released from the hospital. The only person remaining in the hospital is Robert Bartz, 43 and he is in Critical condition.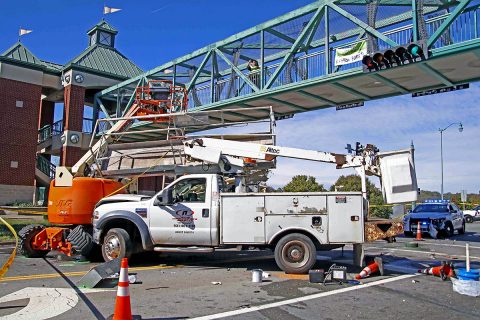 Gerald Buck, 41 was taken to Vanderbilt University Medical Center by Lifeflight but has been released.
Charles King II, 59, Charles King III, 26, and Justin Clark, 31 were all taken by ambulance to Tennova Healthcare, treated, and released.
Robert Bartz, Gerald Buck, Charles King II, and Charles King III were on the lifts at the time of the crash. Justin Clark was the driver of the bucket truck that hit the patrol car and two lifts.
Nothing additional to add at this time.
Officer Van Beber is the lead investigator.
Photos