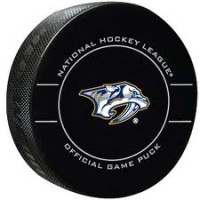 Nashville, TN – The struggling Nashville Predators just can't seem to find a way to win, falling tonight to the visiting New York Rangers, 4-3.
It was a back and forth affair with both teams trading punches and the lead throughout the game, but in the end, the Rangers, and their premier goalie, Henrik Lundqvist, leave Nashville with the win.
Mika Zibanejad started the scoring for New York at 2:42 of the opening frame on a tip in that beat Pekka Rinne for the early 1-0 lead.
Nick Bonino, who had two goals on the night, brought the Predators even at 8:43 of the first period when he redirected a slap shot from Mattias Ekholm to tie the game at 1-1.
Then at 3:51 of the second period, Jesper Fast took a pass from Zibanejad and the wide open Fast beat Rinne for the 2-1 Ranger lead.
The Predators continued to attack the Rangers, firing everything they had on net, when Kevin Fiala slipped a wrist shot past Lundqvist at 4:44 of the second period and suddenly the game was tied once again at 2-2.
Nick Bonino who was having a huge night on the ice, gave the Predators the lead at 10:35 of the second period when he took his own rebound in front of the net to score on the Nashville power play and the Predators were out front 3-2.
The start of the third period saw Nashville with a little more aggression trying to put this one away, but at 4:33 of the final frame, Marc Staal brought his Rangers even on a pass from Jesper Fast for the game tying goal, 3-3.
Finally, at 7:35 of the third period, Fast, who was a major thorn in the side of the Predators, gave us the final score with a wicked slap shot that beat Rinne, and that was all the Rangers needed, 4-3.
The final home game of 2018 saw the Predators lose their sixth game in a row. Nashville's record now stands at 22-14-2.
The Predators will face the Washington Capitals on a Monday matinee with the puck drop at noon. Nashville returns home on Thursday night to host the Philadelphia Flyers. Game time, 7:00pm.