Clarksville Police Department (CPD)

Clarksville, TN – The Clarksville Police Department's Fatal Accident Crash Team Investigator charged a driver in the fatality crash at Riverside Drive and College Street.
The fatality crash occurred on October 19th, 2018, at approximately 11:36am. Justin Clark, 31 was driving south on Riverside Drive in a Ford F-450 bucket lift truck. The travel lanes had been shifted for a construction zone. A patrol vehicle, with lights activated, and cones were positioned in the road to block traffic headed south and redirect traffic.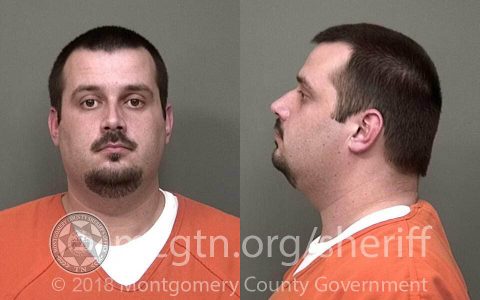 The investigation revealed that Mr. Clark failed to travel in the designated lane and struck the front of the parked patrol car and continued forward almost striking an officer on scene.
The F-450 driven by Clark next struck a scissor lift and then a boom lift. The scissor lift was occupied by Charles King III, age 26, and Robert Bartz, age 43. The boom lift was occupied by Gerald Buck, age 41, and Charles King, age 59.
Charles King and Charles King 3rd were transported by EMS to Tennova Healthcare with injuries. Gerald Buck and Robert Bartz were transported to Vanderbilt University Medical Center with injuries. Robert Bartz later died at Vanderbilt University Medical Center from injuries sustained in the crash.
Clark's blood sample did reveal the presence of THC, which is an active ingredient in marijuana.
Justin Clark, age 31 was charged with Vehicular Homicide, Four Counts of Vehicular Assault, Four Counts of Aggravated Assault, and Five Counts of Reckless Endangerment. His bond is set at $150,000.
The lead investigator is Officer Atkins.