Tennessee Lady Vols (17-8 | 6-6 SEC) at #21/22 Texas A&M (19-6 | 8-4 SEC)
Thursday, February 21st, 2019 | 8:02pm CT (9:02pm ET)
College Station, TX | Reed Arena | TV: SEC Network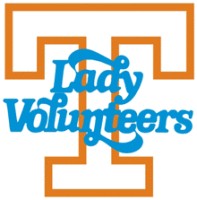 Knoxville, TN – The Tennessee Lady Vols (17-8, 6-6 SEC) is back on the road to take on No. 21/22 Texas A&M (19-6, 8-4 SEC) on Thursday night in College Station, Texas. Tip-off is slated for 8:02pm CT (9:02pm ET) at Reed Arena in a contest that is being carried by the SEC Network.
Including this match-up, the Tennessee Lady Vols have four contests remaining during the regular season. Two are at home (No. 13/13 South Carolina, Vanderbilt) and two are away (No. 21/22 Texas A&M, Ole Miss). UT is closing out a five-game stint where it has played four of those five contests on the road. UT is 2-1 on the road and 1-0 at home during that stretch.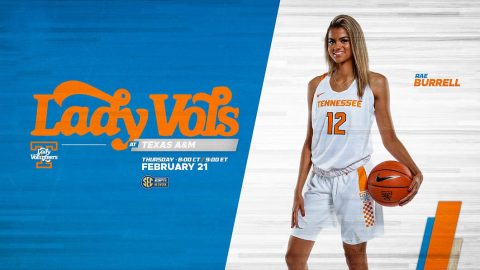 The Lady Vols enter this contest having won five of their past six games, including victories over LSU, Florida, Vanderbilt, Auburn and RV/RV Missouri.
The loss was at Mississippi State on February 10th. UT notched a season split with Missouri on Sunday in Columbia, 62-60, exacting revenge for a 66-64 Tigers win in Knoxville on January 6th.
Texas A&M comes into the game having won eight of its past 10 games, but it also has dropped two of its past three. The Aggies are coming off a 92-64 home loss to No. 5/5 Mississippi State on Sunday and lost at Missouri on February 7th, 70-65 in overtime.
UT also lost to MSU by 28, falling on February 10th in Starkville, 91-63, while playing without point guard Evina Westbrook, who sat out the game due to a violation of team rules (she missed a class).
Broadcast Information
VFL Films product Courtney Lyle (play-by-play) and LVFL Tamika Catchings (analyst) will have the call for the SEC Network broadcast.
Mickey Dearstone is behind the microphone for IMG College/Lady Vol Network radio/online broadcasts for the 20th season. A link to the live audio stream can be found on each game's Hoops Central page or the Lady Vol schedule on UTSports.com.
Air time for games on the Lady Vol Radio Network generally occurs 30 minutes prior to tip-off.
For UT home games, the Lady Vol Network has a low-power transmitter that makes the game available on the radio at 99.3 FM.
The game also can be found on Sirius 94, XM 190 and on SiriusXM app 961.
Tennessee Lady Vols – Texas A&M Series Notes
Tennessee holds an 8-4 all-time record vs. Texas A&M, dating back to December 19th, 1997.
UT is 3-1 in Knoxville, 1-2 in College Station and 4-1 at neutral sites vs. the Aggies.
Holly Warlick and the Big Orange women are 6-4 vs. hall-of-fame coach Gary Blair and A&M since the Aggies joined the Southeastern Conference.
A&M is 2-0 in overtime games vs. UT, defeating the Lady Vols in an extra frame the past two times these squads met in College Station.
Rennia Davis has an 11.5 ppg. average vs. the Aggies in two career games, scoring 12 in College Station and 11 in Knoxville a year ago.
Evina Westbrook averaged 6.5 ppg. and 6.5 apg. vs. A&M last season in two games.
Cheridene Green scored 12 at A&M vs. the Aggies, while Meme Jackson tallied 10 at home vs. Gary Blair's squad.
In the initial meeting between these teams in Knoxville, on February 28th, 2013, Tennessee defeated A&M, 82-72, on Senior Day to give Holly Warlick an SEC regular-season championship on the Lady Vols' home court in her first season as head coach. Her squad had been picked to finish as low as fifth and returned no starters.
The Tennessee Lady Vols made its first-ever women's basketball appearance in College Station on January 26th, 2014, and the (then) #11/12 Lady Vols picked up a key victory over the (then) #17/15 Aggies, 76-55. A&M was the SEC leader at the time of that defeat.
UT has met A&M in other tournaments, including one regular-season and one postseason event.
After both of those tourney wins over the Aggies, the Lady Vols would advance to, and win, the NCAA Final Four in 1997-98 and 2007-08.
In the first meeting, the #1/1 Lady Vols rolled to a 105-81 victory over the Aggies at the Northern Lights Invitational in Alaska in game two of a three-game stay.
The famed "Three Meeks" dazzled #8/9 A&M in that contest, as Chamique Holdsclaw tallied 29, Semeka Randall tossed in 23 and Tamika Catchings added a double-double of 21 points and 12 rebounds for #1/1 UT in the high-scoring affair.
In 2008, Candace Parker scored 26 points and Alexis Hornbuckle chipped in 14, as the Lady Vols defeated Texas A&M, 53-45, in the Oklahoma City Regional Final to advance to the Final Four in Tampa.
About the Tennessee Lady Vols
Tennessee has turned the tables after a rough start to the league schedule, winning five of its last six games to go from 1-5 in the league to 6-6 entering the Texas A&M game.
After bursting to an 8-0 record and standing 12-1 after opening SEC play with a win at Auburn, a youthful Lady Vols team (7 of 10 active players are freshmen and sophomores) went through some harsh growing pains, losing six straight games from Jan. 6 to Jan. 24.
Losing four of the games by a combined nine points, UT dropped five consecutive league tilts before bouncing back with wins vs. LSU, Florida and Vandy, a loss at Mississippi State and wins over Auburn and Missouri.
UT trailed at No. 6/6 Mississippi State by three in the third quarter before the Bulldogs pulled away.
UT also fell to Notre Dame during the midst of the previously-mentioned six-game skid, 77-62, in a game the Lady Vols led at the half by three en route to their sixth straight loss.
The Notre Dame game seems to have been a turning point for this team.
Keep in mind that UT not only lost All-SEC players Mercedes Russell and Jaime Nared from a year ago, they lost the SEC's 2018 6th Woman of the Year in 5-7 guard Anastasia Hayes, who was dismissed from the team due to a rules violation, and 6-3 graduate transfer Lou Brown, who started 71 games at Washington State and was expected to play a key role for Tennessee this season before being sidelined by a torn ACL.
UT features four players scoring in double figures, including two sophomores and a freshman.
Sophomores Evina Westbrook (15.8) and Rennia Davis (14.8) lead the way in scoring average, followed by senior Meme Jackson (11.1) and freshman Zaay Green (10.7).
After seeing Davis mired in a four-game slump, she has reemerged as a go-to player, firing in 24, 19, 17, 29, 15 and 16 points in the past six games to average 20.0 ppg. during that span.
Tennessee is 11-0 in games where it holds its opponents to 65 or fewer points, and it is 14-2 when limiting foes to 69 or fewer.
The Tennessee Lady Vols ranks No. 1 in the Southeastern Conference and No. 3 in the NCAA in rebounds per game at 45.04.
The Lady Vols are allowing only 61.8 points per contest in their six SEC wins this season, compared to 77.0 in their SEC losses.
Last Time Out For Tennessee Lady Vols
Tennessee earned a hard-fought victory over RV/RV Missouri on Sunday, coming from four points down in the final stanza to claim a 62-60 triumph in front of a crowd of 8,559 in Mizzou Arena.
Sophomore point guard Evina Westbrook led UT (17-8, 6-6 SEC) with 18 points and six assists, while sophomore forward Rennia Davis logged her 17th career double-double with 16 points and 11 rebounds. Freshman forward Meme Collins also found her way into double digits, tying her career high of 11 points while adding six rebounds.
MU (19-8, 8-5 SEC) was led by Amber Smith with 14 points and five rebounds. Sophie Cunningham and Cierra Porter were close behind with 13 apiece.
The Tigers led for the first five and a half minutes of the final frame before Davis knocked down a three to put UT up by one at 55-54. Davis again came up clutch, knocking down two free throws with 52 seconds to play to put the Lady Vols up 62-60. Akira Levy got off a 3-pointer that would have given Missouri the lead with two seconds remaining, but it came up short and UT ran out the clock.
About the Texas A&M Aggies
Texas A&M returned one starter and five letterwinners from last year's squad.
Chennedy Carter was that player, and the dynamic guard is leading the SEC at 22.1 ppg. in all games and 23.1 ppg. in league contests.
Kayla Wells (14.0) and Ciera Johnson (11.7) also score in double figures for the Aggies (19-6, 8-4 SEC).
A&M was 26-10 overall/11-5 in the SEC (6th) last year.
Carter was the 2018 consensus national freshman of the year, an AP All-American and All-SEC First Team.
The Aggies lost 2017-18 starters Anriel Howard (Miss. St.) and Danni Williams (Texas) as grad. transfers.
Texas A&M's Last Game
No. 22 Texas A&M fell 92-64 to No. 5 Mississippi State at Reed Arena on Sunday.
Texas A&M (19-6, 8-4 SEC) stormed out of the gates, as Chennedy Carter had 16 of her 28 points in the first quarter, jumping out to a 24-20 lead after a frame. Mississippi State only led 43-36 at halftime but extended its lead by making its first four 3-pointers in the second half.
In addition to Carter, who had 20+ points for the seventh time in the last eight games, Kayla Wells added 13 and Shambria Washington chipped in 10. Carter tied a Texas A&M record with her 32nd-consecutive game of scoring 10+ points.
Mississippi State (23-2, 11-1 SEC) was led by a 3-point barrage from Andra Espinoza-Hunter, who had 24 points on 7-of-9 3-point shooting.
Last Time Tennessee Vols Played Texas A&M
Senior Jaime Nared scored 23 points and No. 12/13 Tennessee allowed just eight points in the fourth quarter in an 82-67 win over No. 14/12 Texas A&M on February 1st, 2018, at Thompson-Boling Arena.
Five players reached double figures for the Lady Vols (18-4, 6-3 SEC). Mercedes Russell recorded 18 points and 13 rebounds to earn her 40th career double-double, while Anastasia Hayes netted 16 points, Rennia Davis scored 11 and Meme Jackson added 10.
UT showed a strong defensive effort in the second half, forcing 12 A&M turnovers and yielding no field goals over the final 3:21 of the game.
Chennedy Carter had 25 points for the Aggies (17-7, 6-3 SEC).
Last Time In College Station
Danni Williams made three free throws with 7.8 seconds remaining in overtime to put No. 17/16 Texas A&M ahead and help hand No. 6/6 Tennessee its first loss of the season, 79-76, on January 11th, 2018, at Reed Arena.
Mercedes Russell recorded 21 points and 10 rebounds to lead the Lady Vols (15-1, 3-1 SEC).
Khaalia Hillsman led the Aggies (14-4, 3-1 SEC) with 22 points on 8-of-9 shooting from the floor and added 11 boards. Williams chipped in 22 of her own while going 3-for-7 from 3-point range.
Jaime Nared added 18 points for the Lady Vols, including four 3-pointers. Rennia Davis and Cheridene Green netted 12 each, and Evina Westbrook put up nine points while dishing out seven assists.
Coming Up For Tennessee Lady Vols
After its trip to Aggieland, Tennessee is back at home for its final two regular season home games. UT hosts No. 13/13 South Carolina on Sunday at 3:00pm CT (ESPN2) and Vanderbilt next Thursday at 7:00pm (SEC Network) in the Senior Night game for Cheridene Green and Meme Jackson.