APSU Sports Information

Jacksonville, AL – On paper, it was supposed to be the toughest test this season for the Austin Peay State University (APSU) women's tennis team. However, it was anything but, as the team demolished Jacksonville State, 7-0, Friday, at the JSU Tennis Complex,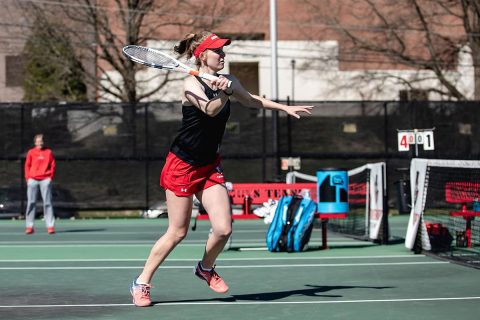 The Governors (14-0, 2-0 OVC) did away with one of the better teams in the Ohio Valley Conference in dominating fashion.
The Gamecocks (9-3, 2-1 OVC) swept their two OVC openers last weekend and had the best winning percentage of any team the Govs have played to this point.
Doubles play once again belonged to the Govs, with the No. 3 pairing of Danielle Morris and Fabienne Schmidt winning, 6-1. Lidia Yanes Garcia and Claudia Yanes Garcia continued their partnership at the No. 2 spot, claiming the match, 6-3, as the Govs went up 1-0 heading into singles. Tatiana Lopez and Honoka Nakanishi led 5-2 in their No. 1 doubles match, but the pair could not grab their 10th straight win due to the doubles point already being clinched.
It was more Govs dominance in the singles portion, as they rolled to their ninth win when winning every set in singles. Lidia Yanes Garcia got the ball rolling with a dominant 6-0, 6-1 victory at No. 2 singles, her largest margin of victory this season. Lopez followed up with a 6-1, 6-2 victory over Malin Buechner, who was previously 7-1 in singles this spring, at No. 3 singles. The freshman Morris clinched the match for the Govs, with a 7-5, 6-2 win at No. 6 singles.
The show kept going for the Govs, though. Claudia Yanes Garcia won 6-0, 7-5 at No. 1 singles to remain unbeaten (13-0) on the season in singles. The German duo of Schmidt (No. 4 singles) and Helena Kuppig (No. 5) also won in straight sets as the Govs rolled to their 10th shutout win of the season.
The Govs resume action next weekend with a two-match conference slate. They host Southeast Missouri, Friday,April 5th before welcoming UT Martin, Saturday.
Box Score
Austin Peay 7, Jacksonville State 0
Doubles
1. Alba Conejero/Malin Buechner (JSU) vs. Tatiana Lopez/Honoka Nakanishi (APSU) 2-5, unfinished
2. Lidia Yanes Garcia/Claudia Yanes Garcia (APSU) def. Elena Tendero/Harriet Hamilton (JSU) 6-3
3. Fabienne Schmidt/Danielle Morris (APSU) def. Alessia Locati/Cristina Moll Alles (JSU) 6-1
Singles
1. Claudia Yanes Garcia (APSU) def. Harriet Hamilton (JSU) 6-0, 7-5
2. Lidia Yanes Garcia (APSU) def. Alessia Locati (JSU) 6-0, 6-1
3. Tatiana Lopez (APSU) def. Malin Buechner (JSU) 6-1, 6-2
4. Fabienne Schmidt (APSU) def. Alba Conejero (JSU) 7-5, 6-2
5. Helena Kuppig (APSU) def. Elena Tendero (JSU) 6-3, 6-4
6. Danielle Morris (APSU) def. Cristina Moll Alles (JSU) 7-5, 6-2
Order of finish: Doubles (3,2); Singles (2,3,6,5,1,4)