Clarksville Police Department (CPD)

Clarksville, TN – Clarksville Police Officer Russ Baker started a new chapter in his life after 39 years of service, 17 with the Clarksville Police Department and 22 with the Army.
He joined the Clarksville Police Department Aug 16th, 2001 and retired Friday, March 29th, 2019 in a room filled with friends, family and well-wishers, including Clarksville Mayor Joe Pitts and other dignitaries. He served on the Clarksville Police Department's honor guard for seven years.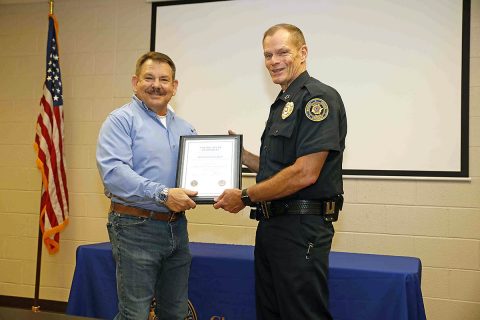 He spent his time at the police department as a patrol officer working the streets of Clarksville helping to provide a safe community for the citizens to live.
In his previous life he spent 22 years in the U.S. Army with assignments all over the world. He spent his first six years in the Infantry and spent time stateside and overseas. In his last 16 years he was part of an elite team within the Army.
Officer Baker was well known for his willingness to teach others and to share his experiences with new officers on the force. Russ will no doubt excel in whatever new chapter he adds to his life.
We wish Russ the best in his endeavors.
Photo Gallery