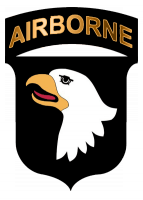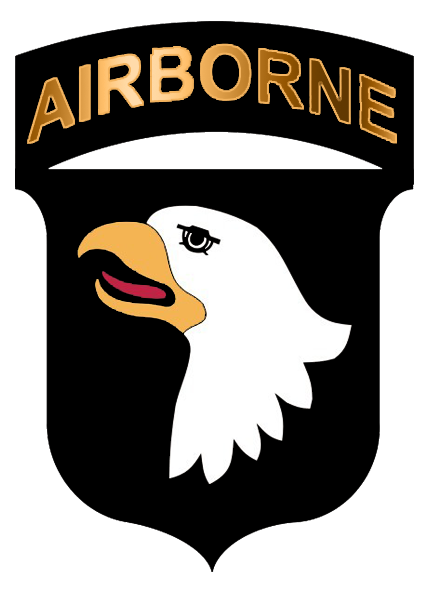 Fort Campbell, KY – The 101st Airborne Division (Air Assault), Blanchfield Army Community Hospital, U.S. Army Garrison Fort Campbell, soldiers, leaders, tenant units and distinguished civilian guests gathered for a ceremony to celebrate the U.S. Army's 244th birthday, June 13th, 2019 on Fort Campbell.
The theme for the Army's birthday this year was "America's Army: Honoring the Call to Service from D-Day to Today." The theme was very fitting for the "Screaming Eagle" division, as 85 Soldiers just returned from 10 days in Carentan, Normandy, France.
While there, they participated in more than a dozen commemorative events, parades, and ceremonies honoring the 75th anniversary of D-Day and those 101st Airborne Division WWII Veterans that went before them.
"Today we celebrate the Army and the nation," said Col. Clair Gill, 101st Airborne Division deputy commander, support. "I try to think about those Soldiers who joined the Army 244 years ago as a militia, if they could imagine so many years later that same Army would so something as amazing as D-Day. Or if they would imagine what our Soldiers do now, every day around the world. That's what we are here to connect and celebrate today."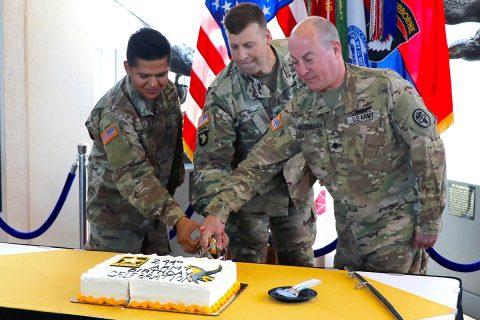 Per Army tradition, the senior commander was joined by the oldest and youngest Soldier in the division to cut a cake. After Gill, Lt. Col. John McDonough of Blanchfield Army Community Hospital received the second piece of cake. McDonough, a Philadelphia native, was born in 1957 and served many years in the Navy, later re-joining the Army in 2010.
To symbolize the passing of experience and knowledge to the next generation, he passed his slice of cake to Pvt. Justin Davila, 2nd Battalion, 44th Air Defense Artillery Regiment. Davila was born in 2001 and joined the Army in 2018.
"It sends tingles down the spine," said McDonough, describing his role in the ceremony. "To realize what the 101st did in D-Day, and now be among these young kids that if called, would do the same thing."