CLARKSVILLE, Tn – Fortera Stadium has been home to some of the largest crowds to watch football in Austin Peay State University history and the athletics department aims to put another sellout crowd in the stands for the Governors Ohio Valley Conference opener against defending champion Jacksonville State, Saturday, Sept. 28th.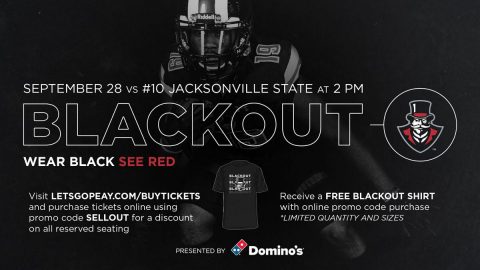 The athletics department will ask Governors students and fans to help it Defend the Fort with its Blackout promotion – all fans encouraged to wear black during the game.
Starting today, fans purchasing their tickets online at LetsGoPeay.com/BuyTickets for the 2:00pm, Saturday contest can use the online code SELLOUT to receive a discount on the single-game ticket prices and receive a special edition Blackout T-Shirt courtesy of Domino's Pizza. Normal ticket prices for the Jacksonville State contest will range from $20 to $35 per ticket without the discount.
Students, as always, get to sit free at all Austin Peay athletics events. Still, they won't be left out of the excitement leading up to the game.
Governors head football coach Mark Hudspeth will "Storm the Dorms," Monday, Sept. 23rd, providing pizza courtesy of Dominos, the game sponsor for the Jacksonville State game. In addition, APSU athletics marketing staff and select football squad members will visit the university center plaza during lunch hours, Thursday, Sept. 26, with more Domino's pizza and a contest to win prizes connected to Saturday's football game.
All of that leads up to Saturday's contest which again will feature the full range of pregame and in-game opportunities. The unique VIPeay EndZone Experience will be available as an add-on to any ticket. In addition, the new Beer Garden is on tap again inside the stadium.
Prior to the game, the Governors invite students and fans to stroll down Stache Street and enjoy food truck vendors, inflatable games and a mobile escape room. In addition, for the ninth year in a row, Tailgate Alley will be home to its usual mix of Governors excitement and revelry.
More information on the Governors plans for Operation Sellout and its Gameday Experience Guide will be available the week of the game at LetsGoPeay.com and on twitter @LetsGoPeay. Fans can download the all-new and free LetsGoPeay app on their mobile device to stay up-to-date on the latest news from Governors athletics.